Entertainment
Marcus Dobre Dating Status Now, Facts On Girlfriend & Family
Marcus Dobre is a YouTuber whose channel has a subscriber of ... He gained popularity through... He is currently dating... and he was born on... His mother is.... and his father owns... His brothers are... and they have their own ...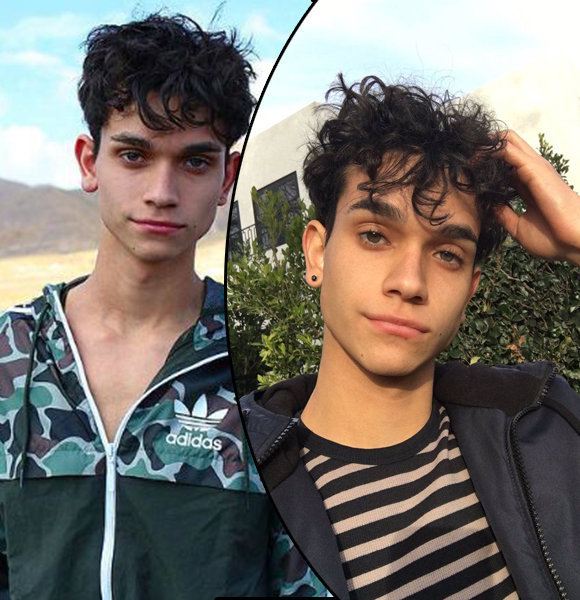 Marcus Dobre is a social media personality known for his YouTube channel Lucas and Marcus, where he features along with his twin brother Lucas. But before that, the Maryland native started with a Vine account, Twinbotz, which had over one million followers. 
However, success didn't come to them overnight as initially, their Vine account went unnoticed. Thus, he and his twin brother were on the verge of quitting it but they kept it going for a little while longer and gradually their videos became popular over time.
Let's dive in to know more about this YouTube star in detail.
Is Marcus Dobre Dating?
Marcus is a young internet sensation who is loved by all. But, the answer to whether he is dating anyone is certainly a 'No.'
You Might Also Like:- Ryan Kaji A.K.A Ryan's World Wiki: Age, Family & Net Worth Details
He is not in a relationship and is yet to be seen getting romantically involved with anyone. However, the YouTuber star jokingly posted a picture with famous pop artist Ariana Grande referring to her as his new girlfriend on 20 April 2019.
Moreover, in an interview with ET Live on 24 July 2019 when asked about his ideal girlfriend, Marcus said, 
 "Honestly, for me for a girlfriend, personality, looks and you have to have a good family,"
Furthermore, his post on 20 December 2019 showed his desire to have a girlfriend. Thus, he is surely single as of now. 
Parents Details
The YouTuber was born in Gaithersburg, Maryland and his family is quite popular over the internet as all of them are very active on social media sites.
Talking about his parents, Marcus' mother - Aurelia Dobre is a Romanian artistic gymnast who was a silver medal holder at the 1988 Olympic Games. She makes TikTok videos and has amassed over 4.1 million fans on her account which goes under the name: aureliadobre.
Further, his father - Boz Mofid is also a former gymnast and a member of the Iranian national team. He now owns a gym named Fit 'n Fun gym and is quite popular on Instagram with more than 150,000 followers.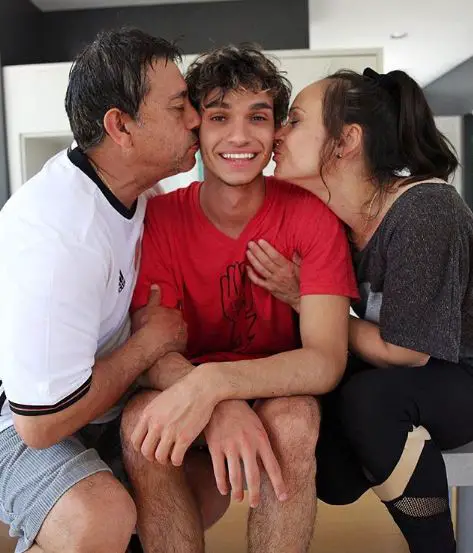 Marcus Dobre with his parents: Boz Mofid and Aurelia Dobre (Photo: Marcus Dobre's Instagram)
Many might not be aware but Marcus' father married his mom, Aurelia in 1992. But before that, he was briefly married to Oksana Omelienchik.
Famous Brothers
The young YouTube star has two older brothers named Darius Dobre and Cyrus Dobre, beside his twin brother Lucas Dobre. 
This Might Interest You:- Ian Jeffrey [James Charles' Brother] Wiki, Age, Dating Status Now
Cyrus Dobre (a gymnast) and Darius Dobre are popularly known for their YouTube channel Dobre Brothers which has more than eight million subscribers. All four brothers appear on the popular channel.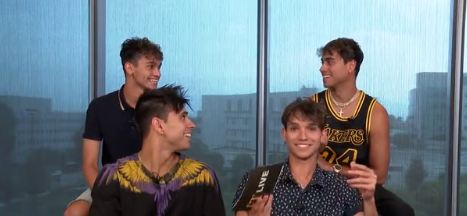 Marcus Dobre with his brothers: Cyrus, Darius, and Lucas Dobre in an interview with ET Live (Photo: etonline.com)
Moreover, Cyrus - born on 9 March 1993 - has a Bachelor's degree in Sociology and a Master's degree in Strategic Communication. And just like his other family members, Cyrus has a massive amount of followers on Instagram which is more than 1.2 million. Further, he is married to Christina Dobre since 2018
Talking about Darius (born on 2 August 1995), he is dating Madeline Damskey at present.
Likewise, Marcus' twin brother Lucas is in a relationship with Instagrammer Ivanita Lomeli.
Marcus Dobre Interesting Facts
Marcus stands at a height of 5 feet 8 inches (1.7m).
He is an Aquarius born in 1999 whose birthday falls on 28 January.