Larry King had been married to wife Shawn, an actress, and producer... it seems the former CNN reporter and his family...with his longtime wife Shawn Southwick King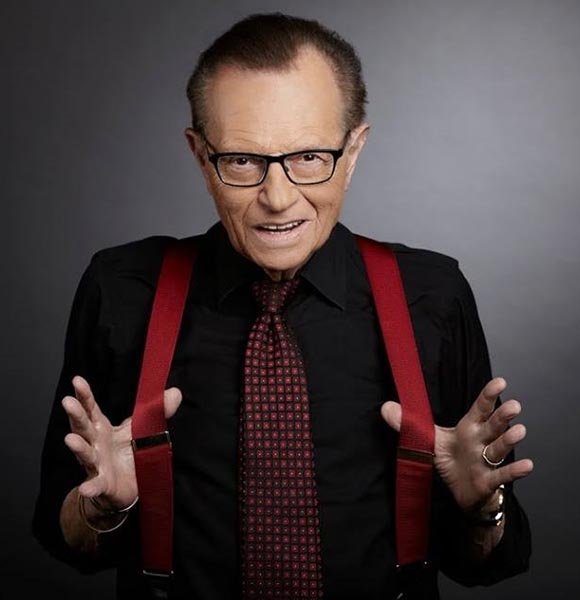 After 22 years of a smoothly running marriage, journalist Larry King decided to call it quits with his longtime wife, Shawn Southwick King. The talk show host is set to end the relation officially as he filed for divorce on 20th August 2019 in Los Angeles Superior Court.
He married wife Shawn, an actress, and producer on 5th September 1997. They are already parents to two grown-up sons named Cannon and Chance King.
Representatives of the former CNN late-night talk show host have cited some issues of irreconcilable differences as the reason his sudden legal move. Moreover, it appears that the differences are quite eye-raising in itself.
Divorcing Wife Shawan Southwick King
Apart from struggling with his health issues, Larry and his family were finding it hard to come in terms with his wife, Shawn. He had even accused his wife of having marital affairs, and on top of that, they were sleeping separately.
The host's estranged wife allegedly presented him legal documents that would negatively impact on his son's financial inheritance. Undoubtedly, his sons were infuriated by his wife's decision. Therefore, they were reportedly pressuring the talk show host to getting a divorce.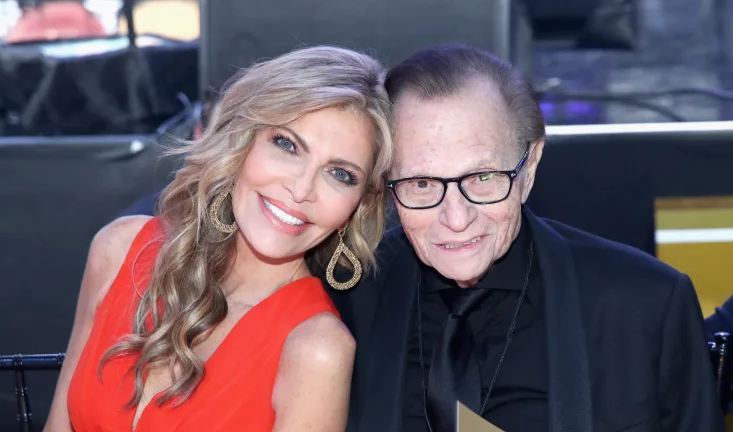 Larry King and his estranged wife Shawn Southwick King before their split circa 2019 (Photo: people.com)
However, with the divorce procedure still incomplete, there were chances the legal proceedings could get messier.
His Past Relations Facts
Besides the impending separation from estranged wife Shawn, Larry has gone through a divorce six times. His first marriage in 1952 to his childhood love Fredda Miller was declared invalid by his parents as they didn't approve of it. The pair ended their relation in 1958.
Recommended Article:- Anna Camp Facts, Husband, Divorce, Family, Net Worth
Two years later, he married Annette Kaye, and they shared a son named Larry Jr(born on  1961). This marriage, too, didn't last that long.
Further, in 1962, Larry tied the knot with Mickey Sutphin, mother of his daughter Kelly. After staying married for two years, they broke off. Likewise, he divorced twice with his fourth ex-wife Alene Akins, a playboy model, in 1963 and 1972.
After divorcing Alene, the anchor married production assistant of his show, Sharon Lepore in 1976. They remained married for nine years before eventually going separate ways. His sixth ex-wife Julie Alexander is a businessman, and he was married to her from 1989 to 1992.
Short Bio, Age, Family
TV personality Larry King has seen history unfold throughout his 50 years of career in broadcasting as a reputable journalist. He has interviewed down to face personalities ranging from the actor Marlon Brando to former dictators such as Muammar Al Gadhafi.
Took Inspiration From Marlon Brando:- Don Warrington Family, With Wife Or Partner? Status Of 'All My Sons' Star
The TV journalist was born on 19th November 1933 in Brooklyn, New York City. The 86 years old former CNN personality's parents are orthodox jews. His father Aaron Zeiger was a restaurant owner originally from Ukraine whereas his mother Jennie Gitlitz worked as a garment worker and was born in Lithuania.