Entertainment
Lashana Lynch Age, Parents, Height, Movies, Is She Lesbian?
Lashana Lynch is a British actress known for her leading role in the ABC drama series, Still Star-Crossed (2017). In December 2019, she made headlines for being cast as the new 007 in the James Bond franchise.
While she is not the leading character in the upcoming spy-thriller, Lashana could replace Daniel Craig as the first female lead in the James Bond franchise after the upcoming 2020 movie.
Bio And Family
Lashana Lynch was born on 27 November 1987 in Hammersmith, London. Both her parents are of Jamaican descent and was raised by a single mother. Her brother Anwar Lynch is also an actor and has appeared in Collision and The Hustle. 
Lashana got a BA in Acting Course from the ArtsEd Drama School in London. Also a talented singer-songwriter, she had emerged out as a finalist in the 2001 show Urban Voice along with participation in many other singing competitions. Further, she won the 2006 singer/songwriter competition held by the UK Unsigned.
Career, First Female OO7 In No Time To Die
Lashana's very first appearance on TV was in an episode of The Bill in 2007. She appeared for a short time in several more movies and TV shows. However, her breakthrough came in 2012 when the actress was chosen to star in Fast Girls. The film helped propel her career greatly as more role offers arrived in her path.
Her notable works in the later years were Death in Paradise and Still Star-Crossed. The latter in particular is her biggest role.
Death In Paradise Cast Member:- Heida Reed Wedding, Family, Net Worth, Height
The door to stardom opened for Lashana when she landed the role of Maria Rambeau in Captain Marvel. The movie shone a spotlight on her as she is set to take over the role of agent 007 in the upcoming James Bond movie, No Time To Die.
Is Lashana Lynch Lesbian?
Lashana has kept a very tight lid on her personal life. Besides some posts about her mother and brother, she barely lets the world in on the details regarding her life.
With her being cast in Captain Marvel and the title character having no interest in any males, fans started questioning if Maria Rambeau was lesbian too. The question, in turn, evolved into, "Is Lashana Lynch Lesbian?"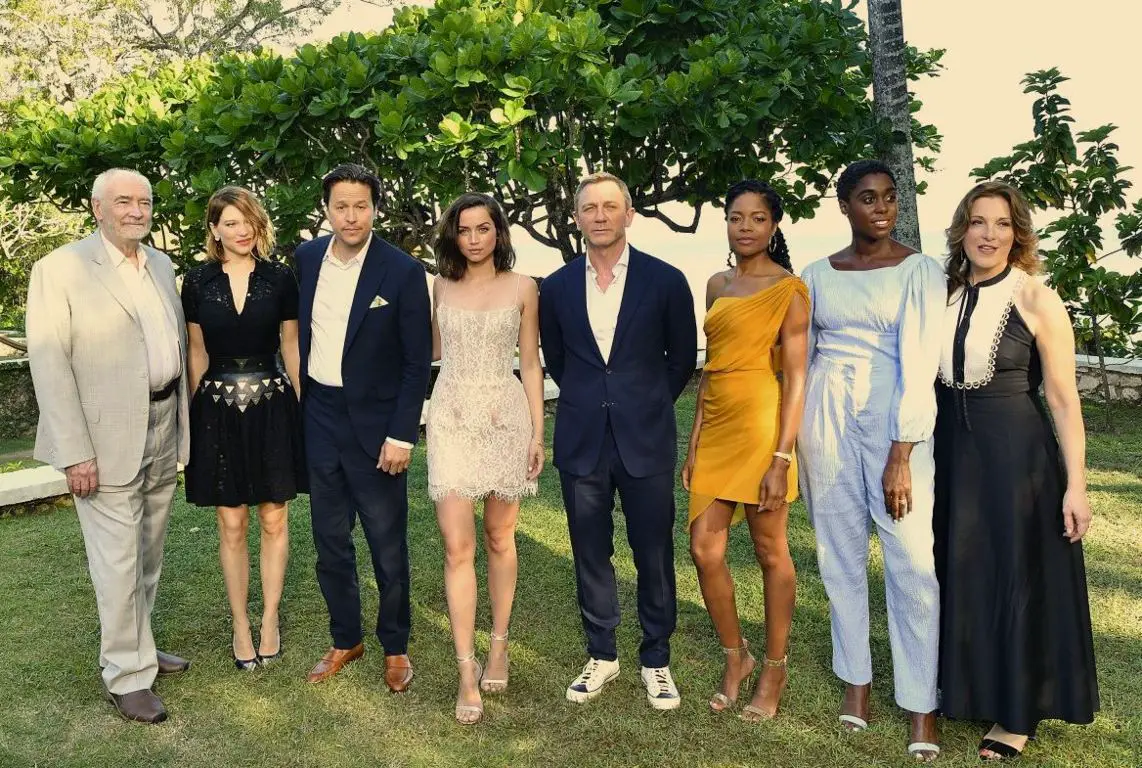 Lashana Lynch (2nd from right) with other casts of No Time To Die in Jamaica (Photo: themarysue.com)
With the role of agent 007 falling in her lap and the said agent having a history of seducing women for important intel, it was no surprise that people began asking if Lashana really was a lesbian. The true nature of new agent 007 cannot be determined until the movie is out in 2020. Even if the agent was indeed a lesbian, it can't be surmised that Lashana, in turn, is one.
About James Bond Star Daniel Craig:- Rachel Weisz Welcomes Baby Girl, First Child With Husband Daniel Craig!
With how secretive she is about her personal life, nothing can be said with certainty for now.
Interesting Facts
Lashana has a height of 5 feet 9 inches (1.75 m)

She started as a singer but her teacher convinced her to learn acting too.

She had just 10 weeks to get into Olympic standard shape to play in Fast Girls and she accomplished the daunting task.