Entertainment
Analyst Laura Coates Flaunts Family! Married With Ever Supporting Husband, Who Is He?
Laura Coates is the legal analyst for the CNN and also the host of daily showThe Laura Coates Show, on Xirius XM radio station. The Washington native is a responsible mother to her kids and regularly flaunts perks of her happy family on her social media. Not just that, she is flanked by a supportive husband which has made it easier for her to raise her children in the right manner.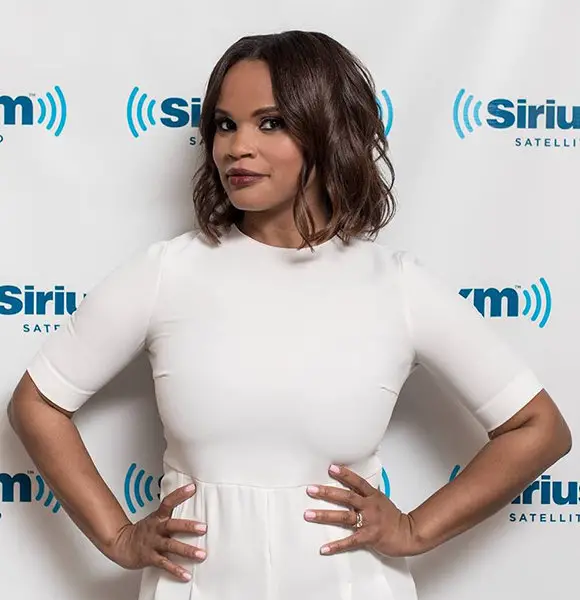 Laura Coates is the legal analyst for the CNN, and also the host of daily show The Laura Coates Show, on Sirius XM radio station.
The Washington native is a responsible mother to her kids and regularly flaunts the perks of her happy family on her social media. Not just that, she is flanked by a supportive husband who has made it easier for her to raise her children in the right manner.
Loving And Responsible Mother
Well-respected attorney, Commentator, Law Professor, Best Selling Author, Radio talk show host, and Newspaper columnist. All these adjectives fit Laura Coates. 
Whats more, Laura is also a brilliant mother to her kids and is setting up new examples of how to bring up your child. 
See Also: Faith Jenkins Age 41 Is Married; Furtive Husband & Family Details - Revealed!
The mother of two shares heartwarming stories from her life in her social media account. Not just that, she regularly provides insights into her life through her Twitter and Instagram. 
The freelance columnist, who commands a salary of more than $135K due to her association with Sirius XM and CNN, shared her 4-year-old son's drawing in her Instagram on 18 February 2017, which had two people coming together to hug, along with a message about being a nice person.
Likewise, in 2016, the radio host had tweeted about lessons to teach her son, which included references to black persons Keith Lamont Scott, Terence Crutcher, and Tamir Rice.
All the above-mentioned names were innocent Afro-Americans who were killed by the police. A subtle reminder to the world about how African-Americans were treated even in today's age.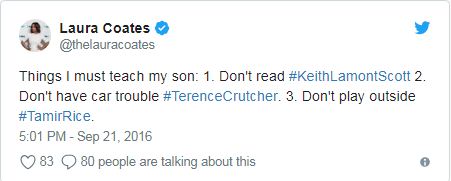 Laura Coates' lessons to her son about the innocent killing of the African-American population in 2016 (Photo: Laura Coates' Twitter) 
Apart from relaying social messages, Laura also provides updates about the festivities she celebrates with her family. She posted a photo of her daughter struggling to blow the candles in a huge cake for her birthday on 8 May 2017.
Laura saw the funny side of her daughter's struggles admitting that she had learned her lesson, and would incorporate the candle into a more comfortable position next time.
Don't Miss: Cree Summer Gushes Over Keeper Husband - Kids Are Add-Ons To Happiness
Not just that, she also takes her children to her radio station, Sirius XM and at times they are asleep on their mother's lab as she runs her show while at times she can't make her children stop talking once they get on the mike.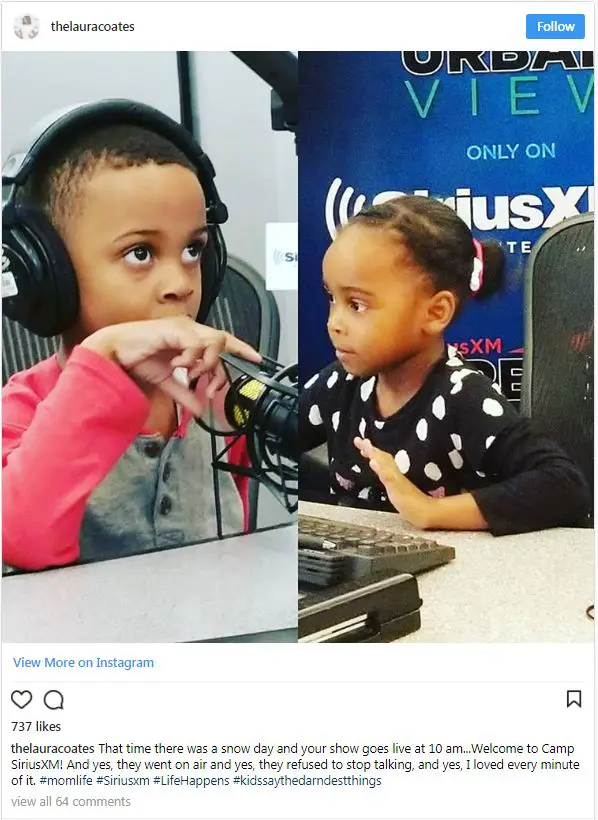 Laura Coates' kids posing in their mother's RJ avatar (Photo: Laura Coates' Twitter)
The genetic transfer is real after all as her kids seem to have taken up her radio jockey role from the young age. Whats more, she is not alone when it comes to raising the kids, as she is ably supported by her husband.  
Loving And Supportive Husband
The author of the best selling non-fiction, You Have the Right: A Constitutional Guide to Policing the Police, is partnered by her supportive husband when it comes to parenting their two young age children. 
Laura's twitter feed is full of hilarious mentions about her sweet husband; whether that be about sharing the space of Digital Video Recorder, or that be applying for a date night with Idris Elba. 
Furthermore, she shared her husband's love for meat, with a quirky exchange between the couple.
Me: "Honey, I'm thinking we should try to go vegan for a little bit. My Husband: "Oh yeah that reminds me, we need to go to the butcher."
Laura, whose net worth has not been disclosed, is enjoying her married life, going on a steady flow with plenty of humor in it. However, she is respectful of her husband's support in raising her kids and even taking care of her as she remains busy in her professional constraints.
She posted a picture of her husband ferrying their kids to school holding their hands, as an ode to him on Father's day 2017 and addressed him as 'A man, The Man and Her Man.'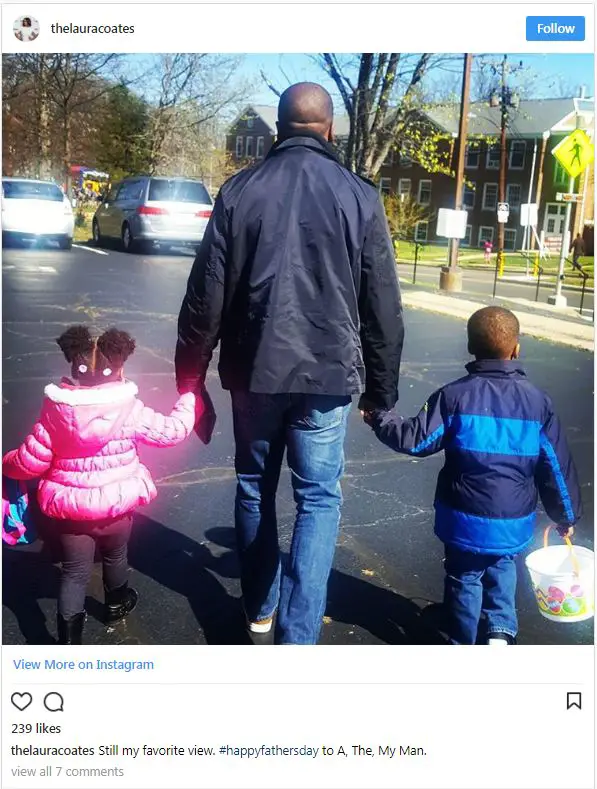 Laura Coates' husband taking their kids to school in 2017 (Photo: Laura Coates' Instagram)
The couple's bond is getting stronger with every passing day and spend quality time together. One such instance is on 19 May 2018, when the loved-up duo attended a Bon Jovi concert and called herself an 80s baby. 
Despite not revealing his name, her husband seems to be an understanding, funloving and a responsible father along with a loving husband. And there is nothing wrong with hiding the name if you are good enough.
Get Your Hands On: Ian Alexander Sr Divorced With Actress Wife in 2007 Due to Extra Marital Affair, Nowhere to be Found
As Shakespeare said, "What's in a name, A rose smells as sweet as it does even though it's called by any other name."
Nominated To Host Her Childhood Favourite Show
While some dreams remain just a dream, some present us with the opportunity without even realizing. Laura has been put through the same as she is the nominated host for the TV game show Jeopardy.
The nomination comes from the all-time host of the show Alex Trebek who would like Laura to present show after or if he retires from his 36-year-long gig as host in 2020.
The news announced by Alex during an interview with TMZ where he revealed Laura's name. He said, 
"There is an attorney, Laura Coates. She's African-American, and she appears on some of the cable news shows from time to time."
The news came as a big blow for Laura which she first heard when she was sitting with her husband and children. 
However, Laura made sure to express her excitement through a tweet on Twitter. She divulged that she was "incredibly humbled and honored" hearing her name for the replacement.
Adding to it, she even revealed in an interview that the opportunity to appear in the show would be an absolute dream for her.