Entertainment
Lauren Simon Husband, Daughter, Boyfriend, Net Worth
Reality TV star Lauren Simon made headlines the September 2019, but this time not for being a former Real Housewives of Cheshire star or for being the former spouse of Paul.
The latest headline was about her being robbed in her $2.5 million mansions in Bowdon, Greater Manchester. The two masked thugs burst into her palace and robbed her of thousands of pounds worth of jewelry.
Lauren, who did not return to season nine of Real Housewives of Cheshire, was stunned and shaken by the incident. However, being the strong woman she is, Lauren is moving forward with her life.
Evidently, the original star from the beginning of the Real Housewives of Cheshire, Lauren, reportedly made around £40,000 per year from the show.
Lauren's Boyfriend? Her Husband?
As of 2019, the 46-year-old Lauren is not dating anyone.
American Reality Show Real Housewives:-  Heather Dubrow Husband, Children, Net Worth
As a matter of fact, the TV star, with her tall height, turned to Tinder to find love. Her birthday is on 22 May, so do not forget to wish her HBD. And of course, it may be the last chance for you guys to meet and date the self-proclaimed 'domestic goddess.' She may be looking for a beautiful wedding as she is an event planner.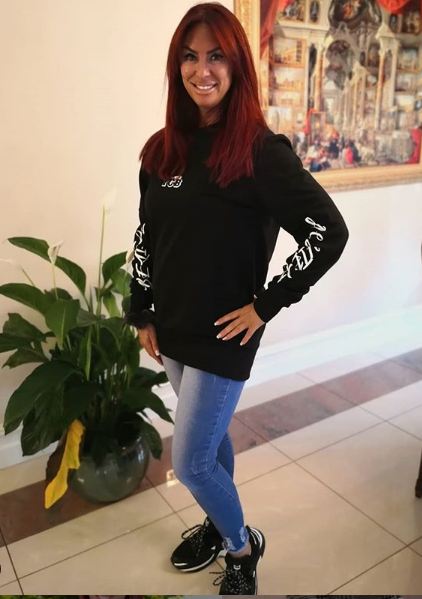 Lauren Simon on 8th October 2019 (Photo: Lauren Simon's Instagram)
Lauren divorced her successful millionaire businessman husband Paul Simon in January 2016 following a bitter court battle over money. She did get the lump sum of £3 million in settlement from divorce for playing the role of 'homemaker,' and Paul as a 'breadwinner.'
The couple married in November 2003, and 13 years of marriage, Paul did pay for her expensive hobbies, including diamond shopping and party planning. She was a full-time Housewife with Paul, letting go of her job in public relations and marketing for VIP events and nightclubs.
Children of Lauren
The 13 years of marriage has given the ex-couple two daughters. After the divorce, Lauren showed her kids the fighting spirit by working extra hard on the launch of the perfume brand in 2017.
You Should Know A Reality TV star:- Bill Klein Net Worth, Parents, Brothers, Bio
In her own words, she tried to show her children to be strong and that they don't need to be 'tied to a man' to be successful. Unfortunately, her attempt to launch the perfume brand, Lauren Stone Number One, failed.
However, her fighting spirit has not been worn out, and she continues to be an inspiring mother to her 14 years old and 11 years old princesses.     
Net Worth
Reality Star did make around £40,000 per year from gracing on the Real Housewives of Cheshire. Though her perfume brand launching did not go well as she had planned, she was awarded £3 million in her divorce deal.
She has a property in Cheshire and Marbella.
Concluding, Lauren stands at the net worth of $6.9 million as of 2019.