Welcoming their first child the Duggar family adds one more to the family tree.
Lauren Duggar and her husband Josiah Duggar are ecstatic and proud to announce the arrival of little baby girl Bella Milagro on 8 November 2019. The duo has officially turned into a family of three and the news comes from the pair who shared a wonderful photo of the trio.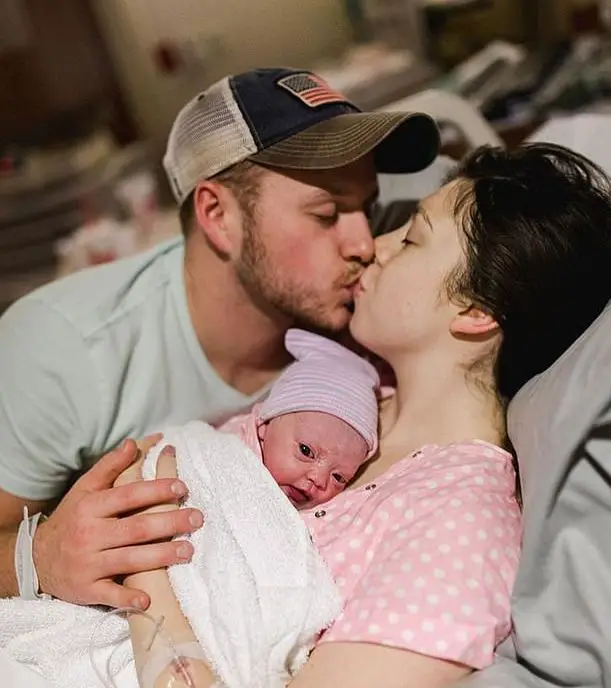 Lauren Duggar with husband Josiah Duggar and baby girl Bella Millagro on 8 November 2019 (Photo: dailymail.co.uk)
It was only a few months ago when she was cradling her baby bump and now lo and behold they have been blessed with a beautiful daughter.
The entire process was described as long and difficult labor by the beautiful mother, nonetheless Lauren treasures each and every moment of the journey.
While this is the pair's first newborn, the couple decided to call Bella baby no 2 so who was baby no 1. Take a peek down below to know all the details about Lauren and her entire journey to motherhood.
First News Of The Pregnancy
On the 20th of May 2019, Lauren Swanson - wife of former 19 Kids & Counting star Josiah Duggar - revealed that she was pregnant and expecting baby #2 with her husband.
Taking to their joint Instagram handle, the Counting On star and beau Josiah shared a series of pictures of the two cradling the baby bump, holding a sonogram, and clasping a message board.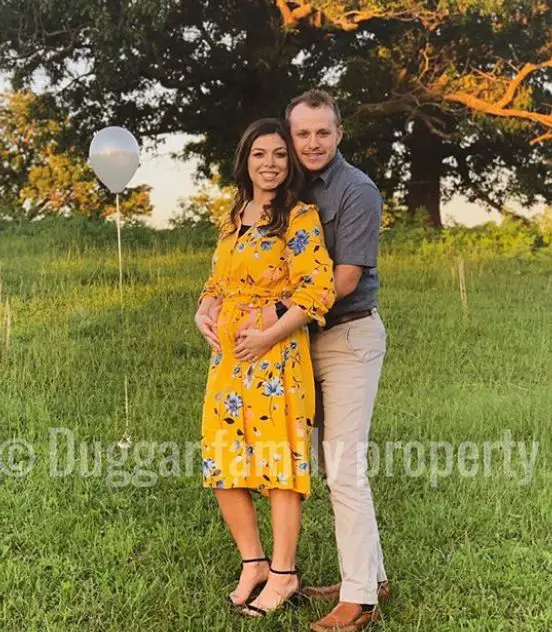 Lauren Swanson receives an embrace from husband Josiah Duggar circa April 2019 (Photo:- Lauren and Josiah's Instagram)
Dressed in yellow, a relatively pregnant looking Lauren looked every bit of beauty in the said pictures. Also in the portraits, laid a balloon in the remembrance of the married duo's first baby, Asa.
Miscarriage Before Lauren Got Pregnant With Baby
The news of Lauren's pregnancy came three months after the duo opened up about suffering a miscarriage.
In February 2019, the expecting parents took to Instagram to deliver the devastating news. After initial hesitation, they opted to share their stories with the eager fans and family. An excerpt read:-
"Since everyone is anticipating for us to announce that we're having a baby, we felt like it was time that we told everyone that our first and only baby is in heaven... "
Ruminating on their excitement - and eventual dismay - Lauren & Josiah summed up their experience.
"Our expectations of setting up a baby room, hearing the heartbeat, feeling the baby's first kick in mommy's tummy, holding our little one and getting to see our precious baby were - Shattered."
The reality stars ended the stated Instagram post with words of support and encouragement to families going through the same.
In subsequent social media uploads, Lauren and her beau began referring to their "first" unborn baby as a girl named Asa.
Wedding With Husband Josiah Duggar
Back in June 2018, the TLC star and her husband Josiah tied the knot in Siloam Springs, Arkansas in a ceremony officiated by Dwain Swanson, the bride's father.
More On The Nuptials:- Josiah Duggar Married Girlfriend Lauren Swanson In "Perfect" Wedding Ceremony! Relationship Detail
Married at the John Brown University Cathedral of the Ozarks, the merry pair's wedding was "absolutely perfect." On the big day, Lauren wore a beautiful gown by The White Dress Boutique while her groom opted for a grey suit.
The married duo had begun dating only a few months before their wedding in January 2018 following years of friendship. Only two months into courtship, they announced their engagement. Later, reports showed that the venue at which Josiah propose was the same one where Lauren's parents got engaged.
Before her, Josiah shared romantic ties with Marjorie Jackson. The former lovebirds parted ways not long after opening about their romance in 2015.
Age & Family
Daughter of parents Dwain and Lana Swanson, Lauren comes from a family of ten. Eldest of the eight children, she plays big sister to her seven siblings, namely: Lily, David, Lydia, Daniel, Dustin, Drew, Luci, and Duke Swanson.
Born in 1999, Lauren - now age 20 - initially rose to prominence as Duggar family's close friend before embarking on a reality star journey with TLC series Counting On.