R&B singer Layton Greene became a major online sensation in 2017 after she posted her cover of Kodak Blacks track Roll In Peace. Her homemade video generated more than a million views and went on to catch the attention of producer G-Styles. 
Soon, she partnered with G-Styles and released a professional version of the track with the title Roll In Peace Remix. After the music video of the song was posted on YouTube, it became an instant hit and generated more than 12 million views. 
Even today, Layton continues to release well-received songs such as I Choose, Kool Kid, and Choices. 
Layton Greene's Parents Details, Childhood
Layton grew up with her stepdad since her parents split when she turned 14. As a result, she moved to Illinois, where her stepfather was the sole breadwinner of the family. 
Amanda Anisimova's Bio:- Age, Father, Family, Nationality & More
On the other hand, the singer's mother struggled with bipolar depression due to the circumstances she had been through. Since her mom is white, and her father's ethnicity is African-American, her mother faced racial discrimination and abandonment from her own parents.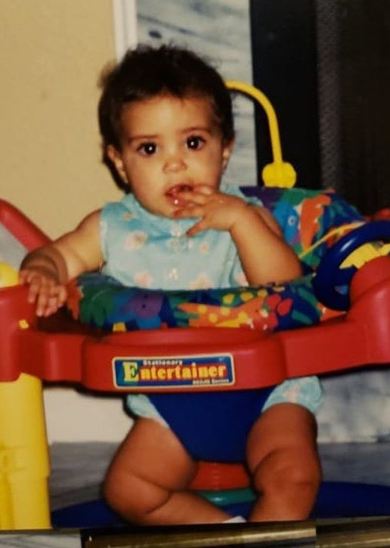 Childhood picture of Layton Greene (Photo: Layton Greene's Instagram)
Throughout her childhood, Layton experienced poverty as well, and during an interview with Billboard in 2019, she shared,
It was a full house with like 13 of us. All the girls stayed in one room. We lived there for six years, but then my mom, dad, older brother, and I moved to the projects until I moved to Knoxville. Afterwards, I was homeless at the time I was working at Wingstop. It was me, my mom, and brother living out of a motel. I was working 24/7 as a senior in high school. 
Moreover, the Roll In Peace singer confirmed during the interview that she was sexually abused by her cousins growing up. 
Facts About Layton Greene Including Age:
Layton was born on 4th December 1998 in East Saint Louis, Illinois.
To date, her most played song on the video streaming platform YouTube is the track, Leave Em Alone, with more than 31 million views.
She has amassed more than 1 million views on Instagram.
Her star sign is Sagittarius.
Although the date and pricing haven't been fixed yet, the artist is slated to perform at Theatre Of Living Arts in Philadelphia, Pennsylvania.
She has recorded two studio albums (Roll In Peace and Leave Em Alone) released by Motown records along with Quality Control.
On 24th September 2012, the singer disclosed that her father used to beat her mother through Twitter.