Dedicated and passionate Lee Corso is the...year long history of...His hit segment...A rich career over the past...reportedly amassed a fortune of...greater net worth...married to wife...his health...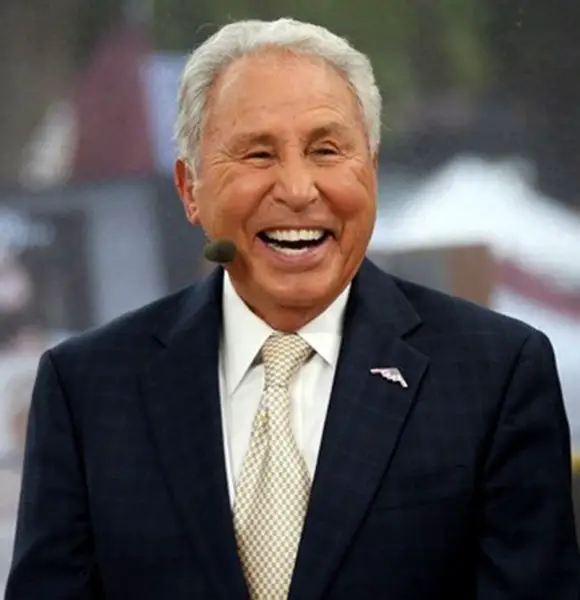 Dedicated and passionate Lee Corso is the 83-year-old energetic sportscaster, most famous for his work at ESPN.
He is also the host for the eight-time Emmy award-winning show College GameDay. In 2019, he grabbed the headline for comedically walking out during the NFL draft coverage.
Career & Net Worth
The renowned sports analyst and commentator was a coach long before his casting days.
Lee was the head coach to Louisville Cardinals; he took them to the 1970 Pasadena Bowl during the short span of 4 years between 1969 to 1972.
Having a successful run with the Cardinals, the coach went on to Indiana to provide his support to the Hoosiers. He led the school to their first bowl victory ever. Lee continued coaching various teams like Northern Illinois in 1984 and Orlando Renegades in 1985.
Story Of Another Coach/Caster:- Dan Dakich Show, Wife, Son, Net Worth, Family
Following a 28 year long history of coaching profession at college and professional level, the coach joined the popular sports channel in 1987. Initially, he was only a contributor but soon joined in as an analyst in 1989.
His hit segment College GameDay made Lee an outstanding figure in the football community.
Growing in appeal, his views, analysis, and bold predictions for the channel became one of the most anticipated shows in sports television.
Lee Corso with cohost Kirk Herbstreit during the ESPN College GameDay live broadcast in 2018 (Photo: montgomeryadvertiser.com)
Approaching the age of 84 now, Lee Corso is one of the oldest and most succesful analysts and commentator to have served on the sports conglomerate. A prosperous career over the past three decades, Lee has made a massive splash in terms of fame and earnings.
While the average salary of an analyst for ESPN is estimated to be more than 54,000 per year. The American sportscaster reportedly amassed a fortune of 12 million by the year 2011. With a decorated career like his, he should have a higher net worth by now.
Wife - Children
Lee Corso is married to wife Betsy Corso for more than 60 years now. The two exchanged vows back on 8 December 1956. Together the couple are parents to four children.
While Lee has never revealed much about his children and wife, in an interview with Mensjournal the sportscaster made it clear he has been married for a long time now and is already a grandfather to 10 grandchildren.
Healthy At His Age
Lee's remarkable and undivided attention to his career at the age of 83 is praiseworthy.
Many would have retired long before they reached his age, however - to date - he has no retirement plans.
In May 2009, the broadcaster (the 73-year-old at the time) suffered a minor stroke; he was partially paralyzed on his right side and couldn't speak at all.
Though the recovery process was a bit challenging, he made a full recovery with no permanent damage to his health. A decade has passed by now, and the sportscaster is still quite active in the industry, showing only the signs of aging.