Meteorologist Lee Goldberg didn't have to look outside to draw inspirations on how to keep his marital life afloat; his family - parents to be more specific - did that for him. Now married with his middle school sweetheart for more than two decades, the WABC personality is eyeing to set the same standard for his two children. 
If the romance between the two doesn't inspire his kids to chase greatness, his salary, and net worth from his day job sure will.
20th Wedding Anniversary With Wife; Family Of Four
Lee grew up hearing people sing praises about the longevity of his parents' marriage. Married for little over half a century, papa and mama Goldberg laid out a blueprint for him to follow. For this mere fact, he appears grateful.
Discover:- The Rolling Stones Members Tours Dates & Location, Songs They'll Perform
The veteran meteorologist is just as lucky, if not more! He met his wife, Jessica in middle school. Recounting their early courtship phase, he once quipped:-
"My first date with her was in 1985. What's funny is we're sitting next to each other in the nursery school picture."
20th August 2019 marks the married duo's 21st wedding anniversary. Lee celebrated their 20th year as husband and wife by penning a heartwarming tribute to Jessica on Instagram.
Lee Golberg writes a loving tribute to his wife on their 20th wedding anniversary (Photo:- Lee Goldberg's Instagram)
There's no denying that his kids - Ethan, age 15, and Emma, age 18 - have pretty big shoes to fill with regards to finding the right partner while maintaining the longevity simultaneously. But seeing how eloquently they have inherited his love for sports, should the same be expected of them in romantic front?
Idol Parents You Might Know:- Who Are Morris Chestnut Wife & Kids? Family Details, Parents, Net Worth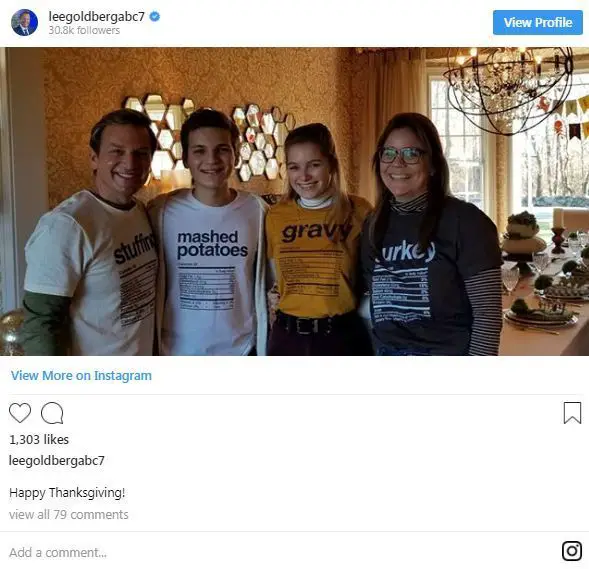 The Goldberg family reunites for holiday season (Photo:- Lee Goldberg's Instagram)
Regardless, if the WABC personality can't lead by example to help assist his children in landing equally perfect significant other, his top-paying salary as an on-air meteorologist ought to convince them to take better career path.
Lee Goldberg's Salary At WABC; Working Since High School
A top-rated meteorologist in the country, Lee's fascination with weather started at age 12 when he constructed his Weather Center made up of milk cartons and shoe boxes. By age 14, he was already reporting weather for Canton Cablevision in his hometown of Canton, Massachusetts.
After high school, he enrolled in the Cornell University's Meteorology programme, graduating four years later in 1994. While in college, he interned at numerous stations before earning his first full-time gig at WTVH-TV in Syracuse.
Shortly after, he joined the Eyewitness Weather Team. Active since 1996, Lee, age 46, alongside Sandra Bookman and Bill Ritter has been co-anchoring various shows on WABC-TV New York -- a flagship station of the ABC television network.
Former Colleague:- Lori Stokes Bids Her Goodbye to WABC as She Announced Her Departure from The Eyewitness News!
No doubt that the 46-year-old earns an excess of $100 thousand in salary, considering the years he has put behind his back. His earnings as the "Chief Meteorologist for Channel 7's Eyewitness News First@4 and Eyewitness News at 5, 6 and 11" make up a big chunk of his soaring net worth.