Entertainment
Lee Ingleby Personal Life: Married Man And Proud Enough To Flaunt The Tag
Lee Ingleby Personal Life: Married Man And Proud Enough To Flaunt The Tag. Actor Lee Ingleby is not only skilled at acting but also at hiding the details of his personal life. Well, when a celebrity shields his private life then especially the fans are intrigued to find more about the star. So, for Lee's fans, we have brought you details from his life including the revelation of his marriage.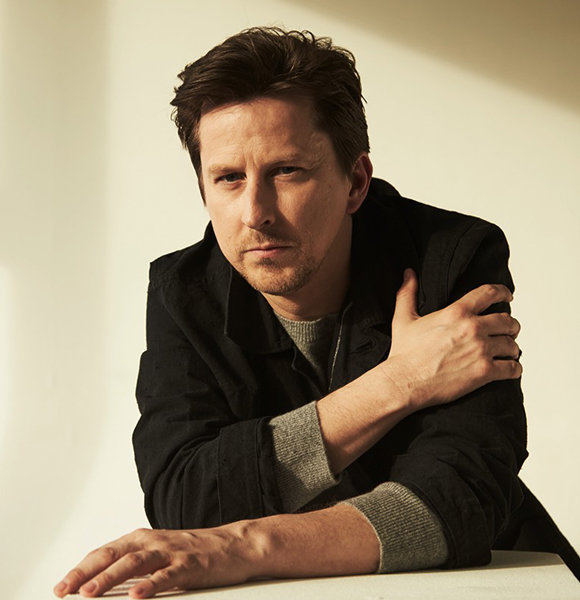 Actor Lee Ingleby is not only skilled at acting but also at hiding the details of his personal life. Well, when a celebrity shields his private life then especially the fans are intrigued to find out more about the star.
So, for Lee's fans, this article has brought you details about his life including the revelation of his married life and wife.
Without further ado let's get started.
Flaunts Married Status; Wife Is Kept A Secret
British actor Lee Ingleby has been so secretive about his day to day life happenings that; he has left his fans to join the dots of his life until he elucidates details regarding his relationship status. Nevertheless, Lee mentioned his girlfriend about a year back in April 2017 in an interview with Daily Mail.
You May Also Like:- Glenn Robbins' Furtive Wife Revealed! Unheard Married Life Of Aussie Comedian
Lee, who believes that the secret to a happy relationship is laughter, mentioned his girlfriend when asked about the most romantic thing Lee has ever done. He shared,
"Adopting a rescue cat, Harry, as a present for my girlfriend about eight months ago. Now I think she loves him more than me."
Lee later posted the photo of the cat which he had gifted to his girlfriend on 5 October 2016 via Instagram.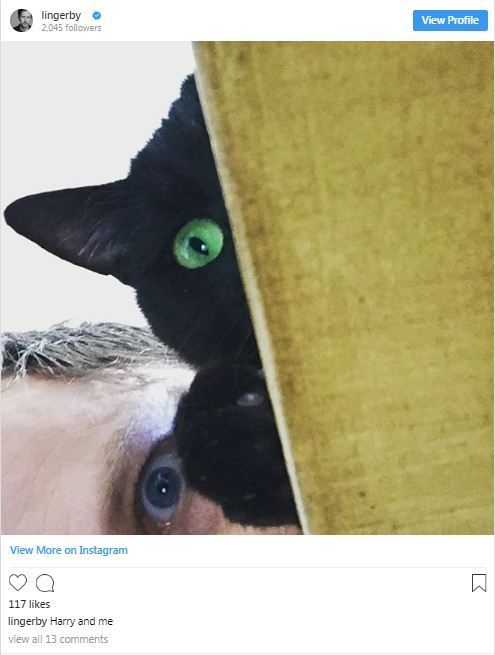 Lee with his pet cat Harry (Photo: Lee Ingleby's Instagram)
Also, in an interview around April 2017, he also confessed that he doesn't like to give spoilers while watching his show with his girlfriend and prefers maintaining the suspense.
Previously, back in 2013, Lee was pictured alongside a mysterious woman while attending an event and many are assuming that is the girlfriend Lee always talked about.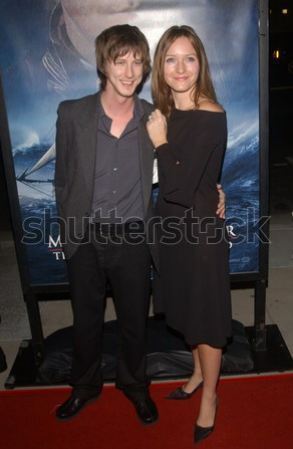 Lee along with his mysterious girlfriend attend an event in 2013 (Photo: Shutterstock.com)
Lee's ability to remain tightlipped is commendable as in the time when people prefer to showcase their love via social media platforms he has refrained himself from dedicating posts to his lady love. But, he has his own way of telling people that he is already taken and describes himself as a 'husband' on Twitter.
"Actor, writer, husband, sleuth, builder, avenger, wronged man, camel handler and all round good guy."
Lee, who currently appears as Nick Huntley on the British TV series Line of Duty, had earlier stated that after watching the show his girlfriend would feel a different way about her boyfriend. Talking to WhatsonTV on April 2017, he stated his girlfriend watched his work:
"I only told my girlfriend bits and bobs, so she might start looking at me in a different way after watching Nick!"
With fans intrigued to know the details of his wedding as well as his married life with a wife, they might be disheartened to know that he has chosen to conceal the details, leaving his fans in a state of confusion. 
Moreover, it seems that his uber fans need to wait, as apparently nothing can surface the media without his consent.
See Also:- Danny Glover, From One Wife To Other; Children At Age 72
Meanwhile, gay rumors for a man who maintains a peculiar romantic life is not alarming, and Lee, too, has been its victim. However, Lee hasn't addressed the gay rumors yet. Thus, it's not fruitful to arrive at any conclusion based on stories, but his marital union with a wife must be enough to shield him from the rumors. 
Personal Life Includes Family; Recent Acting Jobs
Born on 28 January 1976 in Burley, Lancashire, Lee Ingleby goes by his birth name Lee David Ingleby. Lee, who was born to his parents Gordon and Susan, grew up in Brierfield in a working-class community along with his sister, Donna. Also, he attended End Edge High School and attended Accrington and Rossendale College.
Eventually, Lee, who developed a passion for performing arts, went on to get accepted by London Academy of Music and Dramatic Arts. Post graduation, he received parts in Television shows like The Bill, Soldier Soldier, Cadfael and Jonathan Creek. 
In the year 2000, the 5' 10" (1.78 m) tall actor got his big break with the show Nature Boy. His career moved forward with the projects like Master and Commander: The Far Side of the World, and Harry Potter and the Prisoner of Azkaban. 
His recent acting projects include Line of Duty, Warship, Innocent and Bob the Builder: Mega Machines. As of now, he is busy with television shows like Bob the Builder, and The A Word.