Lil' Kim...Amidst her nicknames such as Queen Bee and Hip-hop Goddess...has a very messy relation and history with...Lil Kim got custody of her...a clip of her daughter bonding with the boxing champion...She has an estimated net worth of...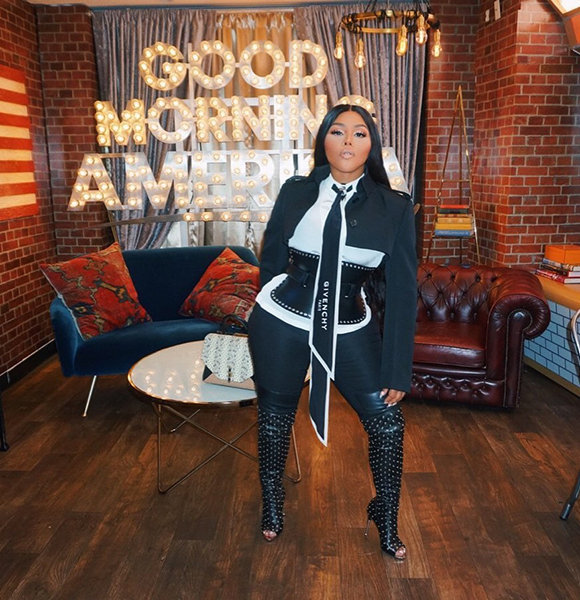 Lil' Kim is a rarity among female rappers, especially in the 90s, when she ventured into strictly male territories in the 90s rap, namely edgy hardcore rap and explicit sexuality.
Lil' Kim is an American rapper, songwriter, model, actress, and producer. Amidst her nicknames such as Queen Bee and Hip-hop Goddess, her real name Kimberly Denise Jones is buried, only in her birth certificate.
Queen of Rap scored her highest-charting pop single in 2001 with the global number on hit Lady Marmalade, a  high profile collaboration with Christina Aguilera, Pink, and Maya. Notably, after nearly a decade without the release of a single, she returned with Nasty One in 2018, and Go Awff in February 2019, as a part of her fifth studio album, 9.
Who Is Her Boyfriend? Is She Married?
The 45-year rap icon has a very messy relation and history with New-York based rapper Jeremy Neil, widely known as Mr. Papers.
Lil' Kim and Mr. Papers met when he was 24, and she was 38, and power struggles over infidelity plagued their relationship.
Queen Bee tweeted about the end of their relationship on Twitter in December 2012:
"As of 2night me & papers are officially over. No malice or bad blood. I'll see U guys soon."
Many of her fans came together to support her; however, the couple reconciled and starred with her in Rihanna's music video, Pour It Up.
Sadly, the duo broke up over cheating claims for the last time in 2014 when their daughter Royal was only two months old.
After the couple split, there is an ongoing battle between them over the custody of their daughter.
Before Papers, Lil Kim was in a troublesome but famous relationship with the legend himself, The Notorious B.I.G, arguably one of the greatest rappers of all time. They even had protégé group Junior M.A.F.I.A, which release their debut album Conspiracy, back in 1995.
Lil Kim's Daughter Royal
Lil Kim and Mr. Papers brought together their little princess Royal Reign into the world on 9th June 2014 in New Jersey. However, Royal's parents split up when she was only two months old. Ever since she opened her eyes, she has known her parents fight for her custody.
Lil Kim got custody of her daughter ever since she was born, citing abuse to her from her baby's father. Lil Kim's daughter is now five years old as of 2019, and she is already promoting her mom's new album 9 in Lil Kim's Instagram.
Queen Bee also shared a clip of her daughter bonding with the boxing champion Floyd Mayweather Jr, when she was only two. The boxing champ is like a father figure to Royal.
Hip-Hop Goddess' Surgery
Some of her well-wishers even claimed that the Hip-hop goddess, with a height of 4 feet 9 ½ inches (1.46 m), OD'd on plastic surgery. Many of her fans still think that the look of the 90's Lil Kim is way too beautiful and she should not have altered it in any way. Her before image looks like a different person. 
However, the reason for so much controversy lies in the fact that cosmetic procedures are not common in the Hip-hop community. On the other hand, the real reason for changing her appearance lies in the fact that she had low self-esteem.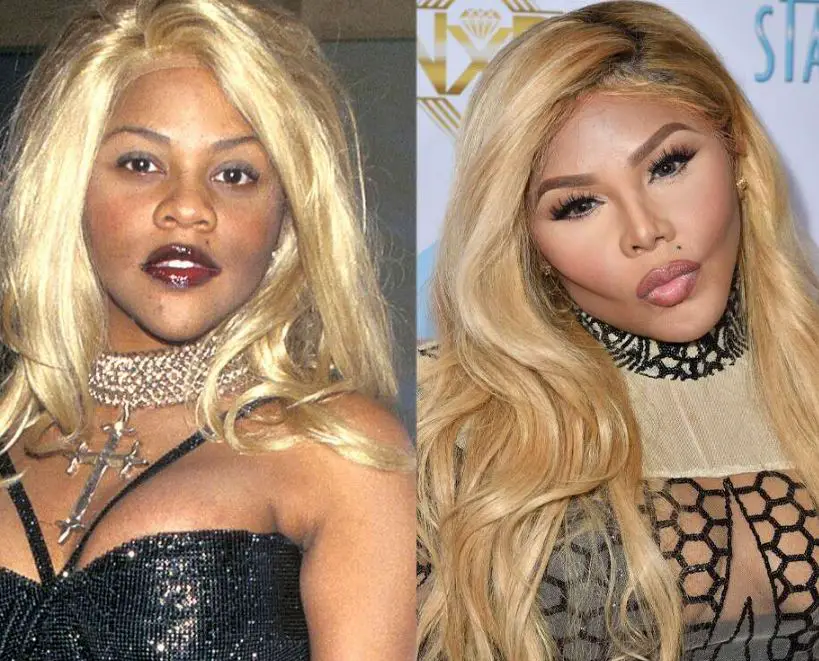 Lil Kim before and after cosmetic surgery (Photo: eonline.com)
The Hip-hop queen claimed that 'looking down to her' from men in her life led her to go for drastic changes, including her dad and her past lovers. Some cosmetic, like a nose job, were necessary to reconstruct her nose after physical abuse. She had a picture in her mind of a European-looking light skin beautiful long-haired woman, which she is trying to copy in her look to be more desirable.
It might have been a deadly mistake as her fans and most of her family and friends like the way she was before any of these reconstructions and bleaches.
Net Worth Details
Lil' Kim's debut album Hard Core went on to sell more than 4.5 million copies. Further, the rapper has sold more than 12 million albums globally as a solo artist. In 2016 alone, she earned $ 823,000 and another $ 398,000 in 2017.
So where her net worth stands as of 2019. Well, it is a little tricky. She has an estimated net worth of negative $2 million.
Love & Hip Hop:- Tommie Lee Wiki, Age, Boyfriend, Kids
No, it is not a mistake. Lil Kim filed for Chapter 13 bankruptcy on 12th June 2018. The Hip-hop queen owes $ 1.5 million in back taxes and $ 667,000 in late mortgage payments. She has already lost her 6000 square foot $3 million Alpine mansions to foreclosure, and still, her spending is off the chart.
Probably, the multi-talented artist needs a fresh start, and she could be climbing the success hill to the top in no time.