Lyrica Anderson's has worked with big-name celebrities like...Following in her mother's footstep she is also a...she had a twin sister who...is married to rapper named...Lyrica and her husband eloped back in...has a baby from her marriage named...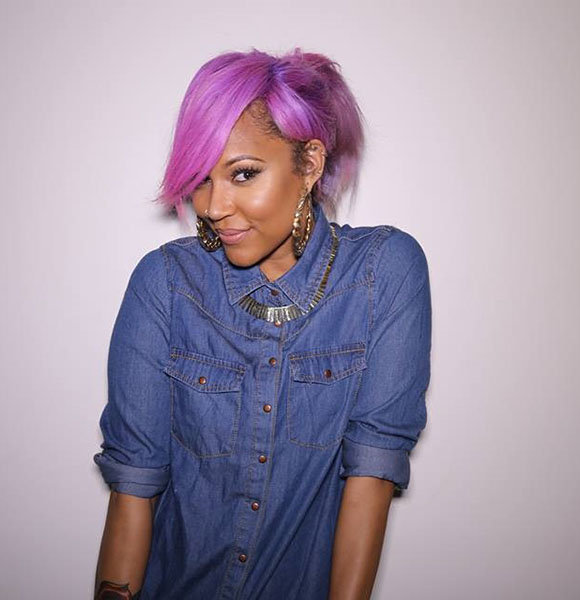 American singer-songwriter, Lyrica Anderson's has worked with several famed celebrities like Demi Lovato, Beyonce, Chris Brown, Jason Derulo, Missy Elliot, and many others. However, she is famously known for appearing on VH1 reality series, Love & Hip Hop: Hollywood.
Dive into the details of the stars' career in music and reality TV along with her net worth.
Lyrica Anderson's Bio
Lyrica was born in LA, California on the 18 December 1988 to parents: Darrius Garrett and Lyrica Garrett.  She was siblings with a twin sister named Aida. Born three months prematurely, the sisters initially faced a lot of health issues. Both of them were put on respirators due to problems with their lungs and breathing. 
Similar Career:- Tiffany Alvord Height, Weight, Boyfriend, Family, Net Worth
Lyrica fought hard and developed to be a healthy child; however, Aida had a hard time with her growth. At the mere age of three, Aida left the world. The loss of a child brought the family to their weakest point, which led to Darrius walking out on his wife and daughter. Her grandparents eventually raised Lyrica. 
Married With Kids
Like most reality TV star, Lyrica's personal life has also been televised and is public as an open book. 
The reality TV star married her longtime boyfriend, rapper A1 (real name Floyd Bentley) in 2016. Lyrica's mother wasn't particularly happy that her daughter got married by eloping and without an actual wedding. However, she turned a new leaf and came to accept her daughter's husband.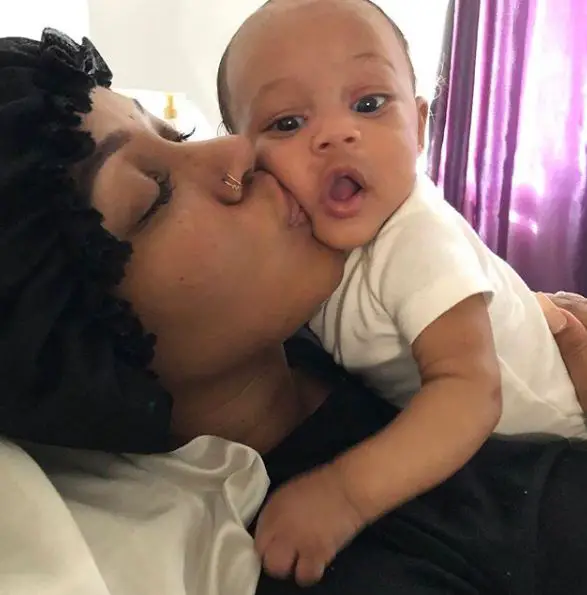 Lyrica Anderson kisses her son, Ocean Zion Bentley on 27th of March 2019 (Photo: Ocean Zion Bentley's Instagram)
With all the drama in their relationship, the couple was the subject of another one in late 2018. Lyrica was expecting a child when the fellow star on Love and Hip Hop: Hollywood, K. Michelle accused her of cheating on her husband with Safaree Samuels.
To clear up the rumors, Lyrica took a paternity test and proved her faith. Her husband turned out to be the baby's father.
Lyrica had given birth to a healthy baby boy on the 30th of November 2018. The couple have named their son Ocean Zion Bentley, and the little boomer already has his own Instagram with over 131K
Net Worth Details
Following in her mother's shoes, Lyrica also lived up to become an entertainer. She is a singer and a songwriter. 
Lyrica commenced her career in 2009 by writing a song titled "Pyramid" for the Filipina singer, Charice. She rose to fame when she worked with Demi Lovato for her third studio album titled Unbroken, which was released in 2011. In 2013, she co-wrote Jealous for Beyonce's fifth studio album.
Seeing that the songs she wrote were topping the charts every time, Lyrica released her debut mixtape titled King Me in 2012. Her songs have reached up to third on the Billboard charts. As a tribute to her sister, the singer released her second album called Aida in 2017.
Women in Music:- Azealia Banks Siblings, Boyfriend, Dating, Wedding, Gay, Net Worth
Moreover, Lyrica has also dabbled a bit with the reality TV shows. In 2016, she became a cast member on the VH1 reality series, Love and Hip Hop: Hollywood. She returned as a leading cast member in 2017. However, in August 2018,  the star left the show which led continuity issues with the show's storyline.
With all her time in the land of Hollywood, Lyrica has made herself a known character in the industry. She has undoubtedly gathered a seven-figure net worth out of her hustle.