Lil Nas X boasts a net worth of...came out as gay in...born with the real name...family didn't support when he...songs of his 2019 EP include...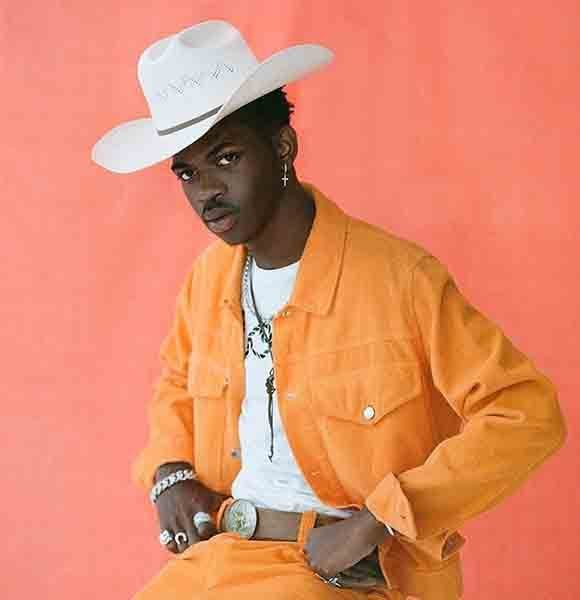 Lil Nas X is a living embodiment of what a viral hit can do to an individual's career and life as a whole. His 2019 breakout single Old Town Road transformed him into an international phenomenon. The consequent remixes only cemented his status as a rising star.
Fueled by the stated song's success, Lil Nas X also managed to score a recording deal with Columbia. In May 2019, he signed with CAA — A leading American talent agency.
Net Worth & Songs In 2019
A month after penning the agreement with CAA, Lil Nas X released his debut EP titled "7." Consisting of eight songs in total, "7" featured songs such as Panini, Rodeo, and Bring You Down. None of which peaked as high as Old Town Road in the charts.
Another One Hit Wonder:- Rebecca Black Boyfriend, Net Worth, Parents
Lil Nas X's country/rap mash Old Town Road initially faced blackballing from the country music industry. Over time, everyone caught up with the infectious nature of the stated record through memes and internet challenges. And when Billy Ray Cyrus jumped on the song's remix, it earned #1 spot on the Billboard 200 chart.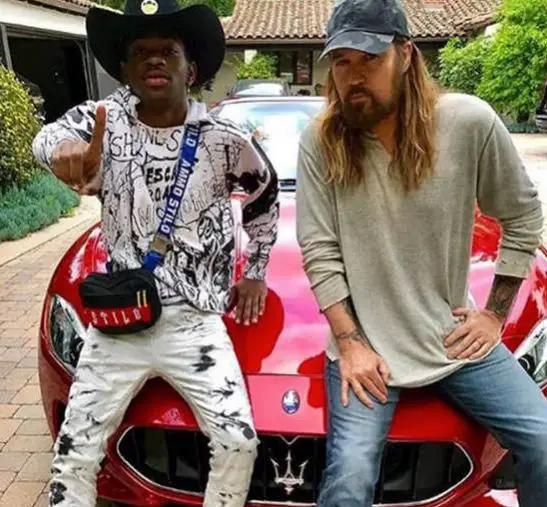 Lil Nas X gifts mentor/friend Billy Ray Cyrus a Maserati sports car in 2019 (Photo:- eonline.com)
With newfound fame came financial prosperity. From festival appearances, brand endorsements, and royalty from music, Lil Nas X managed to accumulate $3 million+ sum in net worth.
Gay & Girlfriends Related
Lil Nas X's likeability doubled when he came out as gay in late-June 2019. While doing so, he broke the hearts of so many, who wished to be his girlfriend.
On the last day of 2019 Pride Month, the Old Town Road hitmaker pleaded his fans to carefully listen to the lyrics of the song C7osure (You Like). An excerpt read:-
"Ain't no more actin', man that forecast say I should just let me grow / No more red light for me, baby, only green, I gotta go / Pack my past up in the back, oh, let my future take ahold / This is what I gotta do, can't be regrettin' when I'm old."
Without explicitly going into details, he expressed amazement at the public's inability to figure out his sexuality. Lil Nas X shared:-
"deadass thought i made it obvious"
The Columbia artist's decision to outing himself as gay recieved praise from everyone. Fans and fellow industry veterans - including Miley Cyrus - alike seemed happy with the courageous act.
Age, Real Name & Family
Hailing from Atlanta Georgia, Lil Nas X turned 20 years of age on 9th April 2019.
Another Lil In Our Vault:- Lil Yachty Girlfriend, Mom, Dad, Gay
Born with the real name Montero Lamar Hill in 1999, Lil Nas X dropped out of college to focus on music. His family wasn't happy with the decision. To avoid his parents, he went on to live with his sister.
It was at his sister's place that Lis Nas X created Old Town Road — a song that would change the course of his life.
Facts Unveil Height
Tantalizing facts about Lil Nas X:
Lil Nas X's breakout hit Old Town Road samples Nine Inch Nail record 34 Ghosts IV. The beat cost him $30.
He also has a brother. The duo grew up in the suburb of Austell.
In terms of height, Lil Nas X stands six feet and an inch (1.86 m) tall.
Before fame, the Panini hitmaker used to run a Nicki Minaj fan account.