Lil Yachty is an American hip-hop artist, instantly recognized by his trademark red hair. He has worked with big names including Young Thug, Chance the Rapper, Post Malone, and Kylie Jenner.
Dive into the details of his life on net worth, family and find if he's dating or single!
Bio-Like-Wiki & Age
Lil Yachty was born as Miles Parks McCollum on 23 August 1997. He is from Mableton, Georgia. Besides his stage name, he is also known as Lil Boat or Nautica Boat Boy or King Boat.
Regarding his family, Miles was born to father, Shannon McCollum. While his dad is a photographer by profession, there is no information on his mom. It is only known that he has a sister named Nina for siblings.
As for his measurements, the 21-year-old rapper stands with a height of 5 feet 10 inch (1.78 m).
Is Lil Yachty Dating?
Back in 2016, Lil Yachty was linked with an Instagram model, India Love.
Expecting A Rapper's Baby:- Annie Smith Is Pregnant & Expecting Baby With Lil Xan
After India featured in his music video for Forever Love, the rumors gained more momentum. But, the buzz was quickly dismissed after a sex tape of India surfaced out. The rapper distanced himself from the controversy by replying that she was not his girl.
Despite the success in his career, Lil Yachty doesn't have the same luck in his relationships.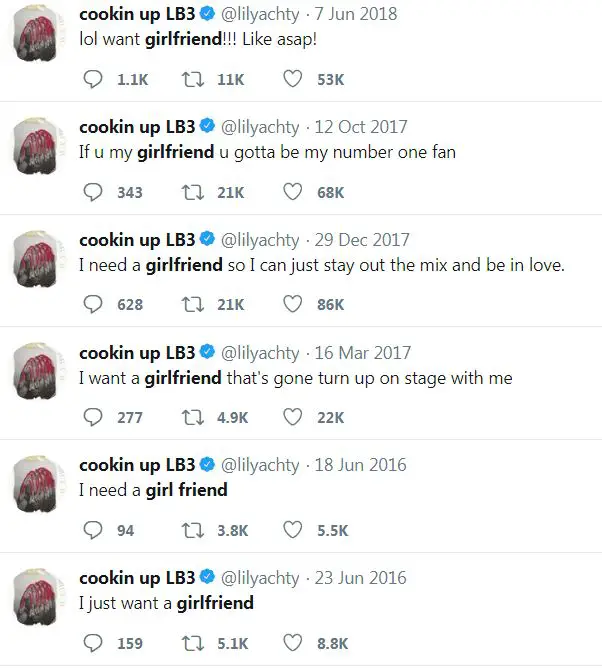 Lil Yachty posts about wanting a girlfriend and implied being single (Photo: Lil Yachty's Twitter)
Even his social media posts indicate that he is single and on the hunt for his one true girlfriend.
Early Life: Education, Music
Before his music took off, Lil Yachty attended Pebblebrook Highschool in his hometown.
Meanwhile, he used to work at the local McDonald's, where he met the upcoming young rappers. The crowd inspired him to pursue music. And, after studying at Alabama State University for two months, he dropped out to pursue a music career. Interstingly, there's no arguing that it wasn't for good.
Rapper With Similar Music:- Rapper 6ix9ine 'Daniel Hernandez' Daughter & Baby Mama | Facts Uncovered
He moved to New York to follow his passion and teamed up with producer and beat maker, Burberry Perry and another rapper, K$upreme. Collectively known as "The Saling Team," the group worked in the rapper's bedroom.
Lil Yachty's career skyrocketed after the video for his single, 1Night went viral. Also, his first album, Teenage Emotions, released in May 2017 managed to land a #5 on the US Billboard chart. His second album, Lil Boat 2, released in March 2018 reached #2 on Billboard.
The young artist managed to gain stardom within a short period.
Moreover, he runs a YouTube channel named "Lil Yachty" with 1.8m subscribers. No doubt, he boasts an estimated net worth of $8 million now.
Rumors About Sexuality: Gay?
Back in 2017, the internet went wild with rumors of the rapper being gay.
The gossips swirled after Lil Yachty's album art for Teenage emotions featured a gay couple kissing. The artwork included a clear emphasis on diversity, bodies, and races of all types.
Some speculated that the rapper was hinting towards being gay. However, the majority was set on the rapper's effort to show that his music was not just for a specific group of people but, for everyone.