Entertainment
Rapper 6ix9ine 'Daniel Hernandez' Daughter & Baby Mama | Facts Uncovered
Critics of rapper 6ix9ine's online antics have their work cut out for them for the time as the FBI arrested the "internet's biggest troll" along with the other members of Nine Trey Bloods on the charges of racketeering on 17th November 2018.
If found guilty, 6ix9ine, age 22, could face a mandatory minimum sentence of 32 years in prison.
In addition to federal prison time, the Stoopid rapper - real name Daniel Hernandez - will see four more years jail time for violating probation stemming from his 2015 sex crime involving a minor and disorderly conduct charges resulted from an altercation with a police officer.
So what does the news of his arrest mean to his daughter and his baby mother? But more importantly, has his girlfriend desired to chime in the matter? Also, Is there any truth to him being gay?
Rumored Gay Tekashi "Daniel Hernandez" 6ix9ine's Status With Daughter & Girlfriend Cum Baby Mama
Rainbow hair, rainbow grills & favorite go-to insult "Suck My D**k!" -- three distinguishable attributes associated with 6ix9ine which made the rapper from Brooklyn an overnight internet sensation and elicited - rightfully so - the tag of being gay from "the haters."  
Discover:- Tobin Heath Amid Gay Rumors, Is Christen Press Her Girlfriend?
It wasn't until the news of the Gummo rapper fathering a daughter named Saraiyah with his on-&-off girlfriend turned baby mama Sara hit the internet that the gay taunts against the FEFE hitmaker eventually died down.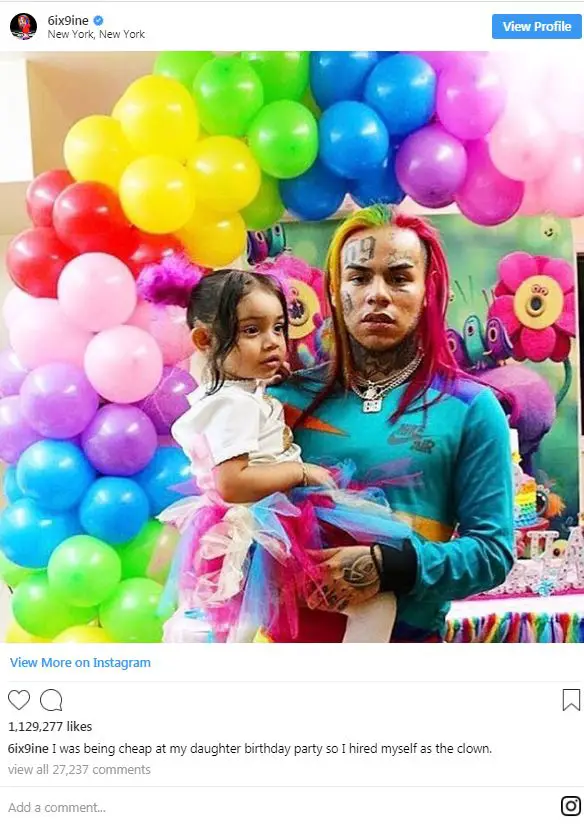 6ix9ine with his daughter on her birthday (Photo:- 6ix9ine's Instagram)
An enigma by her admission, Sara has reiterated that her relationship with her daughter's father 6ix9ine remains the same despite 6ix9ine's growing popularity. She once claimed:-
 "His(6ix9ine) fame should not have to affect me in a negative light or negatively."
Sara still addresses 6ix9ine by his government name "Daniel Hernandez" -- an understandable exchange, given the pair's history. Back in July 2018, when the BEBE hitmaker got kidnapped, it was Sara who bought the jewelry out to the kidnapper's car.
Interesting:- NBA YoungBoy Wiki: Real Name, Baby Mama, Kids, Net Worth - All Revealed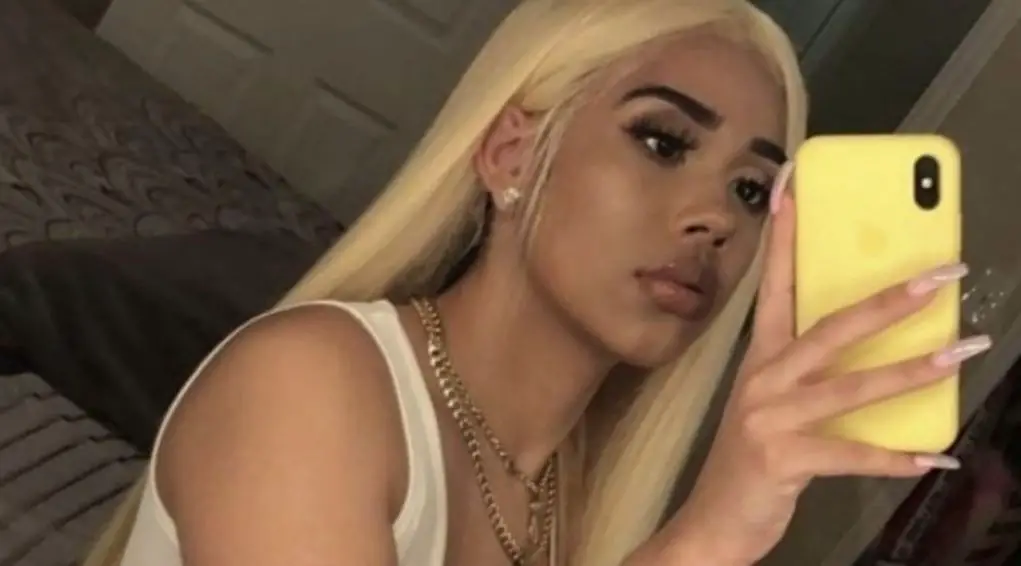 Snap of 6ix9ine's girlfriend cum baby mama, Sara (Photo:- vladtv.com)
Despite his baby mama holding it down for ages, looking after their daughter, 6ix9ine hasn't always been the most faithful boyfriend. Sara, for her part, seemed okay with his cheating ways all the while opting to be secretive about their estranged relationship. In an Instagram Live, she said:-
"I don't address no situations head on and give clear answers and I keep y'all twisted. Because that's my personal life."
That said, Sara has gotten into an online scuffle with few of 6ix9ine's "side chicks" in the past.
Read Also:- Who Is FatBoy SSE? Wiki Reveals Girlfriend, Net Worth & Essential Facts
Like Him 6ix9ine's Current Girlfriend's Also An Aspiring Rapper
The stated scuffle with 6ix9ine's alleged side-chick Celina Powell was - more than anything - directed at DJ Akademiks for facilitating the meeting.
For Sara, the father of her daughter is just as guilty as his "side pieces," but doesn't want to say it so bluntly, no less at a public forum like Instagram. She explained:-
"I'm not gonna sit here and put the blame on anybody but him. Just because I'm not publicly coming at him doesn't mean I'm not coming at him."
Interestingly enough, Sara's most recent competition - 6ix9ine's girlfriend before his arrest - Jade is just as problematic as the TATI rapper.
Jade, bartender cum aspiring rapper, sued rapper Cardi B in August 2018 alleging the latter of ordering an attack her. Following the incident, 6ix9ine hired Jade to be on one of his videos - a move signaling his allegiance to Nicki Minaj in Nicki-Cardi beef - and even promised to write her raps.
Don't Miss:- Slim Jesus Dead Or Alive Dilemma; Rapper's Real Name & Actual Net Worth
All in all, 6ix9ine's arrest meant that not one - but two - rap career has come to an end; a daughter won't see her incarcerated father until she reaches her adolescence; and a former lover, for better or worst, will be forced to become a single mother.