Surrounded by a dark cloud of despair during his golden years in the acting industry, Lillo Brancato is eyeing for a good comeback in the Hollywood industry.
After spending eight long years in prison from 2005 to 2013, the Robert De Niro look-alike was keen to get back in the big screen. Although he was cast in a small role in the 2014 movie American Sniper, the actor is now looking to relive his former glory.
Married Status, Wife?
At a very messy situation in his life, Lillo Brancato was always supported and encouraged by his girlfriend, Christina Chen. The interracial love started way back when Lillo was in his golden acting years. The couple immediately sparked a bond and started dating each other.
Spicy Dating Life:- Natasha Henstridge Husband, Dating, Net Worth, Now
Despite the actor's jail sentence and drug addiction, Christina didn't leave his side and waited for him to return. After an extended stay in prison, Lillo moved in with his wife-prospect at her home located in Yonkers in 2015.
As of now, the Falcon actor is planning to get married to his longtime girlfriend and make Christina his wife for eternal life.
Bio: Age, Family
The infamous actor Lillo Brancato Jr. was born on 30 March 1976 in the city of Bogota, Colombia. A four-month-old Lillo was adopted by foster parents: Lillo Brancato Sr. and Domenica Brancato, who raised him alongside a brother named Vincent.
After his early days in Bogota, Lillo's whole family moved into Yonkers, New York. There, he attended Mount Saint Michael Academy in the Bronx and started his acting career.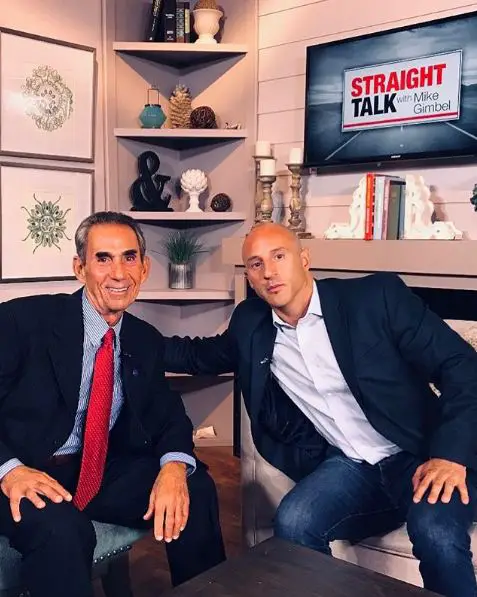 Lillo Brancato Jr. with host Mike Gimble at the Straight Talk in June 2019 (Photo: Lillo Brancato's Instagram)
Lillo was merged in the acting industry in the most unusual way. When a scout was searching for a Robert De Niro lookalike artist, he discovered the actor while swimming at the Jones Beach.
Lillo was eventually cast as the main character in a movie and even won the hearts of the audience with his acting. However, his bundle of joy did not last long as he was sentenced to jail in 2005 following drug abuse and charge of an attempted burglary.
In 2014, the 43-year-old actor was released from jail, but his life was never the same. Now, he shares his story with younger students and warns them about the consequences.
Net Worth Info
Following a purple patch in movies and series like A Bronx Tale, The Sopranos, and Renaissance Man, Lillo Brancato was a sprouting name in the film industry.
His first movie, Calogero Anello, also starred Robert De Niro while Lillo took the lead. For a debutant playing the main character, the Colombian was paid $25K. Furthermore, he went onto feature in movies like Crimson Tide and Falcon, which cemented his place in the industry.
Imprisoned Analyst:- Chelsea Manning Bio, Jail, Sex Change, Now
Alas, his career was not meant to last as the "A Bronx Tale" star was arrested by the police. Lillo was charged with first-degree attempted burglary and second-degree murder, which made him ineligible for parole until 2014.
Now, after serving eight years in prison, his net worth is a pity $1 thousand. As in 2019, the actor is sharing his story to the young generation to prevent such mishaps again.