Linda Holliday is a name associated continuously with New England Patriots. Well, not a player at the NFL's greatest team but she is closely associated with it.
How? She is dating the coveted head coach of the aforementioned team, Bill Belichick. Always present at home game of her man's club, Linda indeed is the epitome of a great partner.
Linda's Age - About Her Twin Daughters
Linda was an entrepreneur with her boutique Blue Indigo Boutique, but she was forced to sell it in 2009 due to low sales. Not giving up, she looked for another way to support herself and landed a job as Lifestyle Correspondent for Style Boston.
At age 55, she is an executive director of The Bill Belichick Foundation. She supports her boyfriend's foundation which aims to help the athletic leader of the future; be it an individual, community or an organization.
It comes as no surprise she is part of her beau's organization as she always supports him. Besides, her lover there are two crucial individuals present in her life.
Well, the individuals in question are her twin daughters Ashley and Kat Hess from a previous relationship. Linda was married thrice before, but she managed to keep her past relationships private.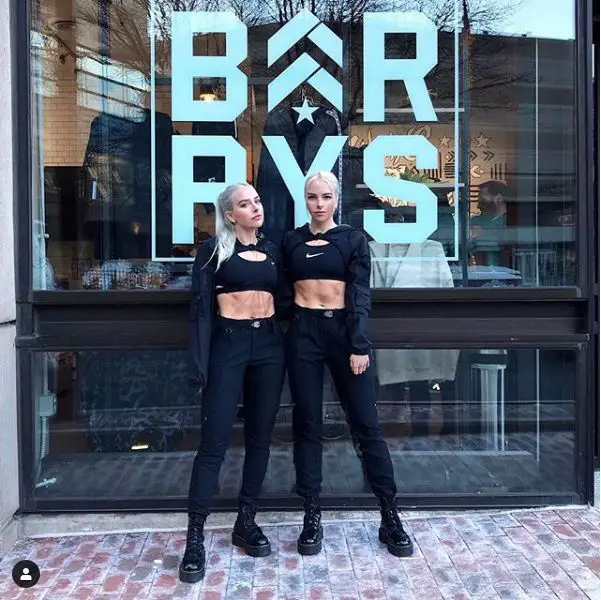 Linda Holliday's twin daughters Ashley and Kat Hess strike a pose on 11th March 2019 in Boston (Photo: The HessTwins's Instagram)
One thing that is not private is the impact she has on her children's lives. Well, the twins born seven minutes apart took inspiration from their mother's past profession and became entrepreneurs.
Linda's adult daughters are fashion entrepreneurs, who create and consult fashion. Titled The HessTwins, they also connect with their fans via the Instagram handle of the same name.
On Her Relationship With Bill Belichick
The Jupiter, Florida native's romance with the acclaimed coach, Bill Belichick started in 2007 after they first met at a night club.
Interestingly, she was on a girls night out and in a relationship with a boy. But, she broke it as she couldn't stay away from the undeniable attraction to Bill. Since then the pair became an item.
Even after twelve years of relationship, the couple isn't in a hurry to get married any time soon. It can be understood that the pair love each other and don't feel the need to legalize their love.
New England Patriots' Former Player:- Logan Ryan Rock Solid Stats Got Him A Pretty Fat Contract With The Titans! Something Patriots Should Worry About?
Although not married, Lina and her man live a lavish life together. From his designation as the head coach of New England Patriots, he pockets a whopping amount of $7.5 million, and it is no wonder his net worth is $35 million.
Celebrates Birthday In June - Linda's Measurements
Lina was born on 5th June 1963.
Her enviable figure and measurements fit for a model come as no surprise due to her pageant past. A regular contestant in the beauty contest, she took part in Mrs. Arkansas and was the runner up twice.