Entertainment
Lior Raz Married Life & Family Fell Apart? Relationship With Wife Now
As the old saying goes: the first cut is the deepest.
Israeli filmmaker Lior Raz's very "first love" suffered an ill-fated tragedy. Losing the source of your confidence can be disheartening--and the pain doubles when it happens to a barbaric act of terror - when it all happens at 19 years of age the damage can be felt for over a lifetime.
People never truly recover from the tragedy of such magnitude; Fauda star Lior Raz isn't one of those people. At 47, he's married to the love of his life with three kids.
Rising From Ashes Of Past Tragedy; Lior's Marriage Withstands False Rumors 
The year was 1990. Then 19-year-old Lior, who had joined, Duvdevan - an elite Israeli counterterrorism unit just a year before, received the news of his then-girlfriend, Iris Azulai sustaining injuries from a knife attack. She would later succumb to her injuries.
Discover:- Chris D'Elia Ended His Married Life With Wife; Has A New Girlfriend Or Busy With Happening Tours?
Years later, Lior would dedicate an episode of the Netflix original series Fauda to his slain lover.
In the 2017 New Yorker interview, the 47-year-old spoke of Iris in a melancholic tone and said:
She was one of the most beautiful women in Jerusalem, an amazing person. I'd been so insecure. I couldn't believe she'd date me. All my self-confidence in life came from her.
It would take actress Meital Berdah to fill the void in Lior's life left by the tragedy. Lior and his wife, Meital have been married for 10 years now, having tied the knots in 2008.
If Iris was the source of his self-confidence, then his wife, Meital is the reason behind success as an actor and a writer. Speaking to Tanya Toledano of Montreal Mom in March of 2017, the Fauda star made a fitting biblical reference while discussing his married life with his wife by saying:
You know the story of Jacob's ladder? So if I'm taking this story, I'm now climbing on the ladder, and my wife, she's holding the ladder…that's how I feel.
The Fauda star's comment had come months after a rumor, which suggested that the married couple were on a brink of a separation, was making headlines in the pages of Israeli media outlets. Apparently, the media outlets had picked up on Meital's prolonged absence from Instagram as the sign of their marriage falling apart.
Meital, on her part, would put up an Instagram post on 18 November 2017; essentially putting the rumors to bed.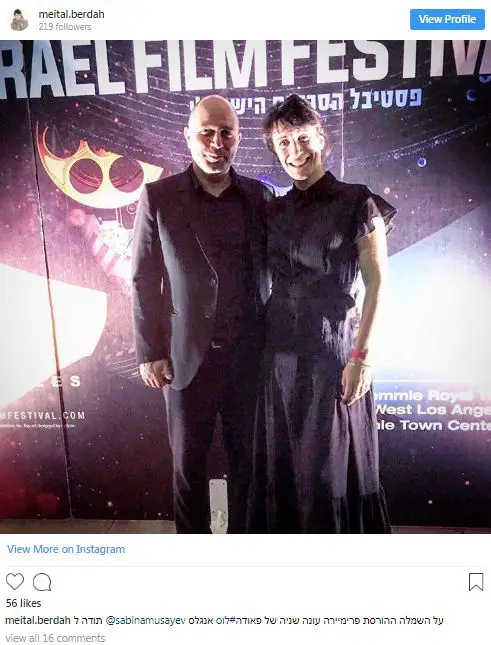 Married Still:- Lior's wife, Meital posts the snap of two after a year-long absence from Instagram (Photo:- Meital Berdah's Instagram)
Lior, who stands 5 foot 7 inches(1.70m) in height, and Meital are proud parents to three children, namely: Maya, Guy, and Nina. Despite not being a strict adherent of family traditions, the Raz family says Kaddish and enjoys the evening meal with family and friends every Jewish holiday.
Read Also:- Married Man Noel Clarke's Beautiful Wife & Kids! Family To New Series
With the new season of Fauda set to be filmed in the US, rumor has it: Lior and the family are looking into buying a property in Hollywood as they make plans for relocation.
Experience In Army Inspires Fauda
At present, the Raz family resides in a suburb north of Tel Aviv. But Lior grew up primarily in Ma'ale Adumim and Jerusalem. Because of his parents' Mizrahi family background, he was raised in a household where Arabic was spoken frequently.
This early acquaintance with the Arabic language would prove useful in the future as he co-wrote and lead the Netflix political thriller Fauda -- a show that heavily features the Arabic language alongside Hebrew.
Fauda, whose third season is slated to be released in 2019, is loosely based on Lior's experience as a member of an elite counterterrorism unit, Duvdevan.
After leaving the Army, the 47-year-old filmmaker migrated to the US where he worked as a bodyguard. Lior and co-author of Fauda, Avi Issacharoff pitched the show to numerous Israeli TV networks before getting picked by 'Yes,' a satellite television provider.
Netflix Star In Our Vault:- Kenya Barris, 'Black-ish' Creator Signs $100 Million Netflix Deal
The success of Fauda has made Lior an International phenom. The release of his latest project titled Operation Finale - where he portrays the role of an Israeli intelligence agent - should ensure that the 47-year-old actor's burgeoning net worth won't dwindle any time soon.