Entertainment
Who Is Lisa Nichols Husband & What Is Her Net Worth? Motivational Story
Motivational speaker, Lisa Nichols might be leading a comfortable life with millions of dollars and her stature as an influential figure, but there was a time when she was completely broke and had less than $20 in her bank account.
After constant struggles, she finally achieved success in her life; however, the traumatic past will always haunt her. Further, she also went through an abusive relationship in the past, which further added pain to the tragedy.
So much is covered in the motivational speaker's motivational story with her personal details including age, husband, weight loss, events, and more!
Husband In Prison After Son's Birth; Abusive Relationship
The Los Angeles, California native raised her son Jelani as a single mother, but her journey was not easy. Back in 1994, Lisa had less than $12 to her name and was entirely broke. Lisa, who had become pregnant at the age of 26, had a son to take care for.
The Chicken Soup for the African American Soul's writer journey to prosperity was not an easy task as she had to handle the responsibility of her child alone as her husband was arrested and thrown to prison.
You May Also Like:- Prison Break Actor Wentworth Miller, Gay Man Secretly Married Partner?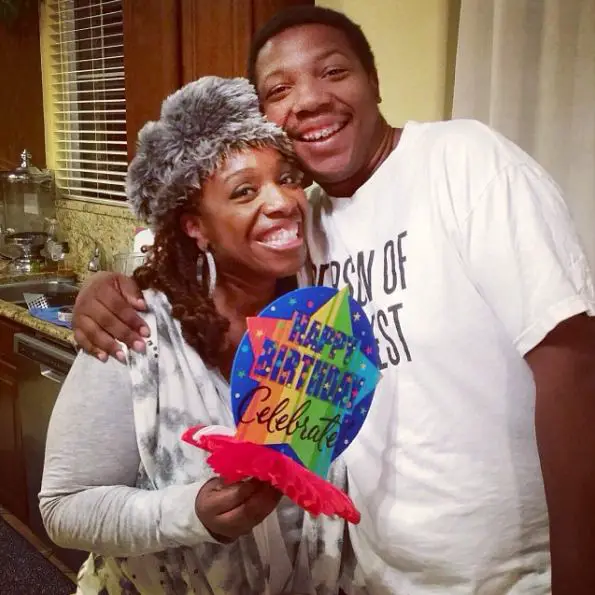 Lisa Nichols with son Jelani in December 2014 (Photo: Lisa Nichols' Instagram)
"Broke and Broken" she decided to stand in front of a mirror, and practice talking as a public speaker.
Lisa, who was on welfare back then, started reading books and take inspiration from people like the Starbucks' CEO Howard Schultz and former NBA Coach Phil Jackson.
Don't Miss:- Rudy Ruettiger Is Married And Has A Wife But Doesn't Talk About It; A Man Of Only Inspirational Talks And Quotes?
She has now completely recovered from her depression and has even talked about a past abusive relationship through her YouTube channel. Speaking through a video, Lisa mentioned that she was often assaulted by her partner and even her life was in danger.
However, she didn't say if the man was her son's father and whether she had married her abuser.
Lisa's son Jelani, now aged 24, is the apple of his mother's eyes, but he also suffered a tragedy as his fiance was diagnosed with cancer. The speaker shared a tweet to express her condolences.
"This morning I woke up and I looked at this video. The Cancer Story of my beautiful soon to be daughter-in-love, fiancee of my wonderful son, Jelani."
Neither Lisa nor Jelani have revealed whether cancer suffered by Jelani's future wife has been cured, but it seems like she has been recovering lately.
More About Lisa Nichols: Net Worth, Books, Weight Loss, Events, And More
Lisa, who ages 52 and celebrates her birthday every year on 18 May, is a motivational speaker and a New York Times best-selling author. An entrepreneur in the true sense, she also serves as the CEO of her company, Motivating the Masses. Her company has helped various business owners in achieving professional success.
With her public speaking, Lisa has been able to influence over 30 million people worldwide.
Lisa first started her career as a motivational speaker in 2010 with Mindvalley after she befriended Vishen Lakhiani. She became an instant hit and has earned millions of followers, as of today.
More From LiveRamp Up:- 'Insecure' Actress Natasha Rothwell Bio: Age, Weight Loss, Husband Talks & Facts
Currently, she earns a salary averaging $197 per hour for her speeches while also enjoying a net worth of $5 million. Her upcoming events include Mindvalley A-Fest and Mindvalley Reunion; however, the date and venue of those events have not been disclosed.
Apart from influential speaking, Lisa is also an author and has published several books to this date. Some of her books include public-themed magazine including Abundance Now, No Matter What, Quantum Success, Unbreakable Spirit, Enough Is Enough, and more.
In addition to her professional success, the California native has also approached a healthy way of living. Lisa, who previously weighed 210 pounds, had made a massive weight loss of nearly 50 pounds by 2015 and even promised to lose about 45 pounds during the next year.