Entertainment
Prison Break Actor Wentworth Miller, Gay Man Secretly Married Partner?
After earning fame from his famous TV series, Prison Break, actor Wentworth has won the position of being a refined actor. After a childhood trauma of gender identity crisis and depression, he finally outgrows his fears and comes out as gay to the public. Spotted with ....did the actor secretly tie the knot with him is yet to be known!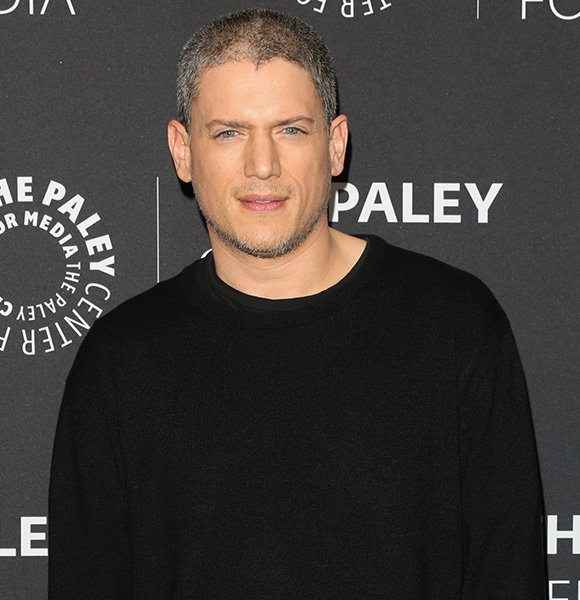 Quick Information
Relationship Status

Single

Twitter

https://twitter.com/wentworthmiller?lang=en

Tattoo/s

No

Height/ How Tall? 6 feet 1 inches (1.85m)
College

Princeton University

High School

Midwood High School

Career

1998-Present

Nominees

12 nominations

Awards

2015 Saturn Awards for the Best Guest Starring Role on Television

Net Worth

$4 million

Gay

Yes

Ex-Boyfriend

Luke Macfarlane

Date of Birth 2-06-1972
Children/Kids

No

Sister/s

Leigh Miller and Gillian Miller

Mother

Roxann (née Palm)

Father

Wentworth E. Miller II

Ethnicity/Race

Mixed

Zodiac Sign

Gemini

Birth Name

Wentworth Earl Miller III

Profession

Actor

Birth Place

Chipping Norton, United Kingdom

Nationality

English-American
People know him as the brother who risked everything to get his sibling out of prison.
The Prison Break star Wentworth Miller is one refined actor in Hollywood, who earned his success through his fourteen years of hard work.
His strikingly handsome features and his deep introvert character took him up to People Magazine's list of "100 most beautiful people in the world". Coming out gay in 2013, the actor has closed doors for all his female fans but shown a new possibility for all the queers struggling from the same problem.
Keeping a low key about his personal life, it wouldn't be a surprise if anyone found out that the actor has already tied the knot away from the public eye!
Coming Out Gay: Miller Definitely Won't Have A Wife As His Partner!
Being a compelling and critically acclaimed actor, the Prison Break star has received a lot of attention. Maybe it was for his style or the stunning looks that attracted not only the females but the males as well that swirled the gay rumors in the industry.
More Prison Break Star News: Silas Weir Mitchell Personal Life: Is The Actor Married Or Just Dating?
But, the actor denied the rumors in 2007 when he was questioned about his sexuality but the In Style Magazine. He reported:
"I'm not gay, but that rumor can't be killed. I'd like to have a girlfriend and a family. But I haven't met the right one yet. Until then I'm focusing on my job. I had to wait so long for this chance I savor every second on set even if it means 14 hours of shooting a day."
After his brief denial of being gay, it was in August 2013 that the Legends of Tomorrow star choose to bring his true identity to the public.
When he was sent an invitation to attend the St. Petersburg International Film Festival in Russia, he declined the offer.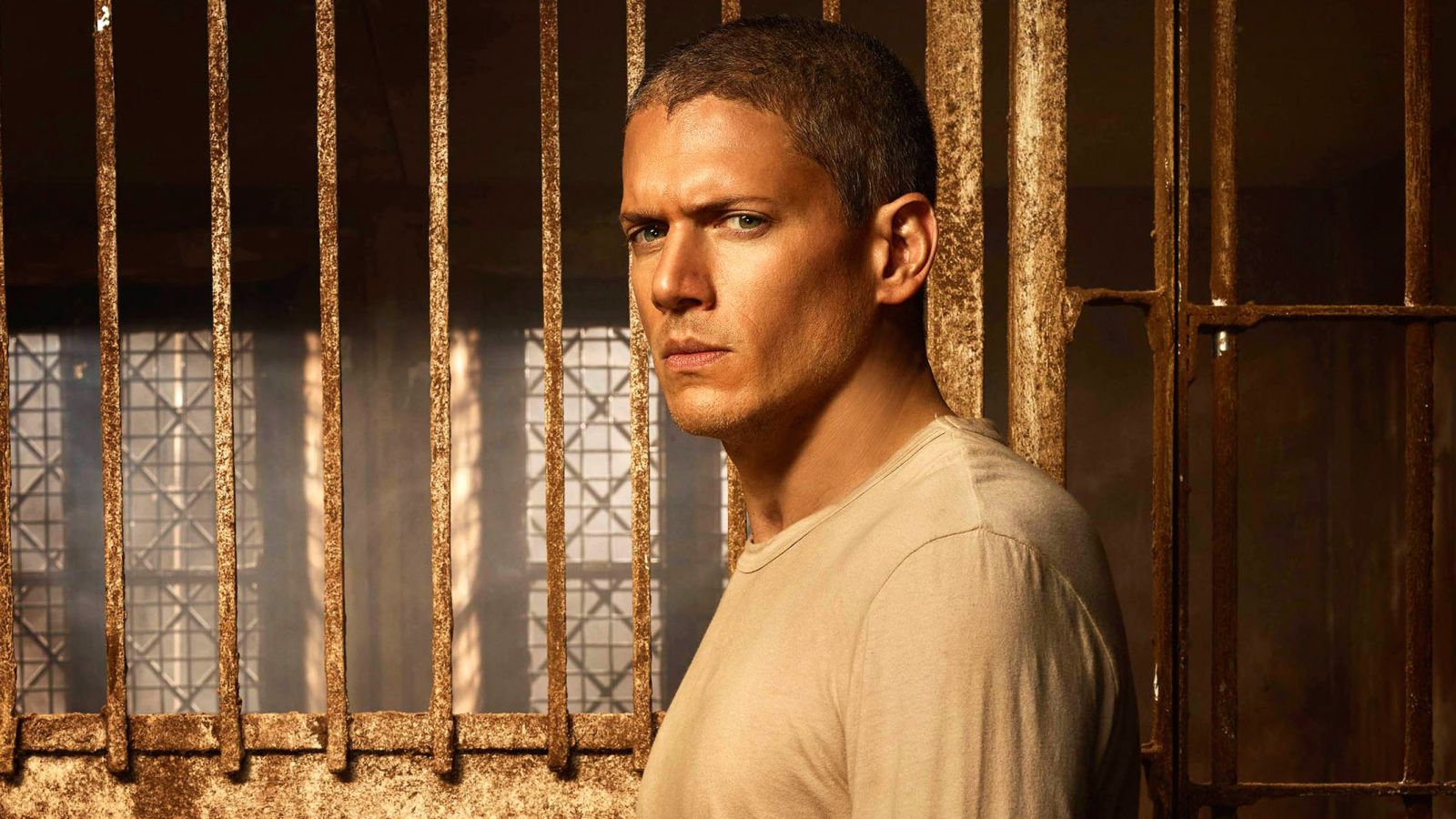 The Prison Break actor comes out gay in 2007 (Photo: Wallpapersite.com)
With the ongoing propaganda targeted at banning pro-homosexual relationship and rejecting same-sex couples from other countries to adopt a Russian born child, the actor found it bizarre and inconsistent with his own morals and identity.
So, with the motive to protest against the Russian Government's legislation and "current attitude toward and treatment of gay men and women', Miller sent an open letter to defined his sexual orientation writing:
"As someone who has enjoyed visiting Russia in the past and can also claim a degree of Russian ancestry, it would make me happy to say yes. However, as a gay man, I must decline."
GLAAD's website that published his open letter also noted him voicing out the injustice in part of the LGBT community to love and adopt the Russian borns by writing:
"The situation is in no way acceptable, and I cannot in good conscience participate in a celebratory occasion hosted by a country where people like myself are being systematically denied their basic right to live and love openly."
Battling through his fears and leaving his dark life filled with suicide and gender identity crisis behind, The 46-year-old finally has embraced his true sexuality and came out to the public despite the massive criticisms bulleted right at him.
Read Also: Proud Gay Kevin Abstract Dating Bliss - Boyfriend With Sharpest Jawline
Currently, living life as an openly gay man, Miller is on the verge of finding his partner, who could help him in every endeavor and maybe tie the knot with. But the obvious thing is the partner won't be a girl!
Miller Spotted With Boyfriend
After coming out in 2007, the charismatic TV personality had headed off to the journey to find his better half. With a long line of admirers, Miller chose to dedicate himself to a few people who he was rumored to be with earlier.
Before the coming-out episode, the year 2006 boiled the rumors of Miller getting engaged with the American actress Mariane Klaveno, but he cut it out by saying that they were just friends. After Klavan, he had a short hookup with Amie Bice in April 2007.
However, after he finally came out in 2007, he without any restriction went ahead dating people of his own gender. So when he came across another hotshot Canadian actor Luke Macfarlane, he felt some immense connection with him.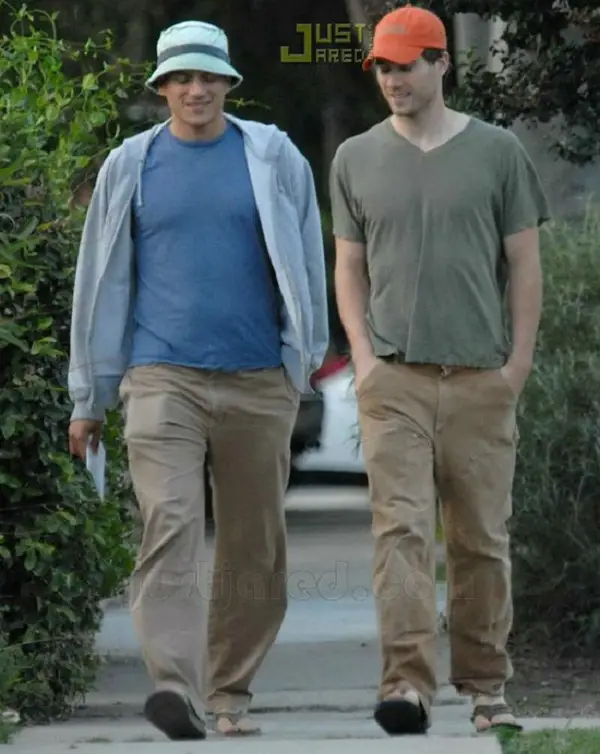 Miller spotted with Macfarlane before officially confirming their relationship (Photo: Marriedbiography.com)
Keeping his romance under wraps, Miller kept his love life away from everybody and silently carried out his relationship with his boyfriend Luke. The duo who are known as one of the hottest celebs in Hollywood dated for nearly a year.
More About Luke Macfarlane: Luke Macfarlane's Gay Relationships: Dating History With Renowned Boyfriends
The public couldn't keep themselves from thinking that the Prison Break actor had already tied the knot with his partner Luke. But the couple's split in the year 2008 ended the heated public discussion.
Is Wentworth Miller Married?
The gay actor while shooting the Legends of Tomorrow, kissed another gay actor Russel Tovey. The on-screen chemistry and hot smooch shared by the two just gave his fans a platform to admire the duo's connection.
After the romantic kiss scene, everybody wanted the two to get along and start a family already! But sadly, nothing seemed to have moved on that way.
The 46-year-old is single at the moment.  
Wentworth Miller Net Worth
It was in 1995 when Wentworth decided to pursue his career in acting. He relocated to LA and joined a production company as an assistant. During his time in the company, he auditioned for several roles in films and TV. 
Then in the year 1998, he made his first appearance in the TV series Buffy the Vampire Slayer. A year later, he had a recurring role in the Fox series Time of Your Life. In 2002, he had his first role in the ABC mini-series Dinotopia where he played the role of David Scott.  
He got his major breakthrough in 2003 when he was cast in the movie The Human Stain. He played the younger version of Anthony Hopkins. 
His other movies credits include Underworld, Stealth, Blood Creek, Resident Evil: Afterlife, The Loft, and many others.
As for his TV appearances, he has portrayed in series including Popular, Ghost Whisperer, Family Guy, Young Justice, The Flash, Madam Secretary, Batwoman, and many more.    
And with his hard work and dedication, he has been able to accumulate a net worth of $4 million.