London Hughes could be seen reminiscing their past relationship with her ex-boyfriend...considering her family background, viewers get an idea about...London's official net worth has not yet been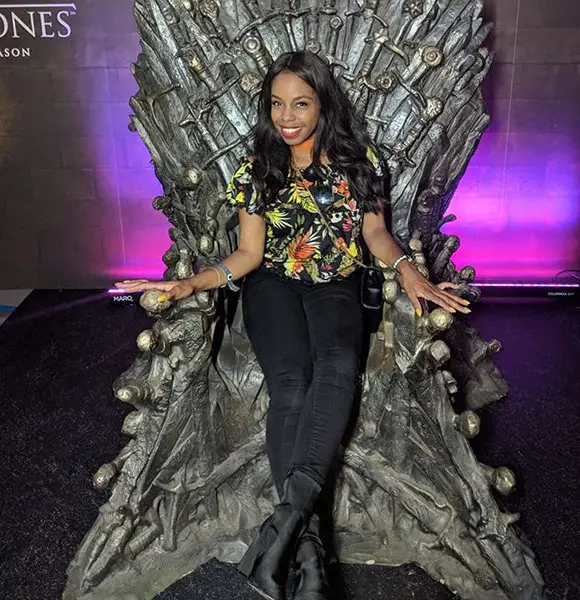 London Hughes started as an actress and became a well-known TV personality after hosting several shows on the BBC-owned CBBC channel. She is also the writer behind short films and TV shows such as Bad Bridesmaid and At Home With Beyonce.
But above all, she is a comedian - who started professionally with her comedic show 28 Dates Later. Moreover, London runs her comedy web series titled No Filter on her YouTube channel.
Recognized by her stage name Miss London, the comedian has been vocal about issues of racism faced by black comics in the industry. Furthermore, coming from a black ethnicity herself, London was once put on hot chocolate by a makeup artist due to fewer makeup options for her skin color.
On top of that, considering her family background, viewers get an idea about the struggles she has experienced first hand with racism.
Family, Siblings, Age
London was born on 7th June 1989 in London, England. Although her father David Hughes possesses African-English ethnicity, he was adopted and raised by London's grandparents - who are of a pure white background.
Supposedly Racist Tweets:- Sarah Beattie Bio, Married, Family, Net Worth
Also, her grandparents Doreen and Bill Hughes were the first people to adopt a black child in their hometown, Sussex. As a result, they faced a lot of backlash and scrutiny from their racist family members and friends. Since they were way ahead of their times and had wise moral values, London's grandparents continued to raise her father like their biological child.
The 30-year-old actor's mother resides with her stepdad. The comedian is also close to her siblings: older brother Joel and younger sister.
Does London Have A Boyfriend?
As of now, the English comic is single; however, she is open to dating guy of a broader category. She did attempt to find a date through online dating, but due to her fame as a performer, she quit it after gaining unwanted attention in the platform.
However, in 2010, she briefly dated comedian Tommy Holgate after first meeting him at the Edinburgh Fringe Festival. Their relationship lasted for about nine months, but the two remained friends even after the breakup.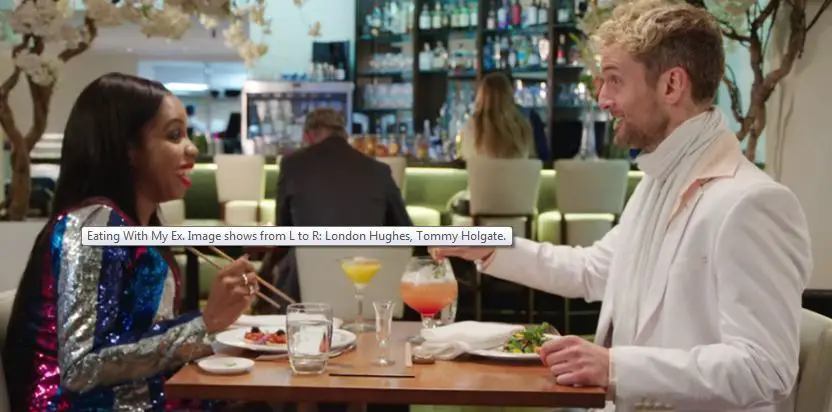 London Hughes shares a meal with ex-boyfriend Tommy Holgate on Eating With My Ex in March 2019 (Photo: comedy.co.uk )
London dated again in 2016, but the relationship also lasted only about a year. Furthermore, things took an exciting turn when she appeared alongside her ex-partner Tommy in BBC Three's show, Eating With My Ex.
As the name suggests, the comedienne was seen reminiscing her past relationship with her ex-boyfriend and exploring their recent whereabouts.
Net Worth Amount
London's talent agency has not yet disclosed her official net worth. But considering her acting resume, it's obvious she makes an impressive amount. Her previous job as a host at CBBC indeed boosted her finance as a TV presenter earns close to $60 thousand a year.
Presenter At CBBC  :- Naomi Wilkinson Net Worth,Husband, Family, Height
Also, due to her standup career at its prime height, she accumulates income through her performance in various tours and TV Shows.