English singer, songwriter, and media personality, Louise Elizabeth Redknapp as she made a...The Nine to Five co-star gave some hints about her new possible boyfriend...It is always good to see that the ex-couple has remained close pals, and were seen together to...looks quite tall and slender due to her...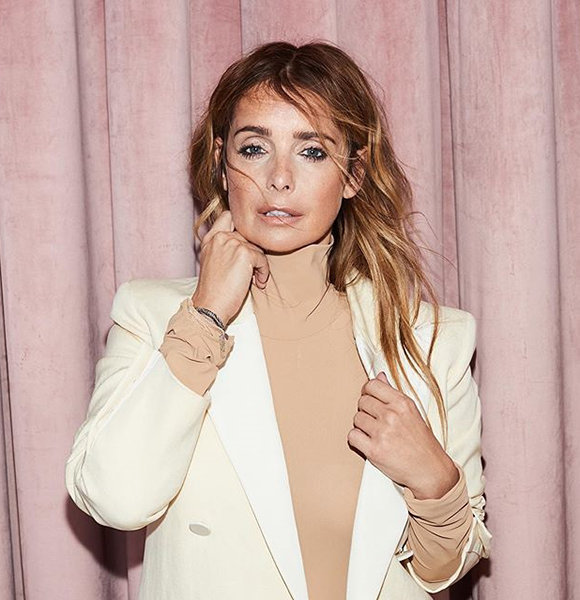 British pop singer Louise Redknapp is a career-oriented and fan-dedicated personality.
The singer is reaching another milestone by gearing up for the first studio album, Heavy Love, in almost 20 years. The new album, set to release in January 2020,  reinforces that she has not forgotten her fans. The platinum-selling albums Naked (1996), Woman in Me (1997), and Elbow Bleach (2000) made her a superstar in the music industry.
On the other side, the pop star is very concerned about her fans and their opinions. For instance, the media personality made a poll to ask her 600 thousand Instagram followers whether or not she should color her hair to blonde from brunette shades. 
Who Is Louise Dating?
The Nine to Five star gave some hints about her new possible boyfriend, a hunky footballer-turned-model John Halls. The duo was spotted kissing during a night out at a private member's club in London in 2019.
The Rift In Her Engagement:- Pearl Thusi Married Rumors & New Relationship Struggle
Even though Louise hinted at new boyfriend after the night out with former footballer, sources confirmed that nothing more happened as both have some past issues in their respective relations to consider before jumping ahead.
The ex-Arsenal player met the actress as he auditioned to play her video for her single, Stretch. Though the hunk did not get the role in the video, he made quite an impression on the heart of So You Think You Can Dance judge, Louise.
Louise Redknapp's Husband, Divorce And Children
The English singer and her ex-husband ex-Liverpool midfielder Jamie Redknapp were married for 19 years.
Even before, and after divorce, there were some rumors in the public that Louise and Jamie's marriage was on the rock. Further, there were more allegations that BBC One series Strictly Come Dancing 2017 fueled their split.
However, Louise has dismissed that Strictly played any part in her divorce, commenting that her marriage was more profound than any TV program. 
The couple applied for divorce in December 2017 and was legally separated in January 2018.
The ex-couple has two sons from their long marriage of almost two decades. Her little big man, as she calls her oldest son, is Charley (born on 2004),  her youngest son, Beau Henry (born on 2010).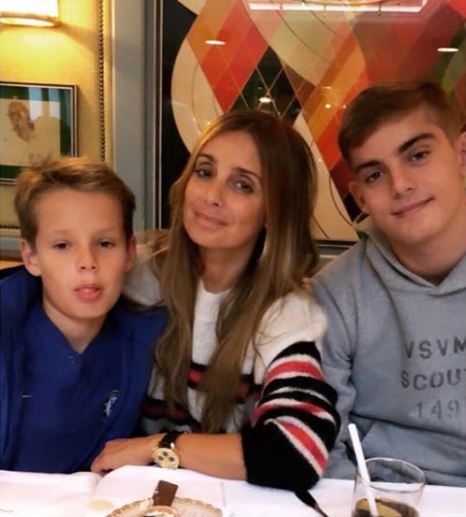 Louise Elizabeth Redknapp with her sons Beau Henry Redknapp (Right) and Charley Redknapp (Left) (Photo: Louise Elizabeth Redknapp's Instagram)
Despite their divorce, the ex-couple has kept a friendly relationship when it comes to parenting their children. The ex-couple celebrated Charley's 15th Birthday in the company of their close family and friends on 28th July 2019.  
Louise's Age, Height, And Weight
Louise was born as Louise Elizabeth Nurding, on 4th November 1974 in England. As a kid, she went to the Italia Conti Academy of Theatre Arts in London, which probably influence her to choose the entertainment industry. 
Another British Singer You Should Know:- Perrie Edwards Boyfriend, Net Worth, Height
However, to maintain a star status in the entertainment industry is challenging as one has to be at least in a tolerable shape in the judging eyes of the media and the public. The 45-year-old presenter watches her weight continuously and is maintaining it around 56 kgs. Due to her toned body, the British singer looks quite tall and slender even though she is only 5 feet 3 inches (1.6 m).