Entertainment
Luciana Barroso Bio Details Age, Ex Husband, & Content Family With 'Martian' Star
Before being married to Martian Star, Luciana was married to.......They were even blessed with a .......The couple amicably parted ways but got divorce.......Post-divorce, she started dating........ and got married to ...........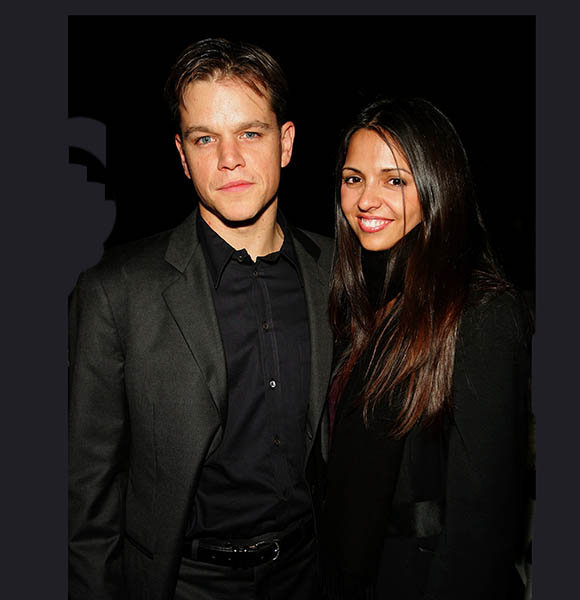 Unlike most Hollywood relationship, Luciana Barroso's relationship with her husband is a total relationship goal. Shot to stardom as the lovable wife of Matt Damon, the former air hostess, Luciana 
While being married to one of the most popular actors in the entertainment world, Luciana has been able to keep her distance from the hustle of the media.
Despite the attempts by the tabloids to dig into their personal life, Luciana seems to have been able to keep them miles away. However, she often makes her appearance alongside her husband at movie-related events.
Well, regardless of her attempt to stay low-key here are few insights on Luciana's bio revealing her withstanding romance with her lover and end of the marriage with her ex-husband.
Bio Reveals Relationship With Ex Husband Ended
Luciana Barroso, who is of Argentinian ethnicity, may rose to fame for being married to her current husband, Matt, but she was already a married woman before. 
The Salta, Argentina native shared the bond with Arbello Barroso with whom she shared family back then. They were even blessed with a baby girl, Alexia who was born in 1999. Just when Alexia was about to be five years old, the couple decided to part ways.
Read Also: Hong Chau Bio: Everything On Her From Birthday to Boyfriend - If She Has One!
Luciana, whose parents were divorced just after her birth, finalized her divorce with Arbello in 2004. The couple amicably parted ways but despite their separation, they still maintained a healthy relationship, which includes him loving Luciana and her current husband Matt.
Found Perfect Father To Their Kids; Ex-Husband Still Shares Love 
Prior to the finalized divorce with Arbello, Luciana could sense the decline of their relationship. Despite the end of their marital bond, Luciana did not give up on love and soon found it in Matt.
Luciana met Matt back in 2002 in a bar where she worked as a bartender in Miami. Their meeting was a total luck as they crossed path after a series of unusual events such as change of location of Matt's movie from Hawaii to Miami. During that time, Matt was in Miami for shooting for the movie Stuck on You.
The Martian star, Matt saw Luciana across the crowded room and since then he has no intentions of losing sight on her. The pair then went strong with their relationship and later in September 2005, Matt popped the question and asked her to marry him.
You May Also Like: MSNBC's Ali Velshi Shares Wife & Romance Background! Low-Key Family Revealed
Soon after Luciana had her marital status 'married' again. By the time she was married for second time, she was already three months pregnant with her first child with Matt. The couple had their wedding ceremony at the Manhattan Marriage Bureau in New York on 9 December 2005.
They had a top-secret "I Do" so as to avoid the press who had got the wind of their wedding to take place in Miami, made them fly over to New York for their big day.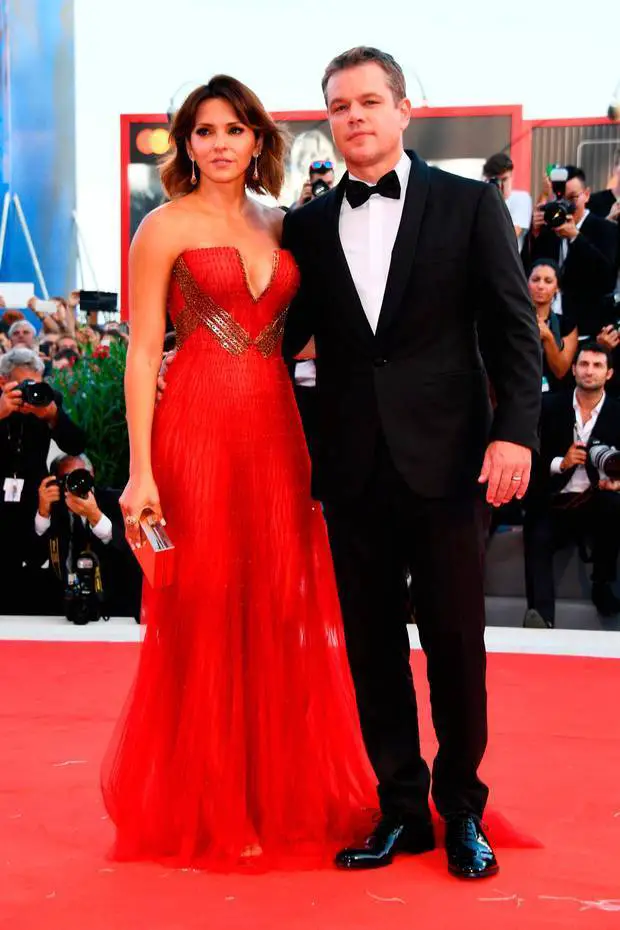 Luciana Barroso alongside her husband Matt Damon during a red carpet event. (Photo: independent.ie)
After eight years since they exchanged their wedding vows, the pair had their "big celebration down the road" back in April 2013. The ceremony was held in Saint Lucia where they renewed their wedding vows. 
Well, in those eight years, the pair built up a family of their own. They were blessed with three kids Isabella, Gia, and Stella along with Luciana's first-born Alexia whom she shared with her ex-husband. 
Turns out Matt always finds time from his busy schedules to catch up with his kids. He was previously spotted cheering on Alexia during her soccer game. Adding to it, he was also there to teach her to drive. Well, he sure is bound to make it right with his wife Luciana and his daughters which has been acknowledged by Luciana's ex-husband.
Despite the end of his marital relationship with Luciana, his seems to have a pretty good relationship with Luciana and Matt. In an interview, he even opened up revealing that Matt is a perfect step-father for his daughter and the three seem to get along pretty well.