Entertainment
Get To Know Luis Coronel Personal Life & His Music Career
Luis Coronel is best known for his hit album, Con la Frente en Altocomes. Released in 2013, his album managed to hold 80th position in the Billboard charts consecutively for three weeks. 
His famous tracks include singles such as Lo Mejor Que Me Ha Pasado, Tu Boca Me Hipnotiza and Mi Nina Traviesa. 
Luis Coronel's Personal Life
Luis Coronel is dating an Instagram celebrity named Cristina Bernal.
Nate Garner Dating Status:- Age, Girlfriend, Engaged To Net Worth Details
His girlfriend has a massive fan following on the image-sharing platform with more than 197K followers.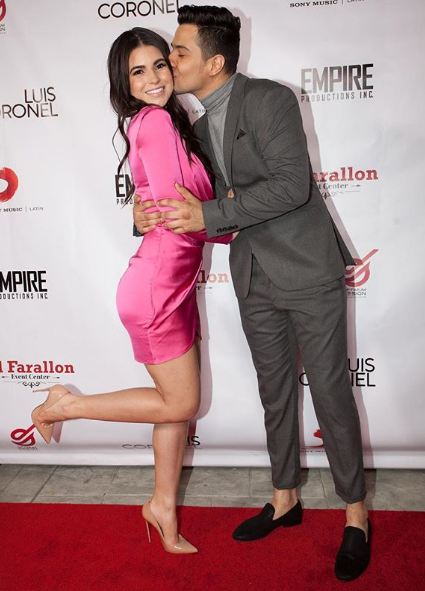 Luis Coronel with girlfriend Christina Bernal in February 2019 (Photo: Luis Coronel's Instagram)
Luis first made the news of their relationship official in 2016 through Instagram. Louis and Christina were last pictured together on 10th February 2019.
Past Relationship
From 2012 to 2013, Luis dated a girl who went by the username of Callherdayday on Twitter. But both of his ex-girlfriend's Twitter account and pictures featuring her are deleted today. So, her identity remains unknown. 
Parents Detained, Siblings
Both of Luis' parents, Miguel and Gamez were detained as illegal immigrants in the past. While the singer was only ten years old, his dad was jailed for two years in prison in charges of illegal immigration. He was deported to Mexico upon his release. 
The songwriter's mother, too, was detained by the official for two weeks on the same charges. Recalling the experience of his separation with dad, Luis shared to Billboard in 2018 quoting, 
We always lived in fear. They took him away. And they gave him two years in an immigration prison. My mom wouldn't let us go see dad in prison because she was always afraid something would happen to us as well. 
As a result, he also expressed his criticism of President Donald Trump's family separation policy (a part of the migration policy in 2019) during the same interview.
Luis' other family members include his brother, Mireya, and sister, Bebe. 
2020 Tour
Luis initiated his 2020 tour with a show at The Soroya Nazarian center in Northridge, California. The first show was held on 8th February 2020, where he performed with artist Leonardo Aguilar.
Pop Singer Tour Details:- Age, Birthday, Real Name & Facts
Likewise, the second show was held on M3 LIVE, located in the same city.
He concluded the tour with the last show at Celebrity Theatre at Phoenix, Arizona, on 15th February 2020.
Net Worth
As per the site Celebrity Net Worth, Luis's net worth stands at $2 million.
Merchandise
Luis generates revenue through sales of official merchandise from the website, bullseyemerchandising.com. Various range of products with his name tag printed on it are available, from t-shirts and tote bags to caps and buttons.