Entertainment
Lynn Whitfield Husband, Children, Family, Net Worth
Emmy Award-winning actress Lynn Whitfield is a legend in the American entertainment industry. After working on the famous HBO biopic The Josephine Baker Story, she was put to her limits.
Post recieving praise and attention from the Historical drama, the black beauty has since worked on several projects including A Thin Line Between Love and Hate, Sophie & the Moonhanger and The Wedding.
Married Life, Husbands
Throughout her life, Lynn has been married not once but twice. Initially, she was married to a playwright-director-actor named Vantile Whitfield in 1974. The couple lasted four years together and eventually separated from each other. Before getting married to Lynn, Vantile was the husband of Barbara Ann Grant and Barbara Ellen Cobbs. After the divorce from Lynn, he got married to Loretta Collins Argrett, but the marriage ended with his death.
Lynn also moved on with her life. In 1990, she got married to then-husband Brian Gibson. Although their commitment didn't last for more than two years, the marriage resulted in the birth of a daughter named Grace Gibson.
More On Daughter Grace's Love Life:- Jake Smollett Girlfriend, Gay, Parents
Shortly after Lynn and her second husband parted ways, Brian passed away after struggling from bone cancer in 1994, at the age of 59. Raising her daughter Grace alone, the actress successfully handled her motherhood.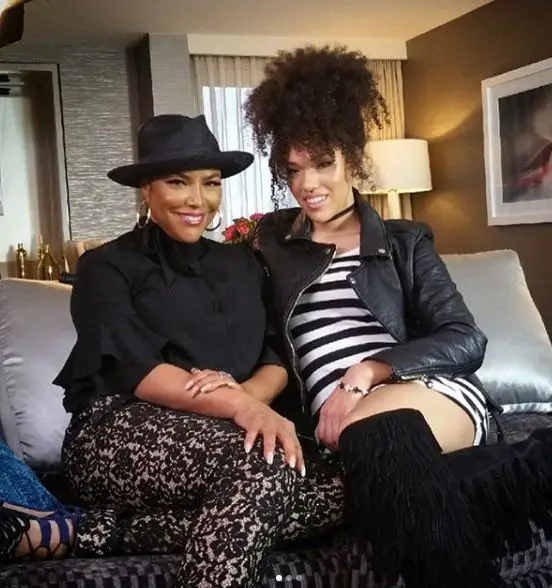 Lynn Whitfield with daughter Grace Gibson in June 2018 (Photo: Lynn Whitfield's Instagram)
Grace, who is now aged 27 and all grown up, is following the roots of her mother. A singer and dancer by trade, she has also taken up acting and is doing pretty well. 
Apart from Grace, Lynn has no other children. So, her daughter has always been the primary focus of the Monica actress.
Lynn Whitfield's Bio
Lynn was born on 6 May 1953 in Baton Rouge, Lousiana. Daughter of Afro-American parents: father Valerian Smith and mother Jean Butler, she is the eldest of four children in her family with two younger sisters Kimberlegh Butler-Smith, Shawne Langston and one younger brother named Valerian Butler-Smith.
In her youth, her father was a contributory factor in shaping Lynn's career. Although Valerian was a dentist, he had piqued his interest in acting before and was a prominent identity in developing the community theater in their hometown. She soon began interested in acting just like her father.
She first came into the spotlight after performing with the Black Repertory Company in Washington D.C. After gathering attention as a hard worker and great performer, Lynn started landing roles on various broadway shows like The Great Macdaddy, Showdown, For Colored Girls Who Have Considered Suicide / When the Rainbow Is Enuf, among others.
However, it was only in 1979 that the actress rose to new heights. With guidance from the Columbia Pictures under a talent development program, Lynn became a star in the industry. She made her film debut in Doctor Detriot in 1983, and since then, she has done numerous movies and TV shows with over 101 acting credits.
Net Worth Info
With a height of 5 feet & 5 inches (1.65m), Lynn is wholly commited to her work and also a force to be reckoned with. Even at the age of 66, she has not shied away from acting. In 2019, Lynn appeared as a guest star playing the role of Josephine Okeke on the hit TV series, The Resident.
Also From The Resident:- Merrin Dungey, Married Actress With Husband, Why She Left 'The Resident'?
With an acting career over four decades, Lynn has been an influencing role model for young actors everywhere. Her hard work and effort have not only helped her gain the status of a celebrity but also an immense net worth of $3 million.