They say the food is the way to a person's heart. But what if the handsome man you like, is a chef? In this case, a girl cannot help but fall in love with the man who will feed her with love and food! It may be how The Rachel Ray Show star Jake Smollett made his crush fall in love with him...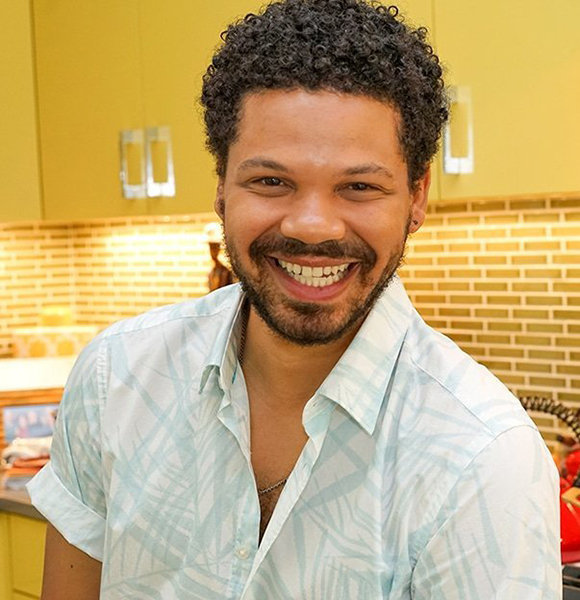 They say the food is the way to a person's heart. So a professional chef must have an advantage in the dating game as he can win any girl's heart by cooking various delicacies!
Is it how The Rachel Ray Show star and celebrity chef Jake Smollett made his crush fall in love with him? Find out!
Who Is His Girlfriend?
Life can be beautiful when there is someone special in your life. The particular person, who makes Jake's life complete is Grace Gibson.
A singer-songwriter by profession, she shares a lovely relationship with her man. It is evident from the fact that she considers Jake as her best friend. Such understanding can make any relationship stronger.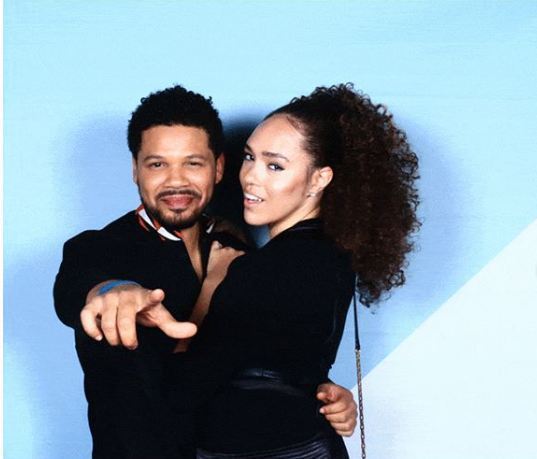 Jake Smollett embraces his girlfriend Grace Gibson on 31st May 2018 (Photo: Grace Gibson's Instagram)
Fans want to know about the inception of the great dating life of Jake, but the notoriously private former actor has managed to hide facts about his romance.
Although, it is not clear how the couple met or when they started dating, pictures of their relationship dates back to 2017 in the love-birds' individual Instagram handles.
On Jake's Parents And Siblings
Jake was born as the second son of Joel and Janet Smollett. Surrounded by five siblings, the chef of height 6 feet (1.83 m) grew up in a loving home. It was his family's tradition of cooking what inspired him to become a chef in the long run.
Explore His Brother's Reel Boyfriend:- Actor Terrell Carter's Boyfriend Revealed Gay Side, Unwanted Start To Dating Men Publicly
According to Jake, he learned to cook from the time he could hold a frying pan. There was no doubt about his love for culinary art, but it was during his pre-teen years when he started cooking for his younger sibling Jocqui that cemented his passion for cooking.
Thus, his parents and his siblings shaped his path, and he is extremely close to them.
Interestingly, he spent time with his siblings not only at home but, also on a TV set. He starred with his five siblings JoJo, Jussie, Jazz, Jurnee and Jocqui in ABC's short-lived comedy series On Our Own.
Like him, all his sibling have chosen their career path. Jojo works in a non-profit organization while Jazz works in production. Furthermore, Jocqui works in IT.
Well, his other two siblings Jurnee and Jussie are connected to the entertainment business. Jurnee's association to the industry comes from her marriage to Canadian singer/songwriter Josiah Bell while Jussie is a famous actor known for Empire TV series.
Taking about his popular sibling, Jussie came out in March 2015 as gay on The Ellen Show. Although an advocate for LGBTQ community he came under fire for allegedly claiming he was attacked in a hate crime because of his sexual orientation.
Jake's controversial brother is facing a felony charge of disorderly conduct for allegedly filing a false police report for his supposed attack.
His Net Worth And Bio
Jake was born on 29th July 1989 in New York City. As a child, he starred in various diaper commercials. Continuing his journey as a child artist, he worked in Samuel L. Jackson's film Eve's Bayou. His acting credit as an adult was a series regular role in The Middle.
Jake's Former Co-star:- Actor John Gammon: Neither Married nor Dating any Girlfriends, Gay Rumors?
But, after finding his true calling as a chef, he hasn't acted since 2009. Instead, he appeared multiple times on cooking show The Rachel Ray Show.
Besides, Jake runs his food blog and has performed on Smollett Eats, a Food Network show with his siblings. With his job as a celebrity chef, he has probably accumulated a decent net worth although the exact figure isn't public yet.