Marvel has taken the cinematic and TV show market with movies & TV shows like Avengers, X-Men, Agents of S.H.I.E.L.D. and Inhumans. Even Netflix has different originals from Marvel dominating the TV watching experience.
However, Netflix isn't the only one that is thriving through Marvel's TV shows. A similar platform called Hulu is sweeping everyone's feet away with Marvel's Runaways since 2017. It follows the original comic book series of the same name with Nico Minoru played by Lyrica Okano as the leader of the group.
With her first significant role in the show, Lyrica made the highlights with such praiseworthy performance that left fans completely awestruck.
Career & Net Worth
Starting her career in 2009 through the movie Ikenhisu: To Kill With One Blow, Lyrica Okana kept rising to the height of success as if it was a piece of cake. With minor roles in TV shows such as Unforgettable, The Affair, and Magnum P.I., she was finally able to land a role in the Marvel's Runaways.
Another Celeb From Runaways:- Ariela Barer Bio: Age 19 Actress Parents, Ethnicity Dating Status Revealed
Since the show, Lyrica also played in different TV series such as The Enemy Within and Blue Bloods. She has even acted in movies like Pimp and Story Game (which is in post-production as of 2019).
People can see that Lyrica is succesful in her field; primarily due to Runaways. Still, her net worth as of 2019 is not public.
Dating Or Single?
Lyrica's fans might wonder if the 24-year-old is dating or not.
The Pimp actress is indeed in a relationship with a handsome hunk. Her Instagram shows that she is taken by her boyfriend, who goes by the name Ed Word on Instagram.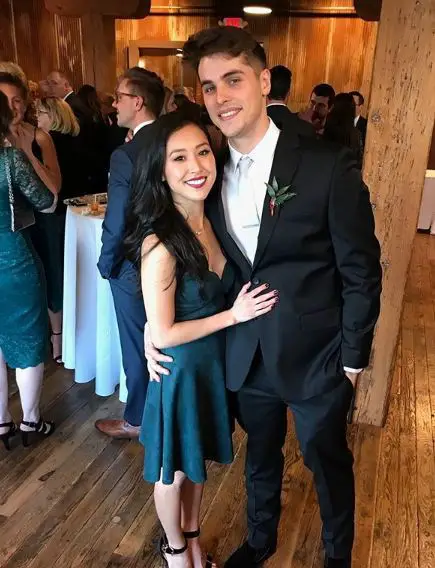 Lyrica Okano with boyfriend Ed Word on 21 March 2019. (Photo: Ed Word's Instagram)
Furthermore, one can see their earliest connection based on Lyrica's Instagram goes back to 30 September 2018.
Apart from this, the actress with Asian-American ethnicity does not seem to have any past relations; at least in the public's eye.
Family Life & Childhood
When two musicians from Tokyo were captivated by New York's early '90s underground and punk music, they emigrated to the same city. The couple soon gave birth to a little girl in the Upper West Side on 9 November, who came to be known as Lyrica Okano.
Growing up in a tight-knit Japanese community, Lyrica went on Saturday get-togethers and took Karate classes with her friends as a kid.
Further, her parents sent Lyrica to a weekly gymnastics class when she was aged four. Recognizing her talent very soon, her coach advised she start competing. So, by age 11, she quit school entirely and trained seven days a week, eight hours a day. By the time Lyrica was 14, the actress of height 5 feet 2 inches (1.57m) had already made it to the national team; but not without a cost.
The sport made Lyrica very lonely and isolated; so much that she saw no other option than to quit gymnastics. To belong somewhere, she attended high school in Japan but didn't fit in due to her elementary-level Japanese and American nationality.
Explore:- Alex Shibutani Girlfriend, Gay, Ethnicity, Parents
This terrifying isolation taught Lyrica to focus on her future instead of getting tangled with the present.