Mackenzie Foy was at the age of three when she got spotted by an agent at a dance recital.
Well, it was since the D-day, she started booking modeling gigs for notable brands, namely Guess Kids, Garnet Hill, Polo, and Ralph Lauren. Eventually, she got into acting via TV shows; R.L. Stine's The Haunting Hour and Hawaii Five-0.
However, her big break came via The Twilight Saga: Breaking Dawn - Part 1. There, she portrayed the role of Renesmee- half human and half vampire-daughter of lead characters Edward and Bella.
Where Is Mackenzie Now?
Since the actress reprised the coveted role of Renesmee in The Twilight Saga: Breaking Dawn - Part 2, in 2012, she has been active in the film circuit. The rising star also acted alongside Ellen Burstyn in 2012 film, Wish You Well.
Child Star With Twin Name:- Mackenzie Ziegler Net Worth, Siblings, Boyfriend
Also, she was part of movies, Ernest & Celestine, The Little Prince, Interstellar and The Nutcracker and the Four Realms.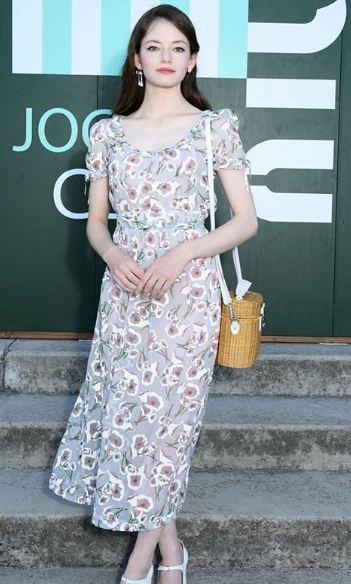 Mackenzie Foy attends Miumiu's show in June 2019 (Photo: Mackenzie Foy's Instagram)
While juggling her career, Mackenzie kept with her studies via homeschooling. And, in May 2019, she passed her high school with flying colors. Also, she landed a role in the movie Black Beauty.
Mackenzie's Net Worth
The model cum actress has been in the entertainment industry, her whole life. Thus, Mackenzie's net worth began accumulating much earlier than most people.
As a result, the teenager boasts a net worth of $1 million.
In the course of her career, the former child model has also worked for brands namely Rubbermaid, The Walt Disney Company, Mattel, Talbots, Guess, Target Corporation, Jones Apparel Group, and Gap.
Also, Mackenzie was a part of a TV show called FlashForward.
Dating Status
As a child actress growing up in front of the whole world, Mackenzie's life was far from ordinary. That may be the reason why she likes to keep her dating life private.
Till date, there is not a single mention of a boyfriend in the actress' life. Given her fame and regular encounter with good looking people in Hollywood, the narrative that Mackenzie is single is hard to believe.
Mackenzie's On-Screen Mom's Dating Life:- Rupert Sanders Summarizes His Affair With Kristen Stewart to be a Dramatic Mistake!
Maybe she is dating someone outside from the industry, or she is too good of a secret keeper. No matter the situation, one can only speculate about her dating status.
Age & Family Details
Mackenzie's homemaker mother and truck driver father had no clue whatsoever about Hollywood. However, when the opportunity came up for their daughter, the Twilight star's parents took it with both hands.
Well, things worked out as the actress of height 5 feet 2½ inches (1.59 m) began to love acting and eventually made a career out of the craft. Besides, the 18-year-old star, her parents have an older son named Bayley Foy.
Both the siblings share British Isles ethnicity and practice a martial art Taekwondo in their free time. Mackenzie and her brother boast black belt in the sport.
Interestingly, she also gets timely related to British actress Claire Foy. Probably due to their same second name. However, the two are not related by any means.