Entertainment
Who Is Macy Gray? Married With Husband & Kids? Personal Life Status Now
Does the song I Try of 1999 ring a bell in your head?
If yes, then you would not have missed the singer of the song, Macy Gray, who made all the music lovers drool over her music from her hit debut album, On How Life Is.
The Grammy Award-nominated singer has her own definition in writing the success of the music world. Apart from that, Macy, who is also an occasional actor, has a personal life kept to her side. 
So, let's explore the talents and prosperity world of Macy Gray as well as her status on personal life. 
Who Is Macy Gray?
Macy Gray was born as Natalie Renee McIntyre in the small Midwest town of Canton in Ohio to Laura McIntyre, a math schoolteacher and Otis Jones in 1970. Her parents got divorced right after she was born and she was brought up by her stepdad, after her mother, Laura remarried again. 
The Grammy-nominated singer, who celebrates her birthday on 9 September, was raised by her parents of a factory-worker step-father and teacher mother, with her three other siblings.
As for the stage name Macy, she found the name it early on her childhood days from a companion of her retired steelworker father named Macy Gray himself. The man, who used to play pool with her father, encouraged shy Macy to be something out of the world that became the inspiration for her stage name. 
According to Macy's mother, Laura:
 "Macy Gray was a man who used to come over and shoot pool with my husband. She was always extremely shy and he used to tell her, 'You're going to be something special one day'." 
Well, Macy did earn fame for herself while being very different from every other people. It has also come to light that Macy never had any intention to be a musician.
Even though she practiced piano for seven years, music was never her first choice. Music gained the position in her life after she moved to Los Angeles to gain her degree in screenwriting at the University of Southern California.
She wrote song lyrics for friends in a band, and after the vocalist didn't show up in the scheduled demo session, Gray recorded the songs herself. In an interview with TheGuardian in September 2012, she recalled the incident where she stated:
"I started forming bands and writing songs just for fun and then I really got into it and got attached to it. Then a friend of mine asked me to be a singer in his jazz band. He gave me all these jazz CDs and I studied all these different singers and I kind of taught myself how to sing for a gig, but I didn't take it seriously until later."
That is when it all started for her and then she gradually began performing. Later, she was discovered by an executive at Atlantic Records during a performance, which resulted in a deal of her own record label in 1994.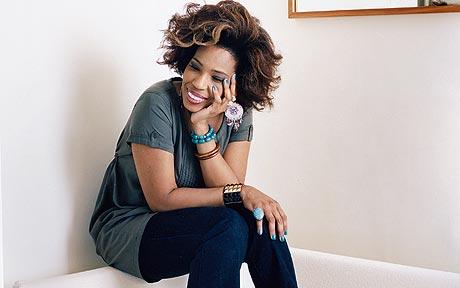 Macy Gray, the Grammy Award-nominated soul singer. (Photo: telegraph.co.uk)
She gave her career's major hit; I Try in 1999, which turned out to be triple platinum and even landed her five Grammy nominations. The album gave her such massive success that she became an overnight sensation in the music world.
Despite achieving huge fame and success, her career drove through different highs and lows. She went to the show "Oprah: Where Are They Now?" in October 2014, where she confessed:
"I had a lot of money then, and I had never had money before. And you have people telling you how great you are and screaming out your name. I was a massive a**hole. I probably made a lot of people upset."
Moreover, she opened to her drug use as she quoted:
"My drug use started as a result of being on tour. My crew was from England. All they did was smoke hash all day, and they knew where to get the good ecstasy. So, you start playing with stuff, and then, suddenly, it's like a crutch."
Since her successful debut in 1999, she produced two albums which didn't turn out as it was expected to – but her third album has put up the same music to her listeners as her earlier ones.
Personal Life of Macy Gray With Husband And Kids
Macy Gray, who is a talented singer with her original style and a wild sense of humor, has her personal life apart from the fame. The singer and songwriter, Macy turned her boyfriend Tracey Hinds, who is a mortgage broker by profession, into her husband by exchanging their marriage vows in 1996.
Macy shares three children with Tracey, among which two of her kids were born in one year; her elder daughter Aanisah in January and son Mel in December.
But their marriage did not last long. The pair broke off their marriage in 1998 after sharing two years of marital relationship. During that time, Macy was pregnant with her third child whom she later named Happy. 
Well, Macy, who honestly describes herself as "a very undisciplined and inconsistent" mother, brought up her family of four all by herself without any nannies.
Think we're missing something? Do let us know in the comment section below!