Entertainment
Maggie Lindemann Boyfriend, Lesbian, Family, Net Worth
Maggie Lindemann started dating him in 2014 and went on an on-off...er boyfriend suggested that he would commit suicide...she is strictly a lesbian who recently came out of the closet but...come across beautiful tattoos she has engraved over the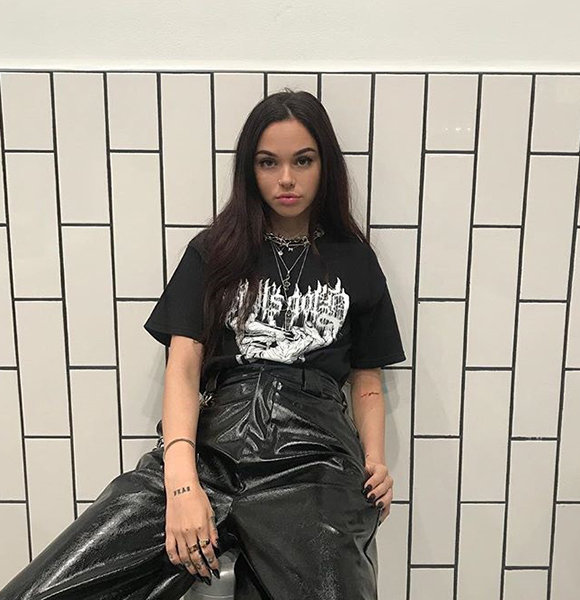 When viewers take a closer look at singer Maggie Lindemann's skin, they'll come across beautiful tattoos she has engraved over the years. Her upper arm features a picture of a hand holding flowers; whereas, there are stars embedded on her knuckle. Not all of her tattoos make sense, but some of them kind of do.
For instance, on her wrists, a tattoo of a broken heart alongside musical notes are visible. Her choice for the later one is apparent due to her career in music. But, what about the broken heart one?
Turns out, that due to her relationship history, which was controversial at times, her choice of the tattoo was obvious.
Past Relationship, Boyfriend
Maggie's first known high profile relationship was with social media star Carter Reynolds. She started dating him in 2014 and continued with an on-off relationship. Unfortunately, her first significant relationship didn't work well as she had expected. At the end of that year, she broke off with Carter after she came across her partner sexting with another girl.
Although they reconciled and got back together in March 2015, things took a turn for the worst after few months. In July, the singer split again with Carter, and her ex-partner wasn't letting go off her quickly.
He threatened to make private details about their relationship public as revenge. Moreover, Maggie's boyfriend suggested that he would commit suicide.
Husband Dies After Committing Suicide :- Jennifer Ashton's Gave A Tribute From Her Side
As a result, the pressure took a physical toll on her, and she was eventually hospitalized.
However, after going through such heartbreak and abuse, she didn't stop searching for the right person. In June 2016, she started seeing YouTuber Mikey Barone. Although the two never confirmed they were dating, she was spotted kissing and cuddling him in one of her Snapchat videos.
But, there wasn't any considerable step up in their relation afterward.
So, next year, she dated another YouTuber named Brennen Taylor and confirmed it through her Instagram picture with the two them kissing. Nevertheless, their relationship was shortlived as they split that same year in 2017. Thankfully, they split amicably, unlike her first romance.
Lesbian Rumors, New Mysterious Boyfriend
Interestingly, the Pretty Girl singer was vocal about her sexuality in 2016. Not that she is strictly a lesbian who recently came out of the closet, but she did share about being physically attracted to girls since a young age.
Maggie disclosed all of her thoughts live through a streaming service called Periscope, where she identified her sexuality as bisexual.
However, even though she claimed herself as bisexual, her relationship history shows no trace of Maggie dating any girls. Instead, she continues to date only guys. As of 2019, she is dating Brandon Arreaga, a musical artist.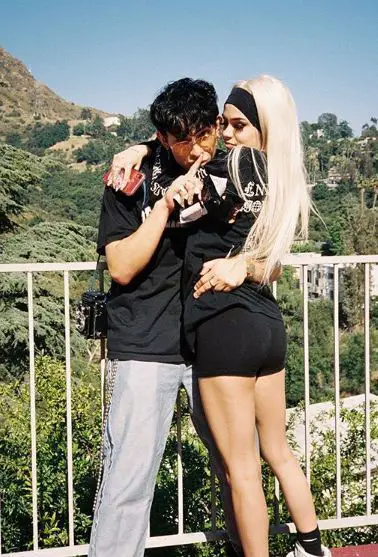 Maggie Lindemann and boyfriend Brandon Arreaga celebrating her birthday on 21st July 2019 (Photo: Brandon Arreaga's Instagram)
The two are very vocal about the relationship. Also on her birthday on 21st July 2019, her boyfriend wished her with the caption that cited, 
u are actually the most beautiful thing I think I've ever seen in my life no cap ? I really am at a loss of words witchu ain't nobody know the things u had to go thru but u still always put out positive energy ? I feel lucky enough to have even got the chance to tell u how much I **** witchu have the best birthday baby.
Hopefully, her current relation will get a significant step up and survive for years to come.
Age, Height, Low Key Family Life
Born in 1998, the 21-year-old star stands 5 feet & 4 inches (1.62m) in terms of height. Still today, the songwriter prefers to keep information about her family life away from the public eye.
Also, she has a younger brother. Although she was born and raised in  Dallas, Texas, Maggie now resides with her family in California.
Net Worth On Jeopardy
Her management team hasn't yet disclosed Maggie's verified net worth. Moreover, by the looks of her recent tour updates, it's hampering her financial growth.
On 21st June 2019, she was arrested by authorities of Immigration department in Malaysia while she was performing at The Bee Publika music bar in Kuala Lumpur. As per the Malaysian authorities, she was detained for 24 hours for performing by violating the immigration law of the country.
Detained By The Police :- Miles Teller Gets Arrested For Being Publicly Drunk! Claims He Was Only 
Apart from paying a fine of  $7,255, she suffered other financial loss too as her next tours for Singapore and Vietnam was canceled.