Entertainment
Who Is Maggie Q? Her Married Status, Parents, Net Worth Info
Maggie Q engaged one another seven weeks after their first meet...Due to her parents' roots, she possesses mixed ethnicity...has amassed a net worth of...without citing reasons behind the split
American actress Maggie Q's major relation started in the middle of her successful career. But, with emerging success and lost list of projects on the way, it had some significant effect in her personal life as well.
But, did she managed to overcome the work challenges that started to affect her relationship? Let's find out.
Boyfriend Turned Fiance
Maggie was in a four-year-long relationship with actor Dylan McDermott, and unfortunately, their relationship too met the fate of many Hollywood couples. But let's take a look at the start of their relation before jumping towards the circumstances that ended it.
The actress first met her partner Dylan in 2014 while shooting the TV show Stalker as both of them were the lead character of the show. The love between them was evident onscreen, and in real life, too, they started talking a liking for each other.
More On Her Relationship With Dylan :- Dylan McDermott Lightened Up His Life After Proposing Girlfriend To Get Married
Well, the show didn't have a long run and was off the air after one season, but their relationship didn't end with the show. In fact, it evolved to the point that they engaged one another just seven weeks after their first meet in 2015. Recalling on the impression Maggie had made on his heart, her fiance shared,
"She took my breath away. I knew immediately... she's my soulmate."
Likewise, she was also spotted donning a massive diamond ring on her finger, and fans were curious about their wedding date. But as per the pair, their busy work schedule was keeping them off from deciding on a suitable time for marriage.
"So, yeah, [it's] because of work.and … because you gotta balance everything."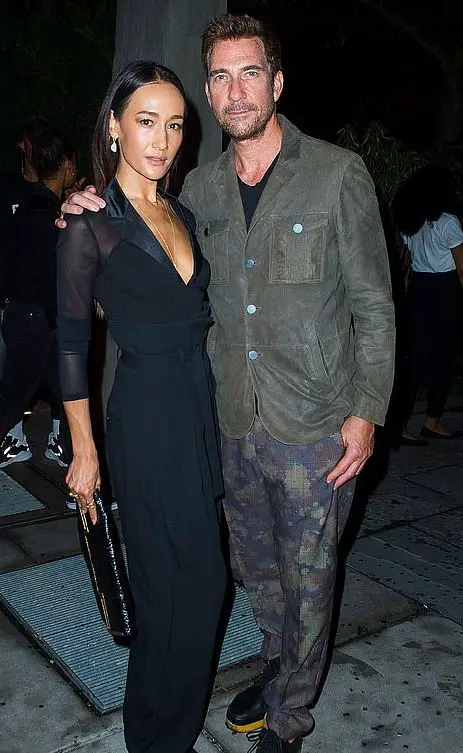 Maggie Q and fiance Dylan McDermott as seen together on October 2018 (Photo: dailymail.co.uk)
But, it turned out that the pair took quite a long time to balance things in their life as years passed by, and there was no news on their wedding. Also, speculation arose if the pair were having second thoughts on their marriage.
Ashy Bines Wedding :- Husband, Family, Net Worth
Eventually, they did quietly split at the start of 2019 without citing reasons behind the split. So, it is probable that irreconcilable differences started to arise between the two during their dating period.
Past Relations, Aftermath
Before dating Dylan, she dated Chinese-American actor Daniel Wu till 2001. The pair started dating before both of them became famous.
Also, she was romantically linked with American director Brett Ratner, but the two never confirmed or denied the rumors.
As of now, the Mission Impossible actress seems to single and enjoying the company of her friend Rodney Burns. Not only does she enjoy the company of her pal, but she is very active in promoting her friend's apparel business titled Church Boutique.
Hopefully, the Hollywood star will be spotted with someone more than her friend.
Facts About Maggie Q including age 
Maggie's full name is Margaret Denise Quigley, whereas her birthdate is 22nd May 1979.

Due to her parents' roots, she possesses mixed ethnicity. Her father comes from Irish, Polish, French ancestry, whereas her mother is from Vietnam.

Mostly known for acting in action movies, Maggie has amassed a net worth of $ 9 million today.

In terms of height, she stands 5 feet & 7 inches (1.71 meters ) tall.

Although Maggie is of American nationality, she has appeared in several Hong Kong movies and even learned Cantonese to perfect her roles.