American soccer player Mallory Pugh is the youngest women to represent the U.S. in the 2016 Olympics qualifier. Making her national team debut in January 2016, she scored a goal against Ireland in her very first appearance.
The forward also played a pivotal role in both the U-17 and U-20 CONCACAF World Championship, winning the Golden Ball and Golden Boot in 2015.
Salary & Net Worth
Mallory Pugh has shown an incredible caliber since she started playing for the U.S national team from junior level to senior level.
She was the part of 2019 Women's World Cup-winning squad for the U.S. Also; she represented her nation in big tournaments like Olympics and U-20 Women's Qualifying Tournament, which landed the then 17-year-old a call-up to the senior women's team.
US Soccer Captain:- Alex Morgan Husband, Net Worth, Height, Facts
As a tier-one soccer player, she earns a salary of around $130K not including Olympics bonus. However, the pay scale of the players has raised significantly over the past few years.
On top of that, Mallory was awarded $4 million as a cash prize from her 2019 World Cup victory. Now, that she is growing in confidence and playing in the highest league for Washinton Sprits, her net worth is sure to increase in the future.
Dating Boyfriend
The USWNT player Mallory Pugh is just 21 years old but, she is already making a lot of fan following with her outstanding football skills and knowledge about the sport.
With her celebrated career and World Cup-winning campaign in 2019, lot of talks has been going on about her dating life with boyfriend Dansby Swanson - a professional MLB player.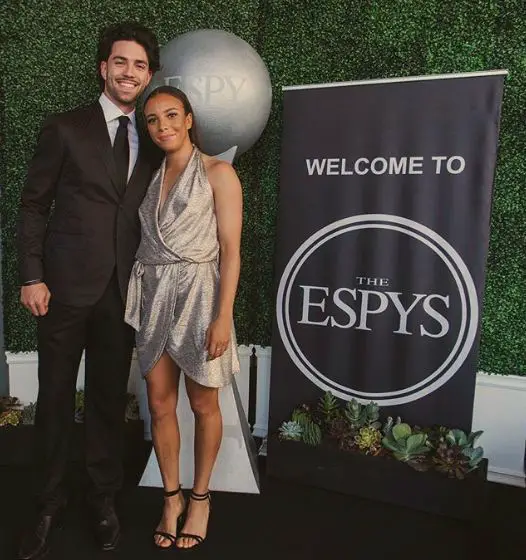 Mallory Pugh and boyfriend Dansby Swanson together in an event on July 2019 (Photo: Mallory Pugh's Instagram)
The two met for the first time when Dansby was traded to Atlanta Braves in 2015. After, knowing Mallory's brother Jace very closely, the two got introduced and started dating each other.
As of late, the couple has become an Instagram favorite posting pictures of each other and flaunting their love in front of their fans.
Mallory Pugh's Bio
Mallory Pugh was born in Littleton, Colorado to parents Karen Pugh(mother) and Horace Pugh(father). She was raised with her older sister Brianna Pugh in Highlands Ranch, Colorado, in a family full of athletes.
Her mother was a long-distance runner, while her father ran track and played football. Growing up, the forward idolized her sister and started playing football at the age of four.
As a teenager, Mallory decided to follow on her sisters' footstep and play club soccer with Real Colorado in the Elite Clubs National League.
The striker's height of 5 feet 4 inches(1.64m) with a decent bodyweight of 54kgs, helped her move up and down the football pitch swiftly and avoid a head-on clash with the defenders.
Mallory attended Mountain Vista High School in Highlands Ranch from 2012 to 2016. There she scored 47 goals and recorded 23 assists. After a wonderful year in high school, she signed with UCLA to play college soccer as part of the class of 2020.
Now, her current teams are Washinton Sprits of the National Women Soccer League and U.S national team.