Entertainment
Out Gay Marc Almond Shares Biggest Partner Remorse, Boyfriend He Lost
Marc Almond is an OBE awarded English singer and songwriter. Openly gay, he has been together with his partner...However, he does have one big regret relating to his boyfriend...
English singer and musician, Marc Almond's music know how to rule Billboard charts and listeners hearts and apparently, the singer is doing the same for his dating life. 
It so happens that openly Gay, Marc, despite the fame and fortune he possesses, has been ruling his partner's heart for a long time, remaining loyal to his partner for a long period. 
But what still haunts the actor is his former boyfriend, who he still hasn't forgotten despite being in a relationship with his partner for over two decades.
With his jumbled dating life, Marc is, however, slowly heading for the peak of his career and letting his passion bring the massive net worth all along! 
Gay Singer Dating Mysterious Partner; "To My First Real Boyfriend, For Being So Mean To Him" 
Facing a tough childhood, Marc came out in the open about his sexuality in 1987, following huge family disputes. However, the Southport, United Kingdom native has not turned back since then and has remained open about who he is and where his sexual orientation lies.
You May Also Like: Openly Gay Paul Sinha Reveals Partner! Age, Parents, Tour | Every Details
Openly gay, Marc has undergone some severe drug issues and personal life turbulences, like many of the musical superstars in the past, have.
However, the Tainted Love cover artist, has stood out from the crowd in one aspect. The singer is said to have been with his partner for more than twenty years, an accomplishment which seems pretty rare in the ever so happening musical industry.
Extremely secretive about his personal life, Almond hasn't discussed much his partner apart from the fact that he has been together with him for over two decades. With the identity still unknown, Marc has had the whole music fraternity guessing who his boyfriend actually is, although he has talked about him on several occasions.
In an interview with Brian Beacom in 2017, one half of Soft Cell revealed some minor details about his personal life.
"There is someone there already. I have a long-time friend, and that's enough for me."
Although the music sensation seems satisfied with his personal life now, he does has one big remorse.
When asked if he would like to apologize to someone in an interview with Guardian in 2017, Marc mentioned his regret about how he treated his former boyfriend.
'To my first real boyfriend, for being so mean to him. But really I was just being mean to myself."
However, despite his former partner remorse, Almond seems to have got over his past life and remains happily associated with his current mysterious boyfriend.
Still Going Strong At Age 61
Slowly heading to the later phases of his musical career, Marc doesn't seem to have lost the enthusiasm and passion for music, that made him the man he is today. The Bedsitter singer seems to be going quite strong even at the age of 61.
Don't Miss: Openly Gay Lee Daniels & Boyfriend Are Power Couples | Children Status Now
With his new album A Lovely Life To Live set to release on 23 November 2018, the singing veteran seems to have got an extra ounce of energy in his bags, with a series of tour lined up in his schedule.
Singing his previous hit songs from all his successful albums in his stage performances, Marc thus shows no signs of slowing down. He has recently announced his Germany tour as well, set to be held in March 2019. Such commitment to his art and culture also saw him win Britain's most prestigious award of OBE award in 2018.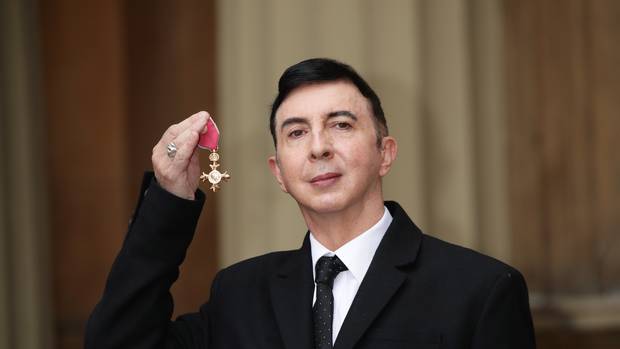 Marc Almond holding his OBE after receiving the award at the Buckingham Palace. (Photo: Independent.ie)
With this late emergence, Marc, who once stood on the brink of bankruptcy, today enjoys a net worth of $20 million.