Entertainment
Openly Gay Paul Sinha Reveals Partner! Age, Parents, Tour | Every Details
When Paul Sinha from The Chase came forward to announce his gay sexuality not even his co-star was surprised to know of his sexual preference...Paul, who claims never to have been in the closet is now enjoying a comfortable life with his partner. But is he ready to flaunt his boyfriend publicly?...His parents originally hail from...Age, Net worth, Tour and more...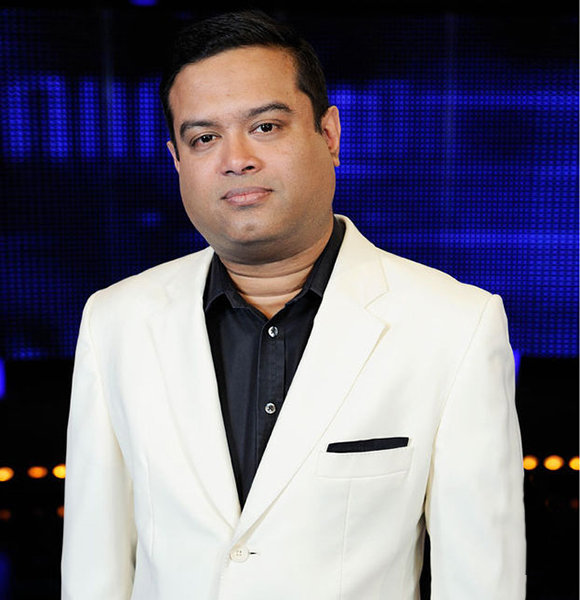 About three to four years ago, if someone had claimed that Paul Sinha from The Chase was a gay man; it would have been dissed off as a baseless accusation and a cheap trick for popularity. 
But when Paul came forward to announce his sexuality, everybody leaving his co-star was surprised to know of his gay sexuality. Paul, who claims he has been referencing his gay sexuality from before, is now enjoying a comfortable life with his partner.
But how much comfortable he feels to flaunt his boyfriend publicly? 
Comes Out As Gay; Partner Yet To Disclose 
Thanks to ITV's quiz show The Chase, Paul not only shot to stardom after debuting as the fourth chaser in 2011 but also come out publicly about his gay sexuality. 
See Also:- Did Eugene Lee Yang, Age 32, Secretly Come Out With Gay Sexuality?
In one of the episodes of May 2017, Paul was asked a question by host Bradley Walsh,
"In what well-known racing video game are bananas and turtles thrown?"
In return, Paul guessed Grand Theft Auto, whereas the right answer was Mario Kart. While justifying his wrong answer, Paul let out his biggest secret to the viewers, which have now become one of the greatest moments of the show. Paul said,
"My ex-used to play Mario Kart all the time... he also said I never paid attention to him." 
The gender "him" at the end of his reply was enough to surprise almost all of the fans of the show.
However, some including Paul's co-chaser Anne Hegerty was quite aware of Paul's gay sexuality before Paul even hinted towards his sexual preference. On 30 May 2017, Anne posted a tweet pointing out Paul's gay revelation as outdated news.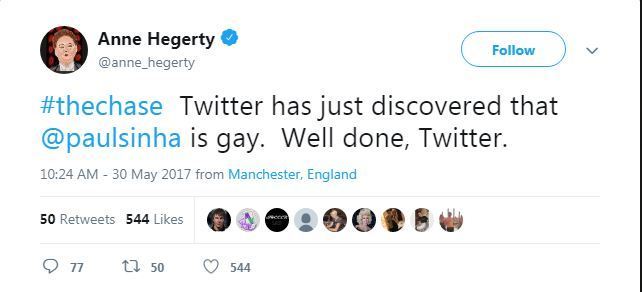 Anne on Paul coming out as a gay man in May 2017 (Photo Anne Hegerty's Twitter)
The news of Paul's homosexuality came as a shock to many, but what's more interesting is that Paul was surprised to learn that people had not assumed him of being gay. In an interview with GuysLikeU on November 2017, Paul said,
"I assumed everyone knew I was gay."
Further, in the interview, Paul also talked about his relationship with a partner. Paul explained that he was maintaining an open relationship with his boyfriend, but chose not to reveal any more private details of his lover.
"We are in an open relationship, but can't say more than that. One of the advantages of being gay is that there is no traditional template for how you are meant to engage with your partner."
Paul also claimed that he had never hidden his gay sexuality and had always made reference regarding his identity both, on the show and on social media. As it turned out, he had indeed mentioned about being gay several times.
Don't Miss:- Janelle Monáe, 32, Confirms Sexuality, Frees Herself 'Pansexual'!
One of his revelations includes a tweet which he made on 12 January 2016 talking his possible marriage to a potential husband. 
"If I ever married,Id like the first dance to be Absolute Beginners. Insanely romantic, and released in the year of my future husband's birth"
However, till date, Paul has kept his partner's identity a secret, but not even he can refrain from posting occasional tweets showcasing the romantic gestures of his partner. On Valentine's Day 2018, he expressed about being gifted a "blondie memorabilia" from his boyfriend on the day.
Paul is yet to reveal his partner to the world publicly, but once he does so, his romantic life will no longer remain a mystery and the pair will be confined to being a regular boring couple.
Career, Net Worth And Parents Details
Paul, an established comedian and a doctor, has substantiated his worth appearing in shows including ITV's The Chase and Comedy Central UK's The Alternative Comedy Experience. 
Further, he has also featured on some BBC Radio shows like Just a Minute and The News Quiz. Paul, who appeared in the ITV's latest show Diabetes: The Fast Fix, earns an average salary of $20,000 annually from his career in comedy but has not disclosed the specific value of his net worth. 
Moreover, Paul also has a hectic schedule ahead as he has planned to continue with his stand-up comedy taking tours all over England. His tour includes a performance at the Nantwich Civic Hall located in Nantwich on 7 September 2018 followed by two more shows in London at the Covent Garden Comedy Club on the 15th and 16th of December.
More From LiveRampUp:- Teagan Croft, Young age Actor Parents Revealed; Dating Status Of Titans' Star 
Amid his busy schedule, Paul has still maintained a healthy relationship with his family especially his parents. His parents, who originally hail from India and settled down in Bedfordshire, England; where Paul grew up.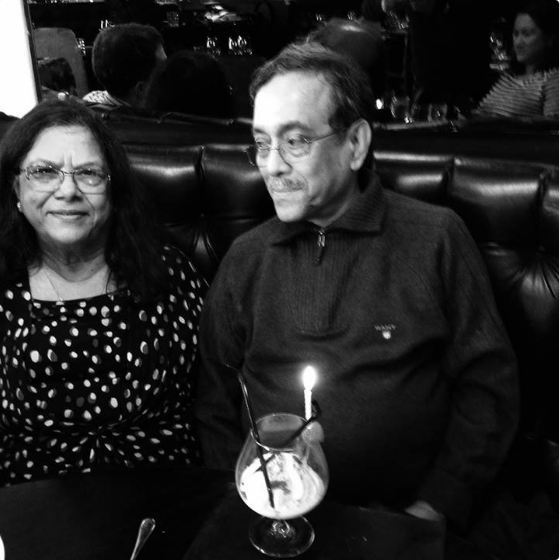 Paul Sinha's mother and father (Photo: Paul Sinha's Instagram)
Paul, who ages 48, even once joked the reason his parents settled in England was that sausages are readily available in England but not in India.
Moreover, in a tweet posted on 5 July 2018, he mentioned that his father had suffered a ventricular fibrillation cardiac arrest around 28 years ago but was rescued by the National Health Service (NHS). 
He maintained that his father was still alive and well and thanked the organization for their help in curing his dad.