Marc Maron is a star comedian, who broke to worldwide fame via the podcast, WTF with Marc Maron, in 2009. The show, which he runs from his garage, boasts A-list guests from former US president Barack Obama to comedy legend, Conan O'Brien.
Further, his comedy albums Tickets Still Available, Not Sold Out, Final Engagement, and This Has To Be Funny are considered cult hits.
The podcaster has also written & published books, namely The Jerusalem Syndrome: My Life as a Reluctant Messiah and Attempting Normal. As a multi-talented man, Marc took on the role of Sam Sylvia in Netflix's TV show, GLOW, in 2017. His starring role fetched the actor-comedian SAG Award and Critics' Choice nominations in 2018.
Marc is set to reprise his role in season three of GLOW, which premieres on 9th August 2019.
Who Is Marc's Girlfriend?
Marc is a forthcoming guy in terms of his lovelife. His girlfriend is artist Sarah Cain. The pair started dating after their mutual friend set them up.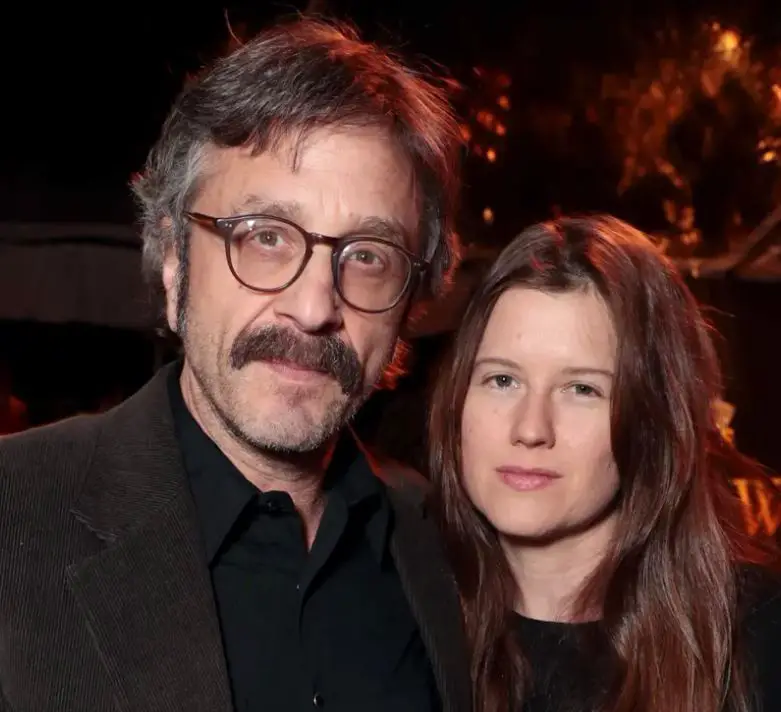 Marc Maron with girlfriend Sarah Cain (Photo: Theguardian.com)
The comedian often mentions his longtime girlfriend on his hit podcast, WTF with Marc Maron. In 2019, Sarah returned the favor when she gushed about her man while talking to Galerie magazine.
Controversial Comedian's Personal Life:- Roseanne Barr Children, Husband, Net Worth
Interestingly, the pair have opened their home to stray cats and taken care of them like children.
Early Life & Failed Marriages
Marc- height 5 feet 9 inches (1.75 m)- was earlier a guy with problems of anger, alcoholism, and drugs. While the comedian became sober at the age of 26, his emotional issues didn't get resolved.
His issues stemmed from his absent and volatile father, Barry Maron while growing up.
Although his parents: orthopedic surgeon father and mother Toby, provided him physically, they couldn't nurture him emotionally. Also, he couldn't achieve success in comedy early on in his career. Worse, his friends cum contemporaries Sarah Silverman and Louis C.K left Marc far behind in terms of fame and fortune.
The deprivation and failure affected his relationships too as Marc got married twice, but both of the legal bonds ended in divorce.
Celeb Who Got Divorced Twice:- Jeremy Clarkson Wife, Divorce, Girlfriend, Family
The comedian's first marriage was to producer Kimberly Reiss in 1997. After being married for four long years, the couple parted ways. Still, Marc didn't give up on marriage. He got hitched to fellow comedian Mishna Wolff in 2004 and ended the union in 2007.
The second marriage was relatively life-changing for the comedian. It was costly, and during the same time, he got fired from his self-titled liberal talk-radio station show, due to anger issues.
After hitting rock bottom, Marc decided to try his hands at a podcast, which gave birth to WTF with Marc Maron. The show finally gave him the success the comedian was craving. His relationship with his father also improved as the show made Marc's father proud. And, the podcast shot the comedian's net worth to the roof.
Now, the once nearly broke comedian boasts a net worth of $2 million.