Entertainment
Marcia Harvey Faced Divorce After Husband Steve Harvey; What Caused The Married Life To Fall Apart?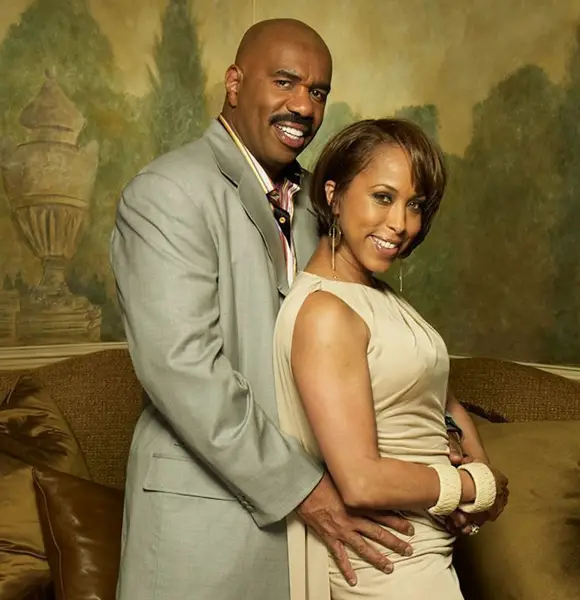 Quick Information
Date of Birth Jan 22, 1955
Nationality

American

Birth Place

Cleveland, Ohio

Home Address

Ohio

Profession

Author

Zodiac Sign

Aquarius

Ethnicity/Race

African-American

Son/s

Broderick Harvey Jr.

Daughter/s

Karli Harvey, Brandi Harvey

Relationship Status

Single

Divorce/Split

Yes(Once)

Wedding Date

1980

Ex-Husband

Steve Harvey (m. 1980–1994)

Net Worth

Not Disclosed

Eye Color

Brown

Rumors

Larry Green (Rumored Husband)
Marcia Harvey is not a known name in herself; she is better known for her famous ex-husband.
She is the first wife of the famous comedian and TV personality Steve Hervey. Well, the three-time Daytime Emmy Award-winning comedian has gained his place in the curiosity of the people. However, Marcia is also a successful businesswoman and lives away from the limelight.
She shared more than a decade with the standup comedian husband, but the two ended up in divorce.
Husband Abandoned Family For Standup Comedy; Children Forgive Their Father
Marcia Harvey was married to actor and comedian Steve Harvey back in 1980. The couple shares two beautiful twins daughter named Brandi and Karli.
The family of five could not sustain for long, as the married couple parted their ways in 1994. The main reason for their divorce was Steve's passion for being a comedian. And thus, he wanted to chase the dream of becoming successful and to make a name for himself.
See Also:- Does Comedian Dan Soder Have Girlfriend Amid Stormy Tour Dates?
His decision to be in the entertainment industry did not go well with his wife, and thus he chose his career and passion for his family. 
Also, Marcia's husband discussed their divorce on the sets of Family Feud in September 2018. When he was divorcing Marcia, the pastor of the church claimed that the church does not believe in divorce.
Since he had already made his mind to divorce her, she walked out of the pastor's office claiming he was no more the member of the church.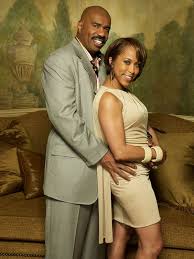 Steve with wife, Marcia (Photo: Pinterest.com)
Chasing success, he left a lot of things behind him which included his twin daughters and the mother of those twin girls. He recalled that moment and stated:
"I'm married, I have twins [Brandi and Karli, now 33]. I'm supposed to provide for them, but I had to take this chance,"
Here is a video where Steve Harvey shares the journey of his career and how he earned the forgiveness of his twin daughters.
And Brandi and Karli were able to understand the reason behind their dad left them to pursue his career. He also elaborated what his twin daughters Brandi and Karli said to him on Steve leaving his daughters and their mother. He stated:
"Years later they said to me, 'Dad, we didn't understand why you left us, but we know now you had to go. You didn't just belong to us. You belonged to the world,' " 
Well, after a very long time, the relationship between the comedian and his daughters is smooth, Steve was also involved in throwing a lovely wedding ceremony to one of his daughters, Karli on her marriage. 
After the split with Marcia, Steve then married Mary Lee, but the relationship did not last happily as well, and the couple too got divorced back in 2005. 
But that is all past as now; Steve is happily enjoying the limelight and his marriage with the love of his life Marjorie Harvey. Steve and Marjorie got married in 2007 and now have a beautiful family together living with happiness and joy. They were also caught relishing their time during their summer vacation in France and Italy in August 2018.
Since his divorce with the third wife started to make a swirl on the internet in July 2018, he proved it to be untrue after he stated that the god would send him straight to hell if he gets a divorce with Marjorie.
Marcia Harvey has not been that famous regarding her professional life, but her ex-husband, the famous Comedian Steve Harvey has a net worth of $100 million. 
A Proud Grandmother
In 2015, Marcia and Steve Harvey's daughter Karli Harvey got married to Ben Raymond, and now they've become parents, making Marcia a grandmother. 
The couple welcomed Steve's first grandson named Benjamin Troy Raymond II in June 2016. The arrival of the baby boy brought happiness to the entire Harvey family. He's almost three-years-old now, and it is evident he receives love from Mommy, Grandma, and his famous Granddad.
You May Also Like:- Bobby Flay's Ex-Wife Kate Connelly Wiki, Divorce & Essential Details!
Well, though the 14-years of married life fell apart between Marcia Harvey and Steve Harvey, they still cherish their family life with their children.
Marcia Harvey's Life In Summary - A Bio
Born on 22nd 1955, Marcia is a Clevland Ohio-native. She refrains from talking about her early upbringing. And whatever information the public has on her, it comes from her association with her former husband, Steve Harvey.
She met Steve at a mutual friend's reception bash sometime in the '70s. At the time, she worked at a department store called "Saks Fifth Avenue."
The ex-duo welcomed their twins on 20th August 1982 and their son Broderick Harvey Jr. on 29th April 1991. After 14 years of marriage, they got a divorce in 1994.
After the finalization of the divorce, the court cited in her favor and ordered her then-estranged husband to fork out $5 thousand in monthly spousal support payment.
Another Harvey In Our Vault:- Lori Harvey Engaged & Wedding Talks | Age, Who Is Biological Father?
In 2011, Marcia became a published author following the release of 'Marcia: Eyes to the Soul' - a poetry book dedicated to her and Steve's marriage. Later that year, her second book 'Marcia: Poems From The Heart' also got published.
Three years later, in 2014, the mother of three authored her third book 'Marcia: Thoughts From My Mind.' After Steve, Marcia married her current husband - a man named Larry Greene. Together, the duo leads a peaceful life in Cleveland.