Entertainment
Marcus Mariota Girlfriend, Engaged, Parents, Salary, Net Worth
An American football quarterback, Marcus Mariota is having the time of his life with a multi-million dollar contract signed to the Tennessee Titans. Although initially forbidden from playing football, Marcus proved that passion and hard work are the essential factors in determining one's success.
But his story of triumph would not have been complete without his loving girlfriend and possible future wife, who is together with Marcus since college.
Dating Girlfriend From College; Parents & Brother Details
Marcus has been dating his girlfriend, Kiyomi Cook since his years at the University of Oregon. But, their relationship wasn't made public until 2015. The couple's romance first came to light when Marcus and his girlfriend were spotted arriving at Honolulu, Hawaii together. 
Married Longtime Girlfriend:- A Glance At Rick Edwards Intimate Beautiful Ceremony Where He Married Longtime Girlfriend
Before Kiyomi, Marcus dated Nicole Watase - who was a cheerleader in his team - during their high school, but the two parted their ways once they reached college. 
Meanwhile, the footballer and Kiyomi met in 2014 and dated secretly before coming out in public, a year later. Kiyomi, who also attended the University of Oregon, completed her Bachelor studies with a degree in human physiology in 2015. She currently works as a soccer coach.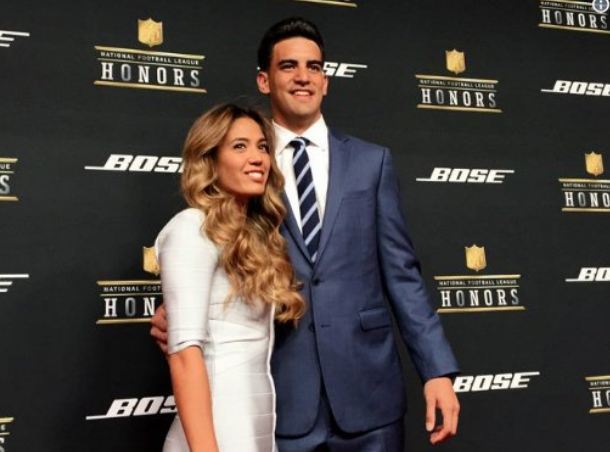 Marcus Mariota and girlfriend Kiyomi Cook attend an event together in 2018 (Photo: Dailystar.co.uk)
Marcus and his girlfriend have revealed no plans on getting married: at age 25, it might be too soon for Marcus to settle down and start a family.
Wedding Plans:- Brittany Cartwright Weight Loss & Wedding Plans, See Before & After Pic
Although the quarterback, who possesses a mixed ethnicity consisting of Samoan and German heritage, has no immediate plans of making Kiyomi his wife, the couple could soon get engaged.
If Marcus decides to get married someday, the happiest people would be his parents, who have been supportive of his football career. Although Marcus' parents: Toa Mariota and Alana Deppe-Mariota had initially banned their son from playing football, once they saw Marcus' passion for the sport, they did everything they could to help their child: even selling their house for his training.
Taking inspiration from his sibling, Marcus' younger brother Matthew Mariota also chose to take up a career in football and is signed to the Oregon Ducks as of 2019. 
Marcus Mariota's Salary & Net Worth
Standing tall at the height of 6 feet and 4 inches(1.93m), Marcus has been dominating the field and his competitors with a gigantic body possessing a weight of 222 lbs (100 kg).
Marcus, who started his NFL career signing a four-year contract with the Tennessee Titans, was bound in a fifth-year option for the 2019 season.
Another NFL Star Contract:- Amari Cooper Latest Fantasy News & Stats! Trades, Contract, Salary & More
The contract will pay him a salary of $20.9 million in 2019, contributing to his net worth. Although the exact figure of Marcus' net worth is not disclosed, considering his total earnings of $24 million in the last four years, he is already a multi-millionaire.