Entertainment
Marg Helgenberger Husband, Boyfriend, Son, Net Worth
A prominent actress on stage, film, and the TV, Marg Helgenberger is a reputed figure in the American entertainment industry.
Throughout her career, Marg has spent a lot of time on dramatic pieces on TV; however, she also has had some noteworthy moments in feature films.
Including the likes of Behind Enemy Lines, Almost Friend, Species, Erin Brockovich and In Good Company, Marg has more than 60 acting credits to her name.
Previous And New Relationship
Marg Helgenberger was previously a married woman. She and her husband Alan Rosenberg tied the knot on 9 September 1989. During their period as husband and wife, the two welcomed one son, Hugh Howard Rosenberg.
Shockingly, her split with husband Alan came at a crucial timing. Just about when she turned 50 and her son was off to college, Marg left her husband. The pair got divorced on 1 February 2010.
Trouble In Marriage:- Liam Hemsworth Split, Wedding, Divorce
Post the heartbreak, she moved on. The TV actress started dating producer, Alan Finkelstein; the same year, she got divorced.
The actress has enjoyed the company of her boyfriend. She has traveled across Europe; Paris, the Orangerie, the Musée d'Orsay and the Grand Palais, with her beau.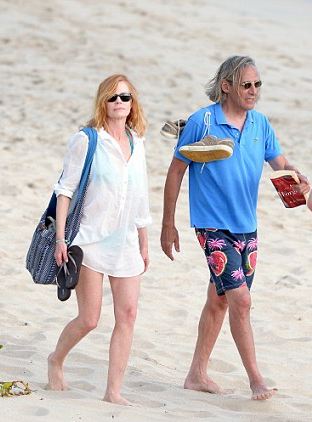 Marg Helgenberger with boyfriend Alan Finkelstein on December 2013 (Photo: Dailymail.co.uk)
However, as of 2019, she remains low key about her relationship with Alan.
Interestingly, Marg boasts a friendly relationship with her ex-husband. During the month of August 2019, she attended Alan Rosenberg's wedding.
Family & Education
Marg is the child of nurse mother Kay Helgenberger and father Hugh W. Helgenberger. Her parents had a total of three children, Marg Helgenberger, Ann Helgenberger, and Curt Helgenberger.
Sadly her father passed away from multiple sclerosis on 19 November 1985. Her mother is also a breast cancer survivor.
Talking about her education, Marg learned acting from Northwestern University. Graduating with a degree in Drama, she got recruited by a talent scout to work on the soap opera, Ryan's Hope. It was in the soap opera where she polished her profession for the next four years.
Net Worth In 2019
Throughout the 1990s, Marg Helgenberger was at the height of the entertainment industry. With numerous roles on TV movies and series under her belt, she even guest-starred in a few of them.
Her filmography includes classics like In Sickness and in Health, Thanks of a Grateful Nation and Perfect Murder, Perfect Town: JonBenét and the City of Boulder.
With a vast career in the American entertainment industry, the only question is how much is her total net worth. In measurements alone, the 5 feet 6 inched (1.65m) actress has amassed a fortune worth of 16 million.
As of 2019, Marg- aged 60 - enjoys a comfortable life in her Los Angeles home which she purchased at 4.6 million in 2007.
Her latest project in 2019 includes All Rise, a series on the professional and personal lives of the judges, lawyers, clerks, bailiffs and cops who work at an L.A. County courthouse.