Entertainment
What Is Margaret Josephs Net Worth? Her Bio Adds Kids & Loving Husband
By the time entrepreneur turned reality star Margaret Josephs, age 50, had made her TV debut as the newest member of The Real Housewives of New Jersey (TRHONJ) in 2017, the world had become familiar with the New Jersey native via her business ventures.
Until recently, most people were unaware of Margaret's tumultuous relationship with her step-kids following the divorce from her first husband. With her married life with her second husband all set, she looks to make amends with her estranged step-kids.
Dig into the TRHONJ star's bio to uncover her age, net worth & details of her second wedding!
Bio Reveals Rift Between Margaret & Her First Husband's Kids; Reconciliation Possible?
"Friendship" is one word that would best describe Margaret relationship with her first husband's kids from his previous marriage.
Another Housewife In Our Vault:- RHOP's Monique Samuels Is Pregnant, Expecting Third Child With Husband At Age 34
Despite 20 years age gap between them, the New Jersey native married her first husband Jan Josephs in 1994, at age just 24. Upon marriage, she became a de-facto mother to Joe's three kids and over the years grew a strong bond with them.
The birth of her son with Jan only strengthened her bond with her step-kids. But since her elopement with her second husband in 2013 and the divorce that followed has rocked their once stable relationship.
Although there seems to be zero bad blood between her and her first husband, the latter's kids - who are now 38, 40 & 42 - seemed reluctant to reconcile with her. In a People magazine interview, she spoke of how she has repeatedly asked her ex-husband Jan to act as a mediator but to no avail. She quipped:-
"He knows I'm heartbroken. I'm constantly like, 'Jan, do something.' And he's like, 'They don't listen to me.'"
Likewise, in an episode of TRHONJ, she confined in with fellow housewife Dolores Cantina about the toll her strained relationship with her step-kids had taken on her. Margaret revealed:-
"You know when they say time heals all wounds? It doesn't. "You know when they say time heals all wounds? It doesn't."
Suffice to say, the Fashion Institue of Technology Alum wants reconciliation with her step-kids.
Read Also:- Marty Caffrey, Married To Fiancée Danielle Staub In 'Private Wedding'!
Behind Margaret Josephs' Net Worth; Married Her Second Husband In Vegas Wedding
Considering how random Margaret's elopement with her present husband was, is her step-kids anger justified?
In the reality star's defense, she was head over heels for her then-lover Joe Benigno. Recounting the story of how husband Joe had swept her off her feet in Bravo digital series, Housewife to Housewife, she revealed:-
"The Bowery, we used to stay there, when we were having our torrid love affair. It was snowing; there was a snowstorm. But it was puddles, puddles, puddles, and we had to get in a taxi, and it was huge puddles. Of course I had my high heels on, and he didn't want me to step in the puddle. So he stepped in it with his boots on so I could step on his foot to get into the cab. I was like, I'm totally marrying this guy."
The pair would eventually elope in 2013 at a Las Vegas wedding. Margaret's husband Joe - a third generational plumber & a motorcycle aficionado - has appeared alongside his better half.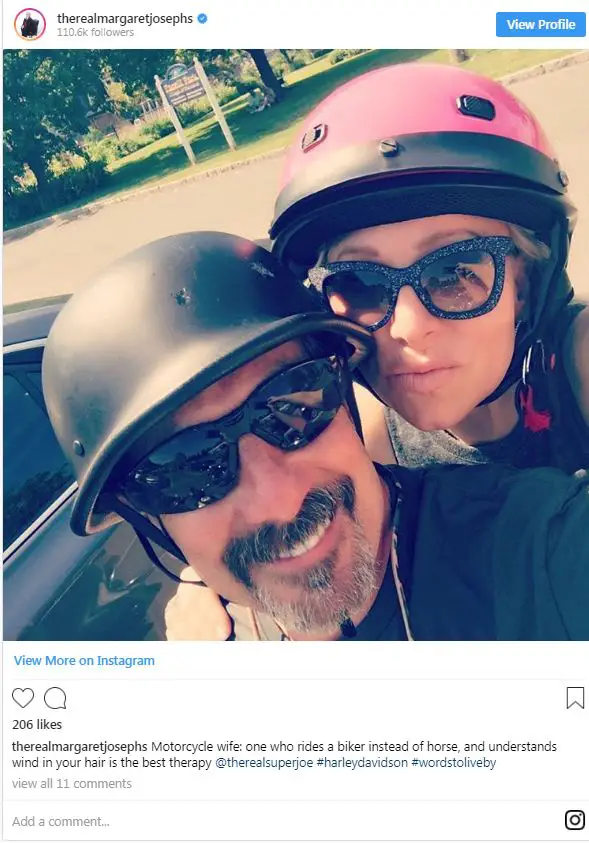 Margaret & her husband Joe going out for a ride (Photo:- Margaret Joseph's Instagram)
In addition to leading a fulfilling married life, Margaret and her husband also lead a lavish lifestyle. Although there's some truth to their $1.4 million NJ mansion facing foreclosure, the pair is far from being broke -- all thanks to the Margaret's burgeoning net worth.
Don't Miss:- 'AGT' Violinist Brian King Joseph Age 26 Wiki: Best Songs To Net Worth | Details
The reality star's clothing line The Macbeth Collection grossed over $30 million in 2012 alone, a milestone for a company which came into existence little over a decade ago. Margaret bio suggests that big-time retailers such as Walmart and Bed, Bath & Beyond distribute the products from the said clothing brand.