Entertainment
Maria Teresa Kumar Age 44 Bio Reveals Husband Identity & Family Status
At age 44, MSNBC contributor and the president of Voto Latino, Maria Teresa Kumar boasts a formidable net worth and also leads an equally joyous family life with her husband and their children.
Although the suffix "Kumar" may mislead the people unfamiliar with her work into assuming the worst, it is, in fact, her first name that gives the clearest picture of her - often misconstrued - ethnicity.
Delve into Maria Teresa Kumar's biography to learn more about her origins, husband's line of work and the present family update!
MSNBC Political Contributor's Bio Unveils Husband's Ethnicity, & Family Status
Named Elle Magazine's ten most influential women in Washington, DC in 2013, it only fits that Maria would find a husband with an equally impressive repertoire.
Celebrity With Same Name:- 'WCVB' Maria Stephanos Bio: Amazing Husband & Family Journey, Inspiring!
Her husband Raj Kumar, a Kerala India-native, is the editor-in-chief and founding president of "Devex" -- a media marketplace for the global development community.
Besides his firm, he also acts a sitting member of Council on the Foreign Relations and the Global Clinton Initiative. Formerly, Raj, age 45, spearheaded the Humanitarian Council of the World Economic Forum.
Currently taking refuge in Washington, DC, Maria along with her husband of South Indian ethnicity and their kids - a son & a six-year-old daughter named, Lucia Mercedes Kumar - led peaceful yet fulfilling family life.
Every now and again, the Fast Company top 100 Creative Minds honoree lets her fans into her intimate life by providing timely status; whether wishes on her husband on his birthday or their wedding anniversary, she sounds keen as ever when discussing her family life online.
See Also:- Mila J & Siblings Bond, How Is It? Explicit Details On Net Worth & Ethnicity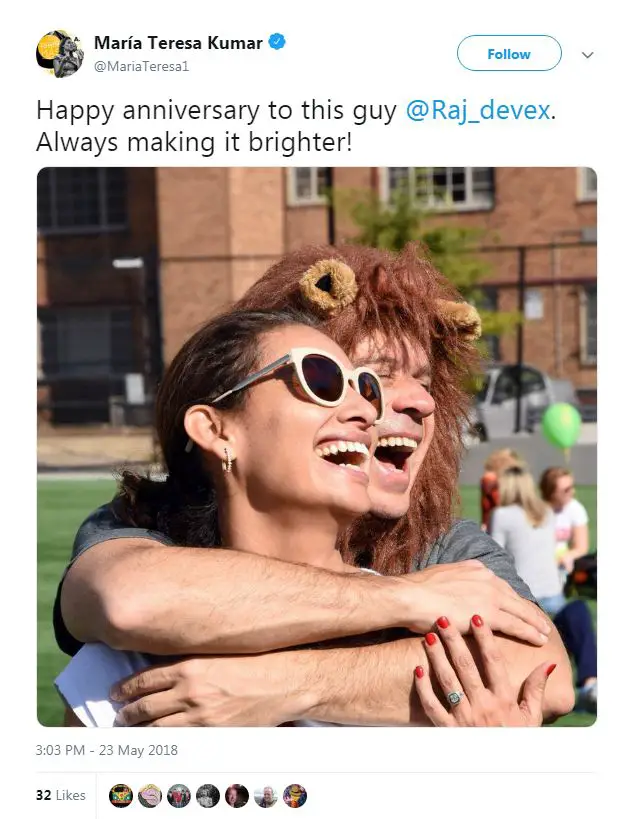 Maria pens a grateful tweet dedicated to her husband on wedding anniversary (Photo:- Maria Teresa Kumar's Twitter)
Born on 31 January 1974 in Bogata, Colombia, Maria - who is of Hispanic ethnicity - grew up in California. Her bio reveals that her mother is a native of Colombia whereas her father is American.
Behind Maria Teresa Kumar's Net Worth
A move to America meant Maria could see out her dreams on her self-made terms.
A bright student from the start, the mother of two, enrolled in University of California's BA programme in 1992 as an undergrad. Four years later, she graduated with a bachelor's degree in Economics and International Affairs.
Interesting:- Nayyera Haq Age 37 Furtive Married Life & Husband | Ethnicity, Background
After graduation, she served as a senior legislative aide for numerous US House of Representative for two years before enrolling in the Harvard's Kennedy School of Government's Business & Technology programme to complete her masters.
Since gaining her master's degree from the said institution in 2001, she has gone on to form a company of her own: Voto Latino -- "a leading national civic engagement organization targeting acculturated American Latino youth."
An MSNBC contributor since 2009, Maria's efforts - which has culminated in multi-million net worth, as a result - helped her secure a seat on the national boards of Planned Parenthood, Emily's List and the Latino Leaders Network. Besides being a Council on Foreign Relations Life Member, she's also a Council on Foreign Relations Life Member.