Marilyn Manson has been married once in his life...is a goth musician and songwriter...is with a girlfriend as of now...once made headlines for making gay jokes...brought up in a religious family...is now 50 years old...has many tattoos on his body...has a height of 6 feet...owns a net worth of around $25 million...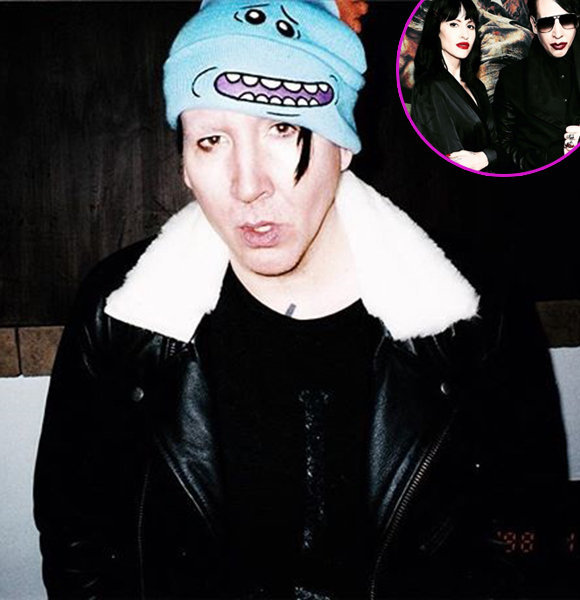 Shot to superstardom with his album Antichrist Superstar, Marilyn Manson is best known for his dark and edgy music. The American singer-songwriter is popular among the crowd for writing music about dark and controversial things along with politically-sensitive language.
Everybody knows about how he tries to make his listeners talk about topics that are deemed unfit for public conversation. But, among his songs and his ability to hit people's nerves through songs and actions, his own real identity is hidden.
Who Is Marilyn Manson?
Marilyn Manson (real name - Brian Hugh Warner) was born on 5th January 1969 in Canton, Ohio, USA. He is the son of Barbara Jo (Wyer) and Hugh Angus Warner and is the only child of the couple.
Growing up, he was raised as an Episcopalian and was made to attend a religious private school named Heritage Christian School. It's funny how thought processes work, as it was during this time that his hate for Christianity grew. So, after he reached tenth-grade year, he managed to convince his parents to let him attend a private school.
Upon his graduation from high school, his family moved to Fort Lauderdale, Florida. The transfer resulted because of his father's career choices. Marilyn later went to a local college named Broward and studied journalism and theater.
Read More:- Danielle Cohn Young Age Fame From Parents Struggle | Boyfriend, Dating Now
The move to Florida and the new environment set the base for Marilyn's dark nature. He did a few jobs and got fired from them in Florida. Marilyn also created a band, recruiting people with similar interests, and named the band Marilyn Manson and the Spooky Kids.
His choice for the band name alone shows his dark nature. He invented the name for the band from the names of two famous personalities: Marilyn Monroe, a movie star, and Charles Manson, a psycho killer.
Short Info: Marilyn's Rise And Career
Marilyn didn't take too much time to gather public attention, mostly because of the kind of music he makes and how his general appearance is.
Marilyn became a mainstream rock personality in the '90s. His, along with his band's gothic appearance and music, managed to become a popular group in South Florida Area around 1992. It was around the same time that they started self-releasing albums and cassettes, playing gigs, and gaining popularity among the non-conservative youth in the area.
And then came a contract offer with Nothing Records in 1993. He accepted the contract, along with a chance to open for Nine Inch Nails on their tour. Thus, it took off Marilyn Manson's mainstream music career.
The following year, in 1994, Marilyn Manson released his first album, Portrait of an American Family. And, ever since the release of his first album, he has been active in the music industry. He has released ten albums, Heavens Upside Down (2017) being his latest.
Marilyn's Dating Life
Marilyn's dating life began with his relationship with actress Rose McGowan. They were engaged in February 1999. But the link wasn't meant to last, and the ex-couple broke off their engagement in January 2001. Rose later said that the reason for the end of their commitment was "lifestyle differences."
Marilyn moved on from Rose to get involved with a burlesque dancer, costume designer, and model Dita Von Teese. Marilyn and Dita started seeing each other in 2001, and Marilyn proposed her on 22nd March 2004 after three years of being together.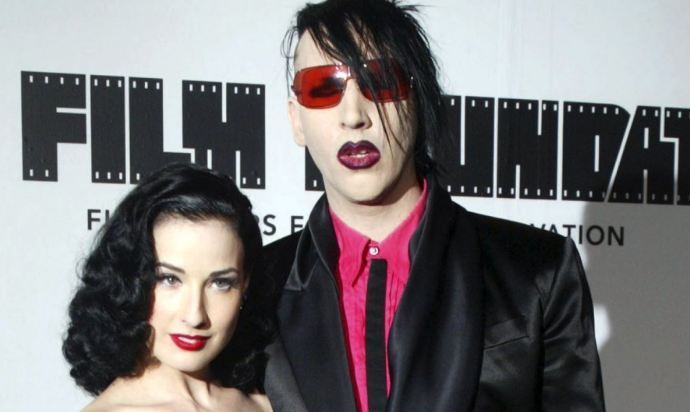 Marilyn Manson appears at an event with then-wife Dita Von Tesse (Photo: NIcki Swift)
The couple, who got married in a private, non-denominational ceremony in 2004, started facing difficulties in their married life shortly after their marriage. So, on 30th December 2006, Dita filed for divorce from Marilyn.
Marilyn is not a creature that can be tamed. And his ex-wife Dita had had enough of Marilyn's reckless partying and extra-marital relationships, which eventually became a reason for her demand for divorce from him. It took approximately one year, but their divorce finally got finalized on 27th December 2007.
However, even before his divorce with Dina was legally confirmed, Marilyn's relationship with musician Evan Rachel Wood was made official. Marilyn and Evan had a casual relationship for a long time, even when Marilyn was still married to Dina.
The on-again, off-again relationship turned into a serious commitment in January 2010. Marilyn proposed Evan on stage during one of his performances.
And, not surprisingly, Marilyn's third engagement came to a halt as he and Evan broke off the tie between them later that same year.
Now comes in Marilyn's fourth and latest girlfriend, Lindsay Usich. Lindsay, 35, is a photographer and has been dating Marilyn from 2012. They are spotted at various public events and have been together despite Marilyn's public cozy-up with his ex-wife Dita Von Teese in 2019.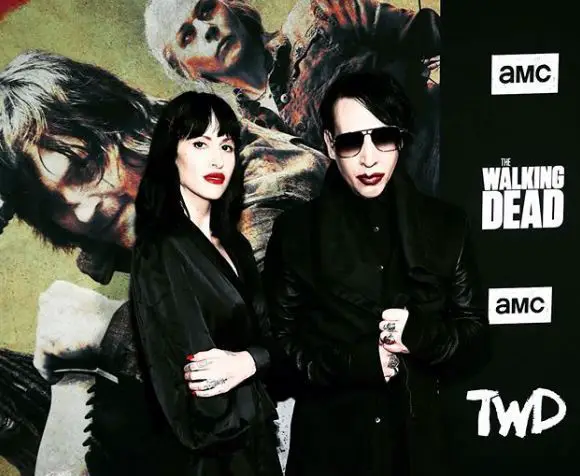 Marilyn Manson with girlfriend Lindsay Usich in September 2019 (Photo: Marilyn Manson's Instagram)
The couple is still together as of 2019, and this woman finally seems to be the one for Marilyn. But who knows?
Marilyn Manson: Bio, Age, And Other Interesting Facts
Marilyn is such an interesting character, that talking about all the interesting facts about him would take a whole other article. However, here's a summary of all the exciting things about Marilyn Manson.
Let's start with Marilyn's music career because that's the thing most talked about him. Well, that and his controversies. But, back to the point. Marilyn started his music career in the 1990s and managed to become an icon in the goth/rock music scene in the world in just about a decade.
Talking about his controversies, the goth singer has been associated with various infamous topics over the time of his career. Most famously, he was linked to the Satanic Church and even given the title of Reverend by Anton LaVey. In addition to his religious controversy, he was said to be the motivation for The Columbine Shootings. While, in fact, the columbine shooters didn't even listen to him.
Another Interesting Story:- Kelli Garner Moved On From One Dating Affair To Other! Finally To Get Married?
Now, on to happier and weirder facts. Marilyn is afraid of bathtubs, and of being completely naked.
In addition to his music career, the actor of height 6 feet (1.84 meters) is also an actor and has worked in a few films. On the topic of acting, he is Johnny Depp's best friend and is even a godfather to his daughter, Lily-Rose Depp.
Once grabbing headlines for making three gay jokes in a single minute (which were pretty lame), Marilyn is loved by many music artists and fans all around the world. Singer Halsey even has a tattoo of him. He has many tattoos and paid tribute to his long-time tattoo artist Eric Rosenbaum aka Norm Will Rise in October 2019.
Marilyn, at 50, is still making music and entertaining the world with his not-so-mainstream works. He has a net worth of around $25 million.