Entertainment
Judge Marilyn Milian Married Life, Husband & Children Info
Marilyn Milian is famous as a law practitioner on television. She worked as the host of the popular TV show The People's Court. She appeared as a judge in 19 episodes of the long-running show that aired from 2001 to 2015.
Apart from The People's Court, she has appeared in various other TV shows such as Hollywood Squares (panelist - from 2003 to 2004), Who Wants to Be a Millionaire (2019), Pyramid (from 2003 to 2004), etc.
Marilyn's Personal Life: Husband And Children
Marilyn's husband is John Schlesinger. Marilyn and John first met at a bar during a gathering between state prosecutors and federal prosecutors. Marilyn was a state prosecutor, and John was a federal prosecutor at the time. They started dating soon after their first meeting.
Celebrity Judge:- Frank Caprio Dead Or Alive? Status & Family Details With Wife Of Court Hero
Following their dating period, the couple married in 1993. The duo went on to have three daughters.
Their first child was Cristina, who was born in 1996. Cristina's sister, Alexandra, arrived in 1998.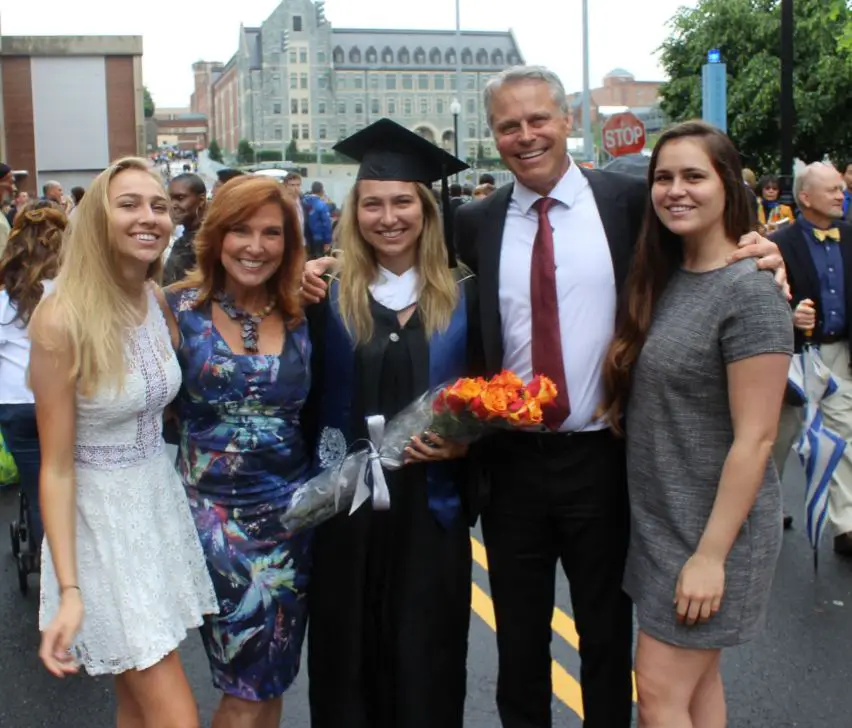 Marilyn Milian with husband John Schlesinger and daughters at Cristina's college graduation in May 2018 (Photo: The People's Court's Twitter)
And finally, the couple's third daughter, Sofia Elena, came into the world on the 28th of November 2001.
Net Worth
Marilyn has an estimated net worth of around $30 million, according to Celebrity Net Worth.
Earnings
According to Celebrity Net Worth again, the TV judge earns around $8 million per year.
Acting Career
Marilyn has also ventured into acting. She has two credits as an actress; one for portraying the role of a judge in the TV series As the World Turns in 2002, and another for playing that character of Judge Alvarez in the TV series George Lopez in 2007.
Short Bio Of Marilyn Milian: Age, Parents, Ethnicity
Marilyn was born on the 1st of May 1961 in Queens, New York City, New York, the United States. Her father's name is Jorge Milian, and her mother is Georgina Milian.
Another New Yorker:- Love & Hip Hop Nya Lee Baby, Boyfriend, Net Worth Details
She is of Cuban descent as both her parents were born in Cuba. She is a Cuban-American.
Interesting Facts About Marilyn Milian: Height, Education, And More
Marilyn stands at the height of 5 feet 3 inches or 1.6 meters.
She went to Harvard Law School for a year. Then, she transferred to Georgetown Law School, where she graduated cum laude. She also graduated with a 4.0 GPA in Psychology from the University of Miami.
Marilyn is the first Hispanic judge on a television court show. She is also the fourth judge in succession to host The People's Show, and the first female to do so.
Before her TV works, she worked as an Assistant State Attorney for the Dade County State Attorney's Office from 1984 to 1994.
She was appointed to the Miami Circuit Court by Florida Governor Jebb Bush in 1999. She served in the Criminal Division in Miami. Her husband John, too, is serving at the Miami Circuit Court as a Judge.