Marion Jones is one of the most excellent track and field athletes to have graced the sport. Claiming three gold and two bronze medals in the 2000 Sydney Olympics for the US, the track star has won 34 individual events throughout her sprinting career.
However, Marion was forced to forfeit her titles and medals when she admitted to taking steroids and performance-enhancing drugs in 2007.
Husband And Whereabouts Now
Marion Jones has suffered a lot after confessing to the drug allegations. During the darkest hour of her life, she required a partner to support her, but that did not happen either.
The track sprinter married her former husband C.J. Hunter in October 1998, when both the athletes were enjoying the best time in their respective careers. The couple eventually parted ways in 2000. But, during the 2000 Olympics, Marion defended her ex-husband and immediately revolted to his drugs allegations.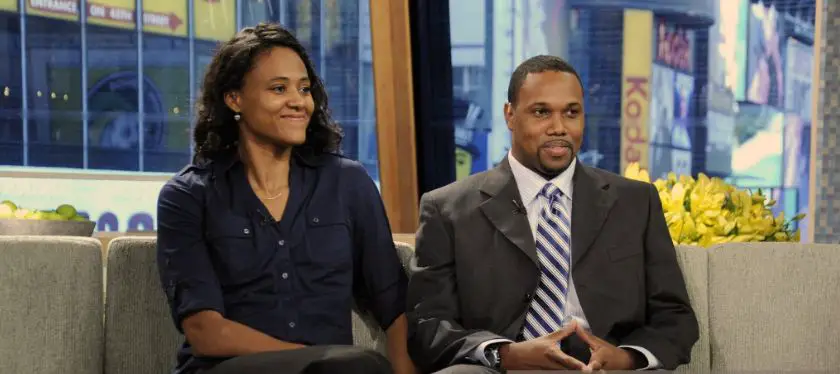 Marion Jones with husband Oba Thompson during their books premiere in October 2010. (Photo: gettyimages.co.uk)
But, C.J didn't return her the favor. When Marion was charged with using drugs in 2004 with her ex-boyfriend, Tim Montgomery, C.J. was the one accusing her.
However, she did not give up on love and married Oba Thompson in February 2007. Marion found a caring husband in Oba, and they even share three children; daughter Eva-Marie and two sons named Monty & Amir.
As of now, the loving family of five lives happily, and the couple is often seen working hard to set an example for their children.
Net Worth Info
Marion Jones was a treat to watch when she was in her prime. She earned $70K to $80K per race along with $1 million a year in brand endorsements deals.
Similar Fitness Icon:- Brooke Wells Age, Boyfriend, Sister, Net Worth
But, things took a turn for the Olympiad as she was found guilty of doping during her five medal whitewash in the 2000 Olympic Games. She was stripped of her achievements and was no longer able to maintain a lavish life, which included three homes in North Carolina.
A financial crisis led her to more troubles as she involved in drug-dealing acquaintance and hooked up in a $1.7 million check-cashing scheme. Marion served a short sentence for hiding her crime and declared bankruptcy in 2007.
As of today, the star resides in Austin, Texas and enjoys her time in sports as a fitness coach with a net worth of $500 thousand.
Marion Jones' Bio
Marion Lois Jones was born on 12 October 1975 in Los Angeles, California. She started to participate in sports when she was 12, soon after her father's death
Moving ahead in games, her height of 5 feet 10 inches (1.78m) and constant weight of 68 kgs helped her gain the upper hand against opponents. In high school, she became the fastest sprinter and sealed her spot in the US Olympic team.
Athlete From Botswana:- Caster Semenya Wife, Gender, Salary, Family
After playing basketball in college, Marion won gold medals in the 100m and 4*100m relay in the 1997 World Championships. She also succeeded in winning five medals: three gold and two bronze at the 2000 Sydney Olympics, only to be taken away from her after a doping incident.
As of 2019, the athlete contributes to the sport by working as a fitness coach to the recruits.