Entertainment
Who is Marjorie Harvey? Things That Her Bio Has Is A Surprise`
The Instagram star, Marjorie Harvey, sparkled in the world of celebrities mainly for being the wife of the prominent television host, Steve Harvey. 
Marjorie, however, does not let her husband's fame overshadow her and displays herself not just as a wife or a mother, but also as an inspiration to many.
Her rising popularity in the social media is not the only topic of attraction as she has a shocking past you might not know about. Well, let's take a closer look at her personal life, including her love affairs.
A Glance at Marjorie Harvey's Bio, Including her Love Affairs
An American fashion icon, Marjorie Harvey, was born on October 10, 1964, in the United States. The 53-years-old, who stands at the height of 5' 7", looks much younger for her age. 
Guess they're right when they say "Black don't crack", since Marjorie, who belongs to the African-American ethnicity, hardly seems to age.
The gorgeous entrepreneur was believed to have been in the spotlight merely because of her husband, but she proved the notion wrong with her fashion venture 'The Lady Loves Couture' that addresses the beauty needs of women. 
The website provides beauty tips as well as shows women how to live a lavish life on a budget. Her initiative soon increased her popularity on social media, and she even received a lot of acclaims from people.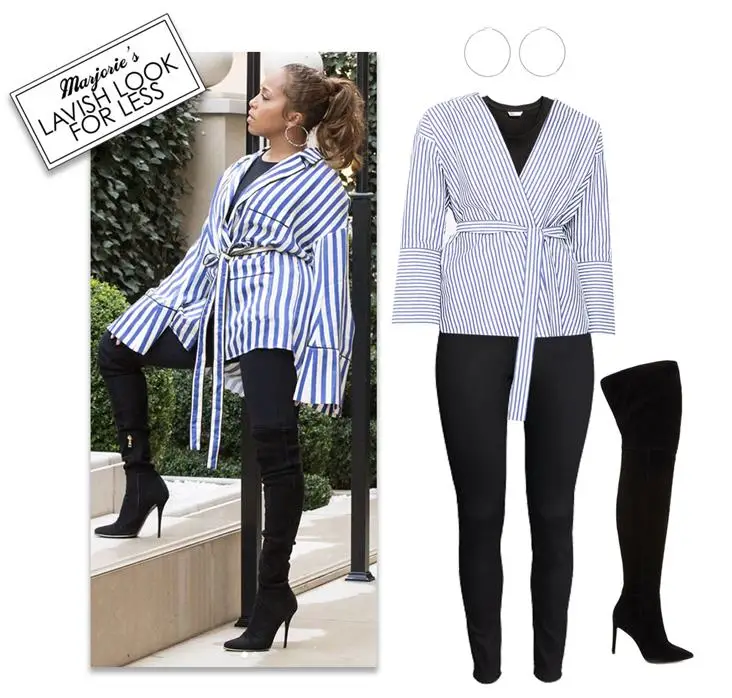 Caption: Marjorie Harvey showing off her lavish look for less, The Wrap Blouse
Photo Credit: theladylovescouture
When talking about her life before fame, Marjorie hasn't revealed anything about her parents, but her love affairs take another turn as she was married twice before Steve.
Although there is no proper information on her previous marriages, according to a source, both of her former husbands were criminals. 
During her first marriage with Jim L. Townsend, an investigation took place where Jim was put on a trial for attempting to buy 40 kilos of cocaine and was later sentenced to life imprisonment. 
After 26 years in prison, then-President Barack Obama granted him a pardon and released him from the jail.
Marjorie started dating another drug dealer, Donnell woods, after she split with her first husband, and gave birth to a daughter, Lori, back in the year 1997. 
Marjorie and Donnell tied their knot in the year 2000, but their relationship didn't last much longer.
Her previous marriages brought obstacles in her life, but it also brought happiness as Marjorie became a mother to three kids named Morgan, Jason, and Lori, all from her past relationships.
Marjorie didn't let her marriage failure come in her way and, hence, took her husband's last name, Harvey, after she got married to Steve Harvey earlier in June 2007. 
The couple often shares their sweet union on social media as well.
With this marriage, Marjorie became a stepmother to Steve's twin daughters, Karli and Brandi, and sons Broderick Steve Jr. and Wynton, as Steve was also married twice before. 
His first marriage with Mary Lee and later with Marcia Harvey became a lot more controversial as he was being accused of leaving his wives for his mistresses.
The pair surprised everyone when Marjorie revealed in her 2010 interview with Essence that they had dated before, however, due to certain circumstances, they had to part ways:
"We were friends. We dated years ago and I think it was the long distance more than anything with Steve and I [that made us go] our separate ways. Nothing happened. He didn't break my heart. I didn't break his heart. It just was a long distance relationship and someone would have had to make a decision back then. No one made a move. But it didn't mean we didn't care, it's just sometimes life gets in the way. Obviously, it wasn't the perfect timing or it would have happened."
Marjorie has faced many ups and downs throughout her love life, and it seems that her recent marriage is a match meant to be!