Some people work hard their entire life to earn a fortune; others get lucky somewhere along the road and hit the jackpot. A few, however, are born with a silver spoon in their hand. Mark-Francis Vandelli is one of those people who had their stars aligned since their birth.
Born to a successful model and an industrialist, Mark boasts a considerable net worth. But, Mark isn't just living on his parents' heritage; he has made his legacy as a reality TV star.
His name has appeared in the world of entertainment via different TV shows such as Made In Chelsea, Good Morning Britain, and CelebAbility.
Personal Life
Mark-Francis is quite the desirable man because of his stunning looks and irresistible charm, along with a height of five feet and ten inches (1.55m). However, he likes to remain low-key about his dating life. Regardless of the secrecy, few stories have spread over the years.
In May 2014, exclusive pictures surfaced on the internet where Mark was seen kissing a mystery man.
The TV personality, who does not show any forms of PDA, was seen embracing the mystery man romantically in London. Since then, nothing about the millionaire's mystery man has hit the tabloids.
Explore:- Parry Glasspool Gay, Girlfriend, Siblings, Net Worth
As of now, Mark-Francis is linked to a mysterious girl named Jade due to his Instagram posts, starting in April 2018. He has shared some pictures of the two attending various events throughout the year.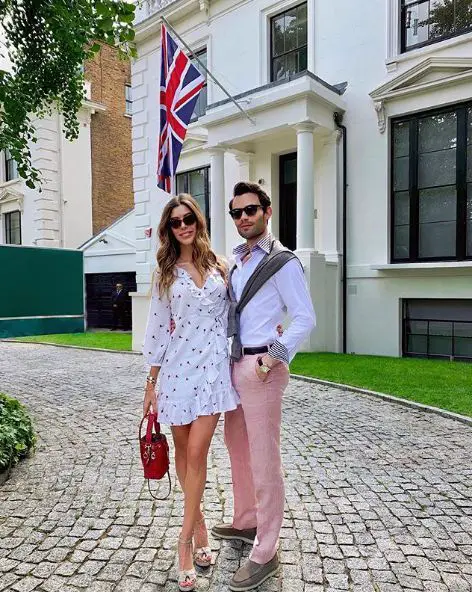 Mark-Francis Vandelli with Jade in Kensington on 8 July 2019 (Photo: Mark-Francis Vandelli's Instagram)
There is a good chance that Jade could be Mark's girlfriend. However, it is too obscure to conclude that the two are in a relationship.
Further, the PDA of 2014 also put the thoughts of him being gay in the picture. As he also seems to be close to the mystery girl Jade, one can assume his sexual orientation to be bisexual. But, until Mark speaks on the matter, his sexuality will remain confined.
Age, Parents & Career
Born in 1990, Mark-Francis celebrates his birthday on 14 October. His mother Diane Boulting-Casserley is a Russian model, while his father Marzio Vandelli is a very successful Italian businessman. Mark was raised in London and studied Art History at UCL.
He had his break out in the TV world through the show called Made In Chelsea in 2011. When Mark first decided to join the reality TV show in 2011, his parents did not like the idea at all. They did not even talk to him for about six months when he started shooting.
But, the family kept the differences aside and finally made peace with Mark's rising career in the reality TV world.
From Our Vault:- Francis Boulle Married, Girlfriend, Parents, Net Worth
Since then, he has been in many different series such as Forky: The Series, The Time It Takes, Celebrity Ghost Hunt, Loose Women, Virtually Famous, and The Jump.
Mark's career isn't just limited to the TV world. He is also the magazine editor for Insider and has contributed different fashion, art, and travel content to several publications.
From his career in the show biz, Mark has already accumulated a net worth of $2.6 million.