News
Bill Cosby's Sexual Assualt Case Concluded As Mistrial; Prosecutors Vow To Come Up With A Retrial
Comedian, Bill Cosby who was accused in the case of being drugged and sexually assaulting a woman, will now have to be a part of Retrial, as after six days of deliberation the  Pennsylvanian jury couldn't come to an agreement on the matter, resulting in a mistrial.
It was on Thursday when the jury communicated with Judge of the very case-  Judge Steve T. O'Neil that the case was hung in between and the jury were Deadlocked. The judge, however, requested Jury to continue further divulging on the case.
The prosecution now will have to decide whether or not the case involving the alleged assault on Constand should be taken into consideration. Constand is a former Temple University employee who was the first lady who made the allegations on Cosby more than a decade ago.
The series of assaults were build up, beginning from a comedy routine of Hannibal Buress in 2014 where Cosby was rigorously criticized for acting like a hypocrite and adversely commenting on the lifestyle of African-Americans.
It was just after the routine which went viral, Dozens of women's raged the accusation and publically accused Cosby of sexual assault. Actress Michelle herd was also amongst the accuser.
Here's the statement from the Cosby's accuser,
Cosby's wife Camille also released a frigid statement on the matter,
"How do I describe the District Attorney? Heinously and exploitively ambitious. How do I describe the judge? Overtly and arrogantly collaborating with the District Attorney. How do I describe the counsels for the accusers? Totally unethical. How do I describe many, but not all, general media? Blatantly vicious entities that continually disseminated intentional omissions of truths for the primary purpose of greedily selling sensationalism at the expense of a human life.
She further added,
Historically, people have challenged injustices. I am grateful to any of the jurors who tenaciously fought to review the evidence; which is the rightful way to make a sound decision ... ultimately, that is a manifestation of justice, based on facts, not lies. As a very special friend once stated, 'truth can be subdued, but not destroyed. Moreover, I express humongous gratitude to counselors Brian McMonagle and Angela Agrusa for their hard work. Mr. McMonagle for his passionate and powerful articulations of truths; Ms. Agrusa for her thorough research to bolster Counsel McMonagle; to Mr. Andrew Wyatt for his unequivocal skills in public relations; to our team, who worked diligently and intelligently; to our staffs for their continuous commitment to our family and me ... and to our children, grandchildren, and other family who loves us ... and to our dear friends and supporters, who never gave up on us, despite it all."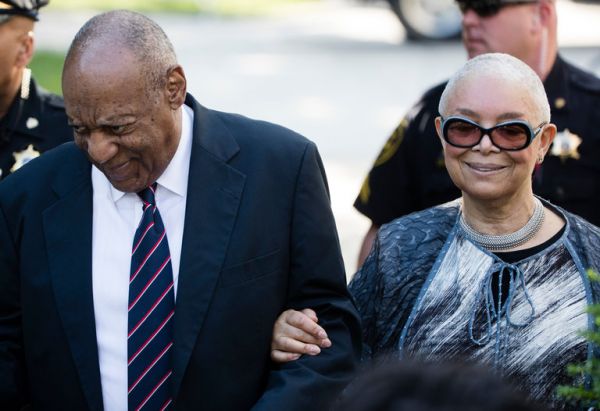 Caption: Bill Cosby, arriving at the trial with his wife, Camille Cosby at Montgomery courthouse in Norristown.
Photo Credit: Nytimes.com
The lawyer for the accuser, Andrea Constand also had their words in the statement,
"We are confident that these proceedings have given a voice to the many victims who felt powerless and silenced. We commend those prosecutors who raised awareness that one of the hallmarks of drug-related sexual assaults is the effect the drug has on the victim's memory and ability to recall and were nonetheless willing to present this evidence to the jury."
A glance of Reaction from defense, prosecution attorneys,
Caption: Bill Cosby mistrial: Reaction from the defense, prosecution attorneys.
Bill Cosby who rose to fame with the widespread popularity of the Tv shows, that includes 'I Spy,' 'Fat Albert' and 'The Cosby Show was born on July 12, 1937, in Philadelphia, Pennsylvania. The man who has been called 'Americas' Dad' is a father to his Five children  Erika, Erinn, Ennis, Ensa, and Evin.
Being accused of the sexual assault isn't the only news he has been traumatized with, Cosby also had experienced a tragedy when his only son Eric was shot to death at age 27 during an attempted robbery on a Los Angeles freeway ramp, as he tried changing a flat tire.
Let's hope the retrial will come to a conclusion, serving justice to the deserving party.