Trending
Is The Release Of Bill Cosby Fair? Did Andrea Constand Make A Mistake
Comedian, Bill Cosby who was accused in the case of being drugged and sexually assaulting a woman, was found guilty and charged with 3-10 years of prison however he has now been released and all of his charges have been dropped.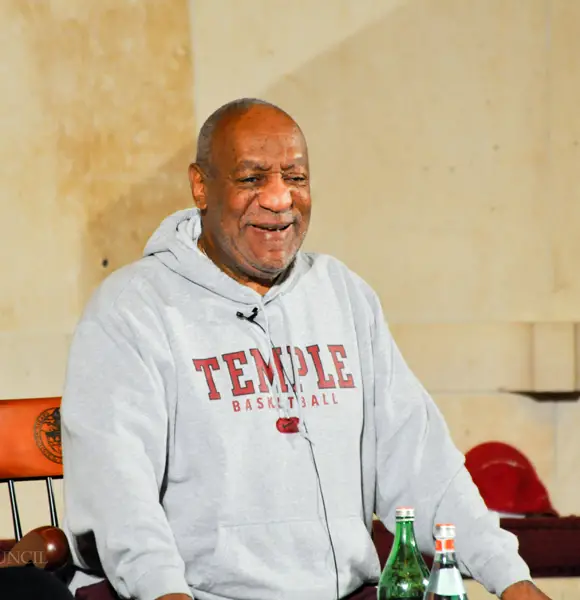 After being found guilty of infamous claims, Bill Cosby was charged with three to ten years of prison sentence. However, after being three years in on his sentence, his charges have been dropped.
Andrea constantly had been sexually assaulted by Cosby and filed a lawsuit against him. She won the lawsuit, but three years into the sentence, the judge has overturned his conviction.
This high-profile case has taken the media by storm, and people are putting their views forward on which of the party is right or wrong. 
How It All Started
Constand first spoke up about the act of Cosby in 2005.
The case lasted for one year until a settlement was done between the two parties for $3.38million, meaning Andrea was given the settlement money in accordance with the sexual battery and defamation charges.
Constand paved the way for many women that Cosby had forcefully performed similar activities with them. This lead to the case being reopened that Constand had filed. Cosby was charged just 12 days before the 12-year limit of her allegations was about to expire.  
As more victims came forward, Cosby's behavioral pattern was easier to pinpoint. As a result, the #Metoo movement was actually successful as it was used to map out the behavior of Cosby. 
This resulted in him being found guilty and sent to three to ten years of prison in 2018. 
Learn more about Phylicia Rashad's point of view on the Bill Cosby's case- A Closer Look Into Phylicia's Professional And Personal Life
What Led To Cosby Being Free?
Cosby's lawyer Mr. Castor was the attorney in Montogomery Country, Pennsylvania, that issues a press release stating that Cosby wouldn't be charged in 2005 when Constand had initially pressed charges against him.
Giving reason for him not taking the case froward he had said- 
I decided that we would not prosecute Mr. Cosby, and that would set a chain of events that would get some justice for Andrea Constand
As per Castor, there had been a promise that after Cosby's prosecution that he would not be able to be charged again.
While Constand was taking the case forward once again, the promise made by Bill Cosby came to light; however, constand and her lawyers said that they were unaware of such a deal.
This led to the case to move forward. But the Supreme court majority backed Castor's statement regarding the promise and moved forward with it even though there was no formal, written non-prosecution agreement. Thus, bill Cosby was freed per the plausible promise made by him.
Castor, upon the Supreme Court's ruling, said.
"I was right back in 2005, and I'm right in 2021..I'm proud of our Supreme Court for having the courage to make an unpopular decision."
Outrage Of The Masses: Andrea's Response
With the news being out, there has been an outrage on social media platforms, especially Twitter. In addition, many A-list celebrities have come forward and expressed their views and disappointment towards the ruling of the case. Many have even compared this case to the Britney Spears case.

Lesley-Ann took to her Twitter and said:
60 women. 60. Folks need to get use to holding their friends accountable. Even if you love them. 60 women with the same tragic story. Women deserve better. #BillCosby
While most people have come forward in defense of the victims, some people celebrated his release. Whatever this will lead to, we hope that justice is fairly served. 
After the release of Cosby constand released an official statement on Twitter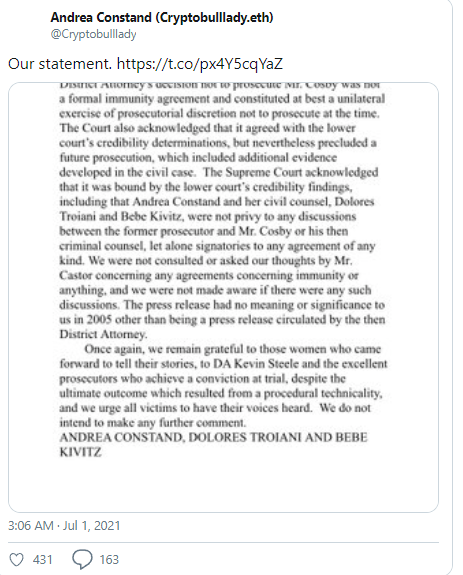 The Story of Mistrial Of Cosby In 2017
On Thursday, the jury communicated with the Judge of the very case-  Judge Steve T. O'Neil that the case was hung in between, and the jury was Deadlocked. The judge, however, requested Jury to continue further divulging on the case.
The prosecution now will have to decide whether or not the case involving the alleged assault on Constand should be considered. Constand is a former Temple University employee who was the first lady who made the allegations on Cosby more than a decade ago.
The series of assaults were build-up, beginning from a comedy routine of Hannibal Buress in 2014 where Cosby was rigorously criticized for acting like a hypocrite and adversely commenting on the lifestyle of African-Americans.
It was just after the routine, which went viral, Dozens of women's raged the accusation and publically accused Cosby of sexual assault. Actress Michelle Hurd was also amongst the accuser.
Here's the statement from Cosby's accuser,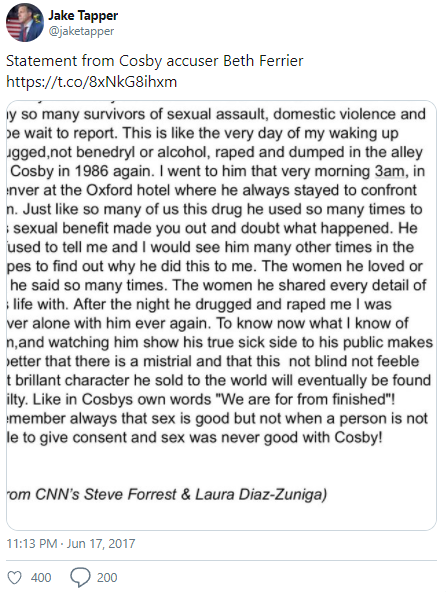 Cosby's wife Camille also released a frigid statement on the matter,
Historically, people have challenged injustices. I am grateful to any of the jurors who tenaciously fought to review the evidence; which is the rightful way to make a sound decision ... ultimately, that is a manifestation of justice, based on facts, not lies. As a very special friend once stated, 'truth can be subdued, but not destroyed.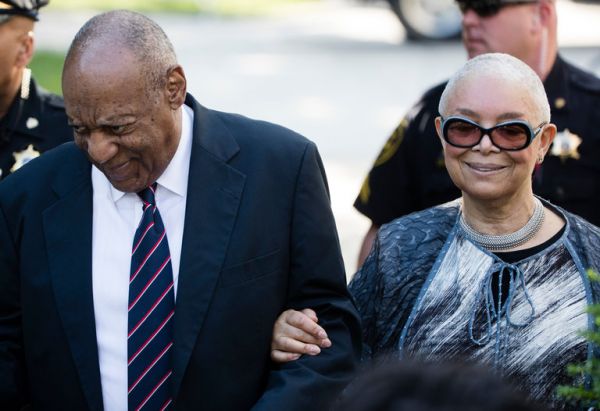 Bill Cosby, arriving at the trial with his wife, Camille Cosby, at Montgomery courthouse in Norristown (Photo Credit: Nytimes.com)
The lawyer for the accuser, Andrea Constand, also had their words in the statement,
"We are confident that these proceedings have given a voice to the many victims who felt powerless and silenced. We commend those prosecutors who raised awareness that one of the hallmarks of drug-related sexual assaults is the effect the drug has on the victim's memory and ability to recall and were nonetheless willing to present this evidence to the jury."
A glance of Reaction from defense, prosecution attorneys-
Let's hope the retrial will conclude, serving justice to the deserving party! 
Cosby, who rose to fame with the widespread popularity of the Tv shows, which include 'I Spy,' 'Fat Albert' and 'The Cosby Show' was born on July 12, 1937, in Philadelphia, Pennsylvania. The man who has been called 'Americas' Dad' is a father to his Five children  Erika, Erinn, Ennis, Ensa, and Evin.
Being accused of the sexual assault isn't the only news he has been traumatized with; Cosby also had experienced a tragedy when his only son Eric was shot to death at age 27 during an attempted robbery on a Los Angeles freeway ramp as he tried changing a flat tire.