Entertainment
Married in 2003, Willie Geist and His Wife, Christina Geist celebrated 13th Anniversary. About Married Life and Children
Everybody wish to marry someone who understands them perfectly and has sat beside them in every up and down in life. In the same breath, today we are talking about a lucky man who married his high school sweetheart and is celebrating fifteen years of married life now.
When Did Willie Geist & Wife Get Married?
The co-anchor of MSNBC's Morning Joe, Willie Geist, and wife Christina Sharkey celebrate their wedding anniversary on 24th May every year. For their 15th wedding anniversary, the political commentator kept it sweet and simple. On Instagram, he shared a snap from their big day and captioned it with the words:-
"May 24, 2003. Humacao, Puerto Rico. 15 years ago today. Happy Anniversary"
The married duo tied the knot on 24 May 2003, in Humacao, Puerto Rico via a beautiful wedding ceremony. For the reception, Willie and his wife opted to throw a bash at the Candelero Resort.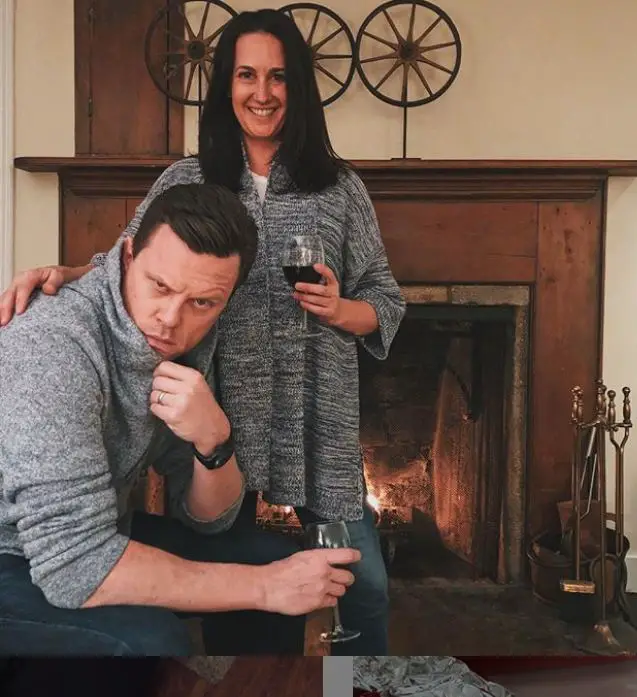 Willie Geist poses next to his wife, Christina Giest for a photo circa Feb 2019 (Photo:- Christina Giest's Instagram)
Like him, Christina is a bit of "do it all" type. Besides being a critically acclaimed children's book writer, she also spearheads True Geist - a boutique brand strategy and design firm. She also runs the online boutique for bespoke, premium, personalized memory boxes titled Boombox.
Story Of How Willie Geist Met His Wife
Willie met his wife Christine in sixth grade when she was 11 years old. He shared in an interview with the USA today in 2013 that Christine was captivating even in that small age. In his own words:-
"She was noteworthy for a sixth-grade boy. I kept an eye on her... "
Although he met Christine in sixth grade, their relationship only took off after ninth grade. Before ninth grade, they were - at best - excellent friends.
After completing their high school education, the couple stayed together throughout the college years at Vanderbilt University. They have altogether spent over three decades of their lives with each other.
Willie Geist & Wife Parents Two Children
Willie and Christine are a blessed married pair with two children. Christina gave birth to an elder daughter, Lucie Joy born on June 14, 2007, and welcomed a son, George Willie on June 8, 2009.
Celeb With the Same Number Of Kids:- Malaysia Pargo Husband, Kids, Net Worth, Parents
Willie is usually busy with his TV gigs. Therefore, his wife Christine stays at home and takes care of the children. In the same interview with USA Today, he marveled at being able to see his childhood lover turn into a responsible mom. He said:-
"It's fun to know the person in the sixth-grade homeroom and see her now being such a great mom to our two kids. It's a journey that not a lot of people have together, and it's very special... "
When he isn't in front of the camera interviewing celebrities, Willie takes quiet time to spend with kids.
Bio Unveils Parents & Net Worth
Born on 3rd May 1975, in Evanston, Illinois, Willie Geist is the son of New York Times journalist, Bill Geist. Besides him, his actress sister Libby is also his parents' source of pride.
After years of wait, Libby finally won an Oscar for her work in O.J.: Made in America in 2017. The whole Geist family were utterly ecstatic about the achievement.
The MSNBC journalist all dressed up in Tuxedo appeared excited for the Oscars. And when it got announced that Libby had won her long-awaited Oscar, he and his family were off their feet.
Actress Sister:- Ben McKee Married, Wife, Parents, Net Worth
The 44-year-old is a co-host of co-anchor of MSNBC's Morning Joe and anchor of Sunday Today with Willie Geist. He often works as a fill-in anchor on Today for Matt Lauer and is also the correspondent for NBC Sports & NBC News as well as a contributor to NBC's Olympic coverage.
He completed his graduation from Vanderbilt University in Nashville, Tennessee. The father of two has authored several New York Times bestselling books such as Good Talks, American Freak Show: The Completely Fabricated Stories of Our New National Treasures and Loaded! Become a Millionaire Overnight and Lose 20 Pounds in 2 Weeks or Your Money Back!.
Earnings from book royalties and commentary gig have helped Willie built a reported net worth of more than $5 million.