Marsai Martin net worth in 2018 was estimated to be around.....parents played a crucial part in leading her career...... In her new movie Little she portrayed the challenging role of a grown-up
Marsai Martin rose to fame starring in ABC's sitcom Black-ish, in which the teenage actress portrayed the role of Diane Johnson. While playing a leading character in the series, she covered the beloved song Purple Rain by late singer Prince. The performance was dedicated to the singer himself, and the admiration Marsai received from her fans grew even more.
Furthermore, many might have a rudimentary view of her as just a blooming child actress, but Texas native is already much more than that.
Net Worth, New Movie
Marsai's net worth in 2018 was estimated to be around $1 million, and there's no denying that she makes a considerable amount of money as a child actress in showbiz. A child actor performing in an episode-based television show earns the minimum salary of $5,258 per week, which increases with the budget and the success of the show.
Furthermore, because her show Black-ish has a considerable fanbase, she makes a substantial amount from the show. 
The Cast of Black-ish:- Tracee Ellis Ross Husband, Siblings, Parents
Interestingly, Marsai has even rewritten the rules by becoming the youngest producer in history. She serves as the main lead and executive producer on her new movie Little, released in April 2019.
Since the actress was the one to come up with the plot of the movie, she has creative inputs in the film beside financial stake.
Also, in one of her Q&A on Instagram, Marsai hinted about the possibility of launching her clothing line.
Bio: Birthday, Parents, Siblings
Marsai Martin was born on 14th August 2004 in Plano, Texas to father Joshua and mother Carol Martin. Her parents played a crucial part in leading her career into modeling by featuring her in glamour shots at the young age of five.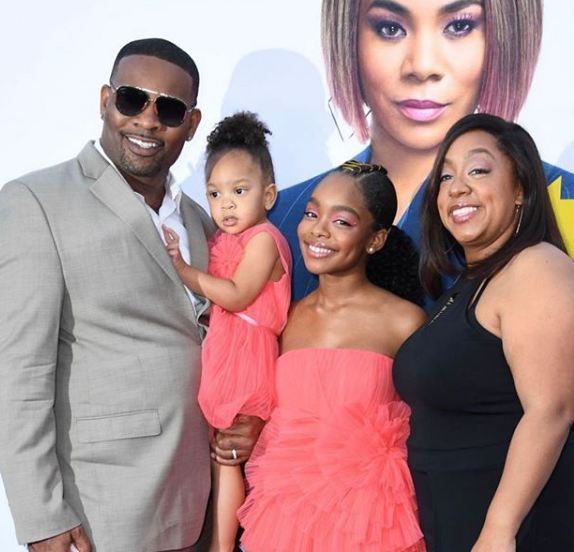 Marsai Martin attends the premiere of her new movie Little with dad Joshua, mother Carol and sister Cyndi Martin on April 2019 (Photo: Marsai Martin's Instagram)
Because her father is a TV producer and president of the company Genius Production, her career choice makes sense. Her mother also plays an active part in handling her business. In return, the artist hasn't shied away from citing appreciation for her beloved mom throughout her social media handle.
Likewise, Marsai is the eldest daughter in the family with a sister named Cyndi Martin - born on 20 September 2017.
Movies & Social Causes
The 14-year-old actress has only performed in three movies until now, including the 2016 drama Nina as her film debut. In her new film Little, she portrayed the challenging role of a grown-up woman who suddenly finds herself turned into a girl of 14 years of age.
Her Co-Star From Little:- Regina Hall's Alleged Boyfriend Ended Dating Rumors While Hinting A Special Person
Moreover, she is at the height of her career with The Young Artists Award to her name. Along with a successful career, Marsai is also using her public exposure for positive impact and notable causes. She is an active supporter of the CameronBoyce Foundation that provides young people artistic outlets as alternatives to violence and negativity.