Entertainment
Simone Biles Age 21: Gymnast & DWTS Star's Boyfriend, Who's She Dating?
Simone Biles is an American artistic gymnast who has set the record of winning...Olympic gold medalist Biles has also been a part of DWTS where she finished...Not having a single boyfriend till age 20, Biles found the love of her life in the form of a boyfriend...
A symbol of balance and flexibility, Simone Biles is an American artistic gymnast, considered by many to be one of the best in the sport. While she has continued to make headlines for her professional accomplishments, personal aspect of her life has also been much talked about.
Olympic gold medalist gymnast, Biles has an abundance of trophy and medals in her cabinet.
To add to it, the gymnast seems to have struck gold in her personal life as well. Coming from a sport that requires immense dedication and commitment, Biles has been lucky enough to find a guy from the same background who seems ready to stand by her in every step of the way.
However, her glorious love life has not yet restored the balance of her early childhood struggles. Suffering from family troubles in her yesteryears, Biles has a few more important people to thank for in her life apart from her boyfriend. People who she owes all her success to.
DWTS Simone's "Most Amazing Boyfriend": Dating Fellow Gymnast At Age 21
Symone, a globally recognized athlete, has gone on to win several awards and accomplishments in a relatively young age of 21. She has further grown in stature and recognition after ending up as a semi-finalist in DWTS on 2017.
You May Also Like: Ariana Greenblatt Age 11 Bio: Young DWTS Star's Parents, Net Worth, Facts
However, there is one award she considers more important than all of those stored in her cabinet, her boyfriend Stacey Ervin.
After sending quite a few shockwaves in an interview with ET on April 2017, where she admitted that she had never had a boyfriend till date at the age of 20, it seems the now 21-year-old has finally got the man of her dreams.
The duo, who first met each other during the P&G Gymnastics Championships in 2014, three years prior to when they started dating, initially started out as friends.
Their friendship soon escalated to relationship around 2017 after they confirmed the news regarding their relationship in an Instagram post in August 2017.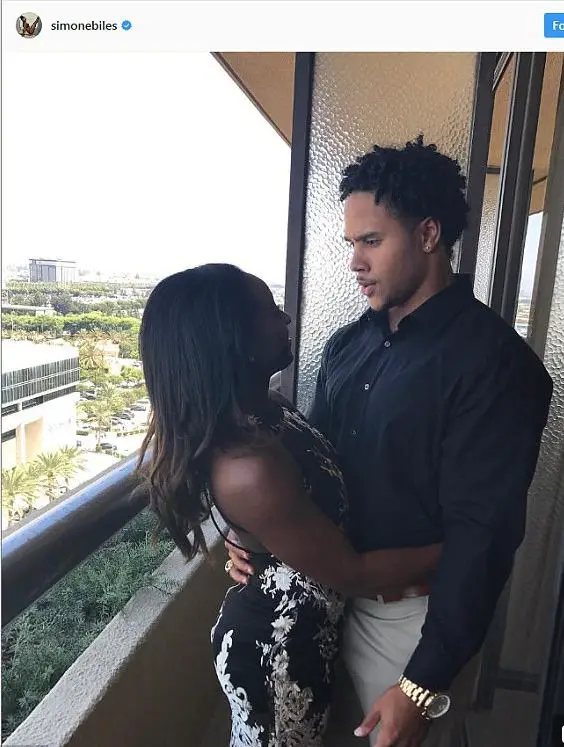 Simone Biles alongside her boyfriend Stacey Ervin. (Photo: Simone Biles' Instagram)
The gymnast posted a photo of the duo with a sweet caption confirming their dating status.
"Always smiling with you."
Stacey, a fellow gymnast, a director, and the head coach at Texas located Gymnastic center, has struck a perfect understanding with Simone, where both of them know their first priority is their sport.
In an interview with People in 2017, Biles mentioned the nature of their relationship and how easy it is for both of them after coming from the same background.
"He's an elite athlete and he's traveled and stuff, so he understands it… We already know in each other's lives we don't come first, and that's okay with the both of us. So we do what we need to do, and then when we come together it's fine."
Stacey, who remains ever-present during her girl's tournaments victory has also been mentioned as 'the most amazing boyfriend' by Biles.
Don't Miss: Paul Hamm Wife & Married | Did Olympic Medalist Have Secret Wedding?
In an interview with Dailymail in August 2018, the gymnast thanked her boyfriend for showing up in her tournaments to support her.
"I do have the most amazing boyfriend, we've been dating for over a year now. He's great and he actually got to come out to [the national championships] to support me. I couldn't ask for a better boyfriend."
The duo with such impeccable chemistry thus looks all set for happily-ever-after. Hence, It wouldn't be much of a surprise, if they escalate their relationship to the next level anytime soon.
Bio Reveals Family Details, Career Highlights, And Net Worth
Simone might be one of the greatest gymnasts in the world currently, with an Olympic gold and several other unprecedented accomplishments in her career. However, her career was anything but easy and she definitely has got quite a few people to thank for in making her the woman she stands today.
Born in Columbus, Ohio, the third of four siblings of parents Shanon Biles and Kelvin Clemons, Simone never grew up with her birth parents.
In fact, she was adopted by her grandfather Ron Biles (Shanon's father), and his wife, Nellie Cayetano Biles. Thus, it is Ron and Nellie that Simone calls her father and mother.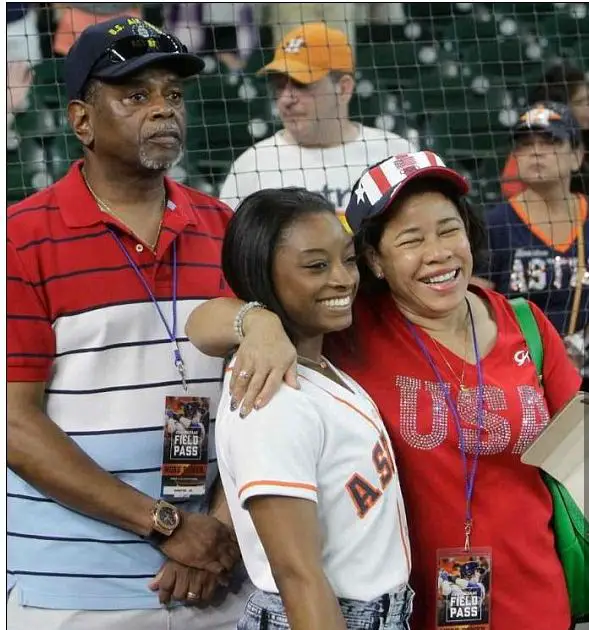 Simone Biles alongside her adopted parents, Ron Biles and his wife Nellie. (Photo: dailymail.co.uk)
Starting her official career through her participation in the American Classic in Houston in 2011, Biles has made leaps and bounds in her relatively short career to become the first woman to win three consecutive world championship titles.
Read Also: Sophia Lucia Wiki: Who Is This Young Dance Fanatic And What Is Her Age?
Her recognition further grew after she participated in the hit dancing show DWTS in 2017, where she was a semi-finalist. With numerous awards, public appearances, and sponsorship deals, Simone Biles, standing in at a height of 1.45m, enjoys a massive net worth of $2 million.