Mary Sohn of Korean ethnicity is the actress to watch out. Her story to success is so enduring!
After watching Second City live - famous improv comedy troupe based out of Chicago - in her first semester, she changed her Medicine major to Theater.
However, the success didn't come overnight like as fairytales; Mary worked hard for years performing on cruise ships and waiting tables until she booked the show, A.P. Bio in 2018. She plays an art teacher named Mary Wagner on the hit show.
Mary Sohn Wiki-Like-Bio
The comedian, who celebrates her birthday on 7th November, was born to Korean immigrants parents.
Her parents had escaped the country post-Korean War in 1953. After leaving one of the poorest countries at the time, they settled in the US for a better life.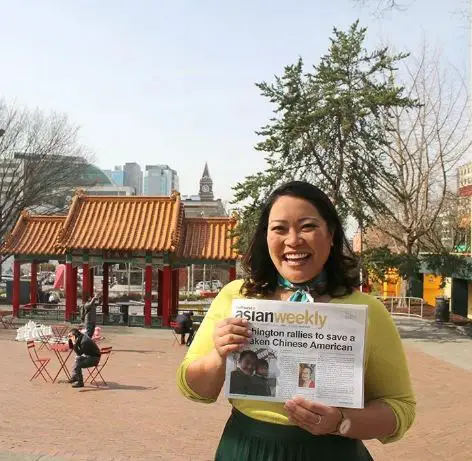 Mary Sohn smiles as she holds a newspaper (Photo:nwasianweekly.com)
Mary's parents made a home for themselves in a foreign country; her dad took up the Pharmacy, and her mother became a grade school ESL teacher.
The pair's two daughters took after them: the elder became a pharmacist, and the middle child became a teacher. The youngest of the lot, Mary was also in the path of her father via joining a medical school. However, after finding her call in acting, she switched her major to Theater.
Immigrant Daughter Set To Participate In Presidential Race:- U.S. Senator Kamala Harris Education, Nationality & Parents Info
Surprisingly, her Asian parents were quite supportive of Mary, taking up an unstable and challenging path. The comedian hilariously explained to North Western Asian Weekly in April 2019, how her strict immigrant parents got convinced about the idea. Well, her sisters were already doing well, so while time came for their third child, they became lenient.
Mary further revealed her dad came to watch her show and understood what she was doing. Sadly, he passed away in 2013. 
Dating Life
Although Mary is out there with her jokes as a comedian, she is coy when it comes to her personal life. Till date, she has refused to reveal about her boyfriend.
Without any boyfriend in picture, fans remember her incredible chemistry with actor Tim Baltz on Sky's the Limit (Weather Permitting) at Second City life. The pair's meet-cute on a first date won the heart of millions.
Thus, it was awarded the 2011 Equity Joseph Jefferson Award for New Work for Revue.
Mary's Net Worth
The minority actress' net worth is increasing with her growing height in the entertainment industry. She makes a salary of $50,529 per year.
Explore About Minority Actor:- Does Sonoya Mizuno Have Husband? Age, Parents, To Height, Net Worth
Besides her major show, A.P. Bio, she was also part of other TV shows and movies notably Hello Ladies, Love, and The Boss. Well, she also worked in industrial films for companies like Bayer Aspirin, Toyota, and Eli Lilly.
Mary's career credits don't end there; she also did commercials and voice-overs in the past.